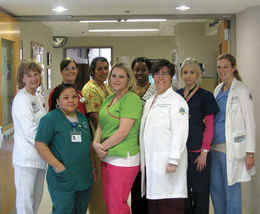 Framework for Excellence
A mini-revolution in hips, knee and spine care at Abington Health's Orthopaedic & Spine Institute
The new Orthopaedic & Spine Institute is a premier diagnostic, medical/surgical treatment and rehabilitation center located at both Lansdale Hospital and Abington Memorial Hospital. The Institute includes the sophisticated care the region has come to expect from Abington Memorial Hospital, with an all-new orthopaedic and spine facility at Lansdale Hospital. A wide variety of disorders affecting the musculoskeletal system will be treated here, including injuries such as fracture care and diseases involving tendons, ligaments, joints and muscles.
What's Unique
The most advanced procedures and technology—including revolutionary, minimally invasive hip, knee and spine care—are available at both locations. In fact,
Abington orthopaedic surgeons and neurosurgeons have, for more than a decade, provided the latest joint and spine surgical techniques and services.
At the new Orthopaedic & Spine Institute, patients are not just a number or a statistic. There's no need to be a celebrity athlete to receive the utmost attention. Surgeons believe in listening to life-changing pain experiences and help patients decide on the best option.
With expertise that is virtually unparalleled in the region, the Orthopaedic & Spine Institute is staffed by more than 75 physicians at Abington Memorial Hospital and Lansdale Hospital, including orthopaedic surgeons, neurosurgeons, hand surgeons, sports medicine specialists, pain management physicians, rehabilitation medicine specialists, trauma surgeons, rheumatologists and podiatrists. Several members of the staff have been influential in instrumentation design and teach and lecture nationally. Plus, staff nurses are skilled in musculoskeletal care, with an expert, dedicated support team.
Minimally Invasive and Complex Procedures
Our surgeons perform virtually every kind of minimally invasive surgery imaginable.
Anterior hip replacement has become a trademark procedure performed at Abington. The surgery is performed on a specially designed table, allowing the surgeon the optimal position to access the joint to spare muscle and tissue.
Other procedures commonly performed at the Orthopaedic & Spine Institute include hip resurfacing, knee replacements, and ankle, shoulder, elbow wrist and finger surgeries. Using minimally invasive techniques, its spine surgeons—including orthopaedic surgeons and neurosurgeons—perform fusions, microdiscectomies and bone grafting. They also perform corrective procedures for degenerative conditions and traumatic injuries.
Rehabilitation
A full range of physical and occupational therapy is also available at the Orthopaedic & Spine Institute. A personalized plan begins in the hospital to coordinate every stage of recovery following surgery to a return to function. On the Lansdale campus, the rehabilitation services are centrally located and integrated into the design of the facility, making access especially convenient for patients.
Patient-Centered Care
Patients will feel the difference at the Orthopaedic & Spine Institute. As the Institute was being designed, many features were added to making the process easier for patients. For example, there is a one-stop pre-admission process designed for convenience. Amenities, also centered around the patient experience and those who are visitors, include private rooms and Wi-Fi capability.
Accreditations and Recognitions
Abington Memorial Hospital's program has been recognized by clinical organizations and patients alike. It is a Blue Distinction Center for Spine Surgery. A Blue Distinction Center for Knee and Hip Replacement, it also received the prestigious Gold Seal of Approval and Disease Specific Certification from the Joint Commission for its knee and hip replacement program. And, with 94 percent of former patients likely to recommend the care, it is the choice of more people in the five-county Philadelphia region.
Free Online Pain Assessment—Coming Soon
To better help those with joint and spine problems understand their options, Abington Health's Orthopaedic & Spine Institute has created a free online pain assessment. After spending a few moments entering information, online visitors get a "Sore Score" to learn if their problems appear to warrant an in person assessment. Expected to go live this month, the Sore Score assessment can be taken at AbingtonHealth.org/bone.
Taking the Next Step
The two Orthopaedic & Spine Institute locations are: Lansdale Hospital at 100 Medical Center Campus Drive in Lansdale, and Abington Memorial Hospital at 1200 Old York Road in Abington. For more information or to find an Abington Health physician, call 215-481-BONE (2663). Information is also available online at AbingtonHealth.org/bone.
Join the Mini-Revolution
You are invited to tour the new Orthopaedic & Spine Institute location at Lansdale Hospital, and learn about its latest minimally invasive procedures in hip, knee and spine, as well as the newest technology.
A free Open House includes a health fair with educational screenings such as falls risk, health tips and information on nutrition, osteoporosis, rehabilitation and more. Attend lectures led by orthopaedic surgeons and neurosurgeons, and watch actual joint-replacement demonstrations. The event will also feature light refreshments, giveaways and raffle prizes.
Open House
Where: Lansdale Hospital, 100 Medical Campus Drive, Lansdale
Date: Saturday, March 26, 10 a.m. to 2 p.m.
Lecture—"Grinding, Binding, Hobbling Hips and Limpy, Gimpy, Wimpy Knees": 10:15 a.m. to 10:45 a.m., and 12:15 p.m. to 12:45 p.m.
Lecture—"Aching, Spastic, Bombastic Spine": 11:15 a.m. to 11:45 a.m., and 1:15 p.m. to 1:45 p.m.
Call 215-481-2204 to register.