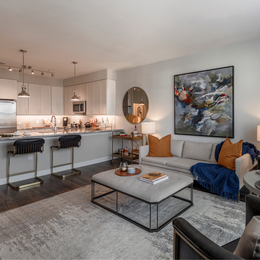 Living Life to the Fullest
55+ residents come to Canvas Valley Forge to enjoy an active, luxurious, and maintenance-free lifestyle, as well as an abundance of amenities and attractions right outside their door.
When Gloria and Danny Spriggs decided to downsize from their 5,400-square-foot, five-bedroom house in Newtown Square in favor of a new home in King of Prussia, they kept asking each other: "Did we make the right decision?" It didn't take long to realize their new home—a two-bedroom, two-bathroom apartment home at Canvas Valley Forge—was exactly where they were meant to be.
"It's like living on a beautiful cruise ship or resort," says Gloria. "There are so many activities, and you can choose whether you want to participate or not. You can choose whatever you want to be involved in."
For Danny's part, he enjoys the fifth-floor apartment home and quiet balcony, but he also appreciates that he and Gloria can walk to their favorite restaurant, Founding Farmers, and other nearby conveniences. Wegmans is one example. Whereas they used to have to take weekend "field trips" to the Wegmans in Malvern or Glen Mills, now the high-end supermarket is a short walk away.
Canvas Valley Forge, a new community within the King of Prussia Town Center, offers residents an active and vibrant lifestyle. When developing the property, The Bozzuto Group, a Maryland-based real estate company, sought to think through every detail to make their residents' lives easier, empowering them to focus on their interests and hobbies. Bozzuto's mission to create sanctuary for those they serve is truly manifested in this invigorating new community.
Canvas allows residents to live their best lives, offering a plethora of wellness activities such as ballroom dancing, yoga, meditation, and fitness boot camps. They also offer workshops—such as knitting, flower arrangement, and fine arts classes—as well as day trips to sporting events, museums, public gardens, and nearby shopping districts. Residents can also enjoy cooking demonstrations, happy hours, educational seminars, and lunch & learns.
"This is a new concept in which we've reimagined 55+ living," says Canvas Valley Forge Property Manager Sarah McMeekin. "We've developed an amenity-rich rental community designed to cater to the growing population of adults who are looking to simplify their lives while becoming part of a fun, vibrant and active adult community. This is a group that craves experiences—and that's what we deliver."
Let Your Home Set You Free
While many 55+ developments in this region are best described as retirement communities or assisted-living facilities, Canvas is a new concept. Its residents may be in the 55+ age group, but they seek an active and engaged lifestyle. They come to Canvas Valley Forge to simplify their lives and "do the things they've always wanted to do," says Diana Moyer, Canvas Valley Forge Director of Resident Services.
"Since many of our residents have come from big homes, they are 'right-sizing' for their current lifestyle," Moyer adds. "We have 18,000 square feet of entertainment space that is available 24/7. There is plenty of space for entertaining when residents want to have a party or an event, but they no longer have to worry about maintaining a space they don't usually need."
Maintenance-free living is a huge draw for prospective Canvas residents. Residents would rather travel or pursue hobbies as opposed to doing yard work or performing routine household maintenance, such as replacing lightbulbs or fixing broken appliances. The Canvas maintenance team takes care of all those tasks—and they address residents' maintenance concerns within 24 hours.
Kathy Carroll, another Canvas resident, says "right-sizing" has been a liberating experience. Prior to moving to Canvas Valley Forge, she was feeling bogged down by the chore of maintaining a large house and having so much "stuff" she didn't necessarily want or need. She intentionally chose a one-bedroom apartment in Canvas so she could simplify her life and focus on things that bring her joy.
"Instead of feeling like I gave so much up, I felt like I gained so much," she explains. "I have just the right amount of space in my apartment, but I also have access to the wonderful pool, to beautiful gathering spaces and even my own little plot in the community garden. While I feel like it's quiet here, I also love how close we are to the bustling Town Center, and I can walk over there any time that I want. It's really the best of both worlds."
Carroll also appreciates the sense of community. Canvas is not like a typical apartment complex where everyone keeps to themselves. When Carroll was sick last winter, other residents checked in on her and delivered homemade chicken soup. In many ways, she said, "it's like a family."
"We are not like other multifamily communities in which residents are all in different stages of life," McMeekin says. "We are made up of residents going through a very similar stage in their life, and they can all relate to one another for that reason. There is a very strong sense of community here. Residents look out for one another."
Modern Details and Thoughtful Amenities
While each apartment's design keeps the needs of residents firmly in mind—access to a handheld showerhead and a shower bench seat, for instance—the entire space is gorgeously refined. The apartments feature gourmet, chef-style kitchens, and lavish bathrooms, as well as luxurious wood plank flooring, walk-in closets, and keyless electronic entry.
When prospective residents come to visit, McMeekin says most have the same reaction: "Wow." Even so, The Carlyle Group, which owns the property, wants to ensure the experience is seamless and a good fit for residents. That's why Canvas offers the Canvas Guarantee Program.
"We want to make any transition as easy and stress-free as possible, so we offer a complimentary 'test drive' as part of our process," McMeekin adds. "When someone is really interested, we can offer them a two-night complimentary stay in a guest suite so they can experience Canvas to the fullest extent. They can meet some residents and see how they feel before making a firm commitment. And, though we've never had to use it, we also offer a 60-day guarantee. If someone moves in and decides it's not for them, they can move out within 60 days."
Gloria Spriggs says she has not found anything comparable to Canvas Valley Forge. Although the commute to her job in Wilmington, Del., became a little longer, she says it's been well worth it. Since she and Danny moved in, the experience has been nothing short of fantastic.
"This new venture has been amazingly easier than I ever imagined it would be," she says. "I have made so many new friends. I can honestly say I feel cozy in our apartment, and yet within steps I have access to anything I could need."
An Award-winning Lifestyle
Residents aren't the only ones who applaud Canvas Valley Forge. The community has earned numerous accolades since opening its doors, including:
* 2018 Best 55+ Multifamily Development Pillars Award by National Association of Home Builders
* 2018 Multifamily Executive Award in the Senior Market Rate Category
* 2017 King of Prussia District Economic Development Award
* Pennsylvania Apartment Association East – Canvas Valley Forge Gold Leasing Excellence; Platinum Maintenance Excellence; Overall Excellence; and Overall Top 10 Highest Scores (Second Place)
Canvas Valley Forge
101 Bryce Lane
King of Prussia, PA 19406
(844) 854-0673
canvasvalleyforge.com
Photography courtesy of Canvas Valley Forge
Published (and copyrighted) in Suburban Life magazine, October 2019.