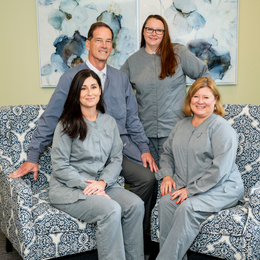 Deeply Rooted
At his Bucks County dentistry practice, Dr. Robert Lantzy leads a team of skilled professionals devoted to improving the health of patients and the community as a whole.
"The science is well established, and we continue to learn more and more about the mouth-body connection," says Robert A. Lantzy, D.M.D. "Mother Nature has made quite a machine in the human body, but it can't handle everything. Our goal is to get the mouth as healthy as possible, because the mouth and the body are so closely linked."
At his Bucks County dentistry practice, Dr. Lantzy and his team do much more than clean teeth and promote healthy habits for a bright, healthy smile. They also help patients reduce the risk associated with life-threatening conditions such as cancer, stroke, diabetes, and heart disease—all of which have been tied to poor dental health. Dr. Lantzy says the practice has always been mindful of prevention, only now there is a significant body of scientific documentation to back it up.
"Oral inflammation can trigger systemic disease in other parts of the body, and that's true especially for people who have a family history of these diseases," he adds. "Medicine nowadays has a habit of just treating symptoms—'take this medication to get this number down, or that medication to get this other number down'—but what we should be doing is looking for the root cause and try to prevent any concerns from becoming problems in the first place."
During an initial hour-long exam, Dr. Lantzy formulates a comprehensive picture of the patient's overall health. This includes everything from documenting their medical and dental history, to taking their blood pressure and digital X-rays of the patient's mouth, and screening for oral cancer. In addition, he provides an airway analysis to determine if a patient may have an airway compromise that can negatively affect their sleep, which in turn can have negative effects on one's health.
From there, he can work with the patient to address virtually any dental need and determine if he or she could benefit from more advanced dentistry. Services include Invisalign orthodontic treatment, dental implants to replace missing teeth, and crowns, onlays, and veneers, all of which he can quickly manufacture on site—to the precise fit and coloration—using sophisticated CAD/CAM technology known as CEREC.
"People have to take care of themselves and get regular checkups," he says. "Gum disease is sneaky. Bad bacteria from the mouth can get into the bloodstream and cause a lot of problems that can affect the entire body. The good news is that we now have ways to help to control the bad bacteria in the mouth."
'A Motivational Experience'
Jennifer Gallagher and Marcie Lear, two registered dental hygienists with the practice, take a consultative approach to helping patients. Each strives to take on the role of "health coach" in addition to that of dental hygienist.
"We want to provide a motivational experience," says Gallagher. "We're having conversations with people to motivate and coach them to have better health habits, and it's not always just dental related. Someone may be sitting in the chair, thinking they are pretty healthy, but then through a conversation we'll find out he's having some health issues, as well as the fact that his father passed away from heart disease really young. We want all of our patients to be as healthy as possible, so we'll do whatever we can to help."
In fact, the practice's devotion to patients extends far beyond the walls of their Newtown-based practice. For example, Gallagher and Lear recently developed a training and outreach program for nursing teams in long-term-care facilities geared toward oral hygiene, including best practices for managing oral infection.
"As we age, we find that many of our parents and grandparents end up in the care of someone else, and when that happens, often oral health is less of a focus," says Lear, who has a bachelor's degree in public health. "We now realize that oral health is a window into the rest of the body, so any oral-health problems can exacerbate issues in overall health."
Community outreach has become part of the practice's DNA. Recent community events included a screening of the groundbreaking documentary Say Ahh, about the connection between oral and systemic health, at the Newtown Theatre. Also, later this month, the practice will be participating in what Lear refers to as "a big community event" at the Newtown Athletic Club.
"I've been working as a dental hygienist for well over 20 years, and I am thrilled that the practice embraces complete health," she says. "I feel like this is a great outlet for me personally, by opening doors and allowing me to expand. The more dentistry is relayed in this fashion, I think people will get a better concept of their overall health."
The practice also engages with the community through different fundraisers and outreach programs geared around specific causes. In October, for example, the practice provided 125 care bags to Breast Friends, a support group for survivors of breast cancer. In coming months the practice will support other locally based organizations, such as Quilts for Kids, a Fairless Hills-based nonprofit that provides comfort to children in need, and Pennsylvania Wounded Warriors, a Camp Hill-based organization devoted to assisting Pennsylvania military veterans in need of mental, physical, or emotional recovery.
"We like to ask our patients for ideas and get them involved, too," says Gallagher, whose also serves as the practice's "lead pioneer," spearheading many of these forward-thinking health initiatives. "When we involve patients, it hits home, there's a stronger connection, and they see that what we're doing here is not just about oral care."
Such broad-based efforts are part of an ambitious goal the practice adopted a few years ago: to improve the health of 1 million people by 2025. It all starts within, meaning members of the practice "walk the walk" in addition to prescribing change for others. All members of the practice have committed to reinforcing positive habits designed to improve their own health. For the remainder of the year, for example, Gallagher has issued small but significant health-specific "challenges": drinking more water, practicing mindfulness, and committing to a minimum of 30 minutes of movement each day, among others.
"We're trying to make a difference in people's lives, and that happens in a lot of ways," Dr. Lantzy says. "We can show someone how to improve their brushing habits and help them understand how gum disease can affect other aspects of their health, but for me it all comes back to wanting to be part of a community.
"When people come here, I want them to feel welcomed, and I want them to feel like they are part of something bigger," he continues. "I also want them know that we always have their best interests at heart. I'm going to do for them what my brother, sister, mom, or dad would want me to do, and that applies to every person who walks through the door."
Robert A. Lantzy, DMD, LLC
11 Friends Lane, Suite 100
Newtown, Pa.
(215) 860-5901
buckscountydental.com
Photograph by Jody Robinson
Published (and copyrighted) in Suburban Life magazine, October 2019.