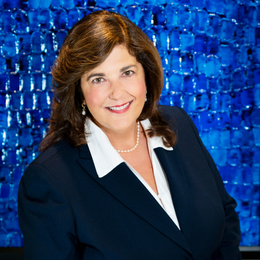 'Strategy, Preparation, Perseverance'
Clients contending with workplace-specific claims and disputes find an industrious champion in Robin F. Bond, founder of Transition Strategies.
Ask Robin F. Bond, Esq., what she does for a living and she might say she's an employment attorney, or an advocate for workers' rights, or a skilled negotiator. While all of those descriptors would be accurate, she considers herself a problem solver, first and foremost.
"People come to me for a lot of different reasons," says Bond, founder and principal of Transition Strategies LLC, an employment law firm based in Wayne. "Maybe someone wants a better compensation or severance package. Maybe they need coaching in a career crisis. Maybe their champion has left the building and they think a change is coming. You don't have to go through that alone. Instead, you can learn from the experiences of other people who have gone through it."
For more than 20 years, Bond has been guiding clients through workplace-related claims and disputes, including civil-rights discrimination, breaches of contract, and strategic negotiations in regard to compensation and benefits. Even after two decades in practice, she says she still loves the work, which she sees as "part art, part science," and she appreciates being able to have a measureable impact on a client's life.
"One recent client was a high-performing executive who got a new boss, and the boss decided to reorganize," she adds. "The performance of my client was excellent, but it was a case of musical chairs, and when the music stopped my client didn't have a seat, meaning he was going to be out of a job. I was able to negotiate a separation package that was 40 percent higher than the initial offer, and that can make a big difference to someone who may be out of work while they're looking for a new job."
In those kinds of cases, Bond likes to start proceedings by getting a client's employer to focus on "WIIFM"—short for "What's in it for me?" In other words, she strives to help the employer understand the benefits of offering her client the desired compensation or outcome.
"You're trying to illustrate what the employee has done for the company, demonstrating their value in driving sales or cutting costs, showing examples of their loyalty," she adds. "Most bosses don't particularly like letting people go, so I can give the boss a chance to be the hero. Sometimes I can even turn around a termination situation, but that's a rare occurrence."
This is an example of the soft approach Bond prefers to use at first—"carrot," as she calls it—though she is not shy about taking a firmer approach—or "stick"—when needed.
Bond's success in these matters has served her well. It's one of the reasons she has earned so many high-profile accolades, including the Nation's Top One Percent distinction from the National Association of Distinguished Counsel (2017 to 2019); the 2015 Delaware Valley HR Consultant of the Year Award from the Society for Human Resource Management; and "Top Employment Lawyer" honors from sources such as Main Line Today and Super Lawyers, as well as Suburban Life, for several consecutive years.
In addition, Bond has made an impact in the lives of others beyond the walls of her office—namely, through mentorships and speaking engagements designed to empower men and women to become self-advocates. Earlier this year, for example, she offered her perspective to groups of business professionals through the Career Networking Group in Montgomery County and the National Black MBA Association, female leaders at the Union League of Philadelphia, and senior executives through the professional networking association known as Beacon.
"Negotiating can be hard work, which is why a lot of people don't do it," she says. "If you look at the statistics, only 39 percent of people negotiated job offers, and only a little more than one-third of the people that did negotiate were women. I represent a lot of HR professionals, and every single one of them has told me, 'We're not scared of people coming back to us and negotiating.' You just have to have a strategy going into it."
She uses a sports metaphor to underscore her point.
"You cannot steal second base if you keep both feet planted on first [base]," she says. "At the same time, you don't run to second base on a whim. There's not some magic formula to guarantee a successful outcome; it's all about strategy, preparation, and perseverance—and that applies to everything I do."
Transition Strategies LLC
88 Militia Hill Drive
Wayne, Pa.
(610) 640-5373
transition-strategies.com
robin@transition-strategies.com
Photograph by Jody Robinson
Published (and copyrighted) in Suburban Life magazine, October 2019.