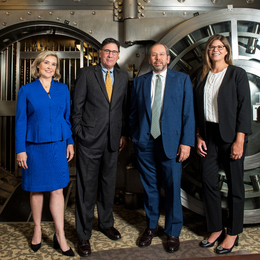 'One Bryn Mawr Trust'
For banking, wealth management, insurance, and more, Bryn Mawr Trust takes a personalized partnership approach to becoming clients' "financial GPS."
A lot can change in 130 years, yet some things stay the same. For proof, look no further than Bryn Mawr Trust.
Since the company's founding in 1889, Bryn Mawr Trust has been committed to helping customers plan and save for the future. As the financial landscape has changed in the years since, Bryn Mawr Trust has changed along with it, and in some cases led the way, to become a vital resource for virtually every financial need.
"Regardless of the size of the relationship or the need of the customer, our goal is to provide a solution," says Frank Leto, president and CEO of Bryn Mawr Trust. "No matter where someone is in their financial life cycle, we offer planning, advice, and solutions to help them achieve their best business or personal financial life."
Bryn Mawr Trust has long offered robust online, mobile, and digital banking options, for example, and it continues to reinvent the ways that consumers interact with their money. Leto cites a recent investment in a new operating system designed to streamline the digital banking experience, all rooted in speed, convenience, and ease of access.
Also, even as Bryn Mawr Trust has grown to include multiple lines of business—personal and commercial banking, insurance services, and wealth management, for example—the company still sees itself as "One Bryn Mawr Trust." This may sound like a catchy slogan, but it's more of a mindset that drives Bryn Mawr Trust forward, as well as a commitment to the communities the bank has been serving for 130 years and counting.
"The main reason we have been successful for so long is that we are focused on serving the community," Leto adds. "There's this idea we call 'One BMT,' which essentially means we have all these resources working together to deliver solutions to the people and businesses who need them."
Making a Difference
Bryn Mawr Trust applies the full breadth of its resources to creating, managing, preserving, and transferring wealth for all clients. This includes everyone from the individual who has $100 in a savings account, to the entrepreneur looking to protect or grow their business interests, to ultra-high-net-worth families.
For many people, the bank branch serves as an introduction to Bryn Mawr Trust. Each branch throughout the Greater Philadelphia Area, Hershey, Delaware, and New Jersey offers the full gamut of financial products, ranging from traditional savings and checking accounts, to technologies for managing money, among others. The greatest value may come from the high level of interaction and guidance offered by Bryn Mawr Trust's "universal bankers," as Kevin Tylus calls them.
"When people go to a bank branch today, they're often going for a solution to an issue," says Tylus, president of Bryn Mawr Trust's banking division. "They may need help setting up a piece of technology, or maybe they need euros for an upcoming trip. It's much less about stopping in to make a mortgage payment or cash a check. They want a higher level of interaction, and that has necessitated a shift toward someone who is trained more broadly than the transaction capabilities of a traditional teller."
In addition, Bryn Mawr Trust's retail banking division often helps clients address other aspects of their financial lives by connecting them to other areas with financial solutions and expertise within the company. Specifically, he's referring to BMT Wealth Management and BMT Insurance Advisors. All three divisions work closely together in pursuit of the same goal: to provide clients with customized solutions so they can work toward their financial goals.
"Our goal is to give people peace of mind and a sense of fulfillment at every level and seeing how we can match them with the resources to help them get there," says Jennifer Dempsey Fox, president of BMT Wealth Management. "It's about providing solutions to an issue or a challenge."
Fox suggests BMT Wealth Management clients are "all across the net-worth spectrum and net-worth lifespan"—from ultra-high-net-worth families looking to pass wealth on to the next generation, to young families looking to set up a 401(k) or a college savings plan. While the needs may be different, the approach does not change.
"Industrywide, investments are often viewed as a commodity," Fox adds. "For us, at the highest level, it's about looking for ways to provide value by taking data and turning it into an actionable plan that can help someone solve a problem or achieve a goal."
This approach differs sharply from the transactional nature that once characterized the advisor-client relationship. In fact, Fox says her team members see themselves not as financial advisors but as "members of an organization that can make a difference."
"Many of our clients are business owners, people who are fabulous at operating a business and seeing where they can create value for their customers; however, they're often so involved in the business that they forget about their own futures," she says. "We'll have conversations with them about taking care of themselves first and asking discovery questions so we can find out where the needs or gaps may be."
Those conversations may also uncover an unmet need, "in which case we can support them appropriately," Fox adds. "It's a matter of asking: How can we bring the organization to them instead of them having to navigate our organization?"
From Basic to Complex
Bryn Mawr Trust also enables customers to protect themselves from the unexpected. As president of BMT Insurance Advisors, Kimberly Trubiano leads a team of professionals who take a consultative approach to helping clients make informed decisions about safeguarding the things they consider most precious.
"We work closely with people to build a plan to protect what's important, whether it be business or personal," says Trubiano, who joined the firm earlier this year after more than 20 years at a major insurance firm. "We're continually assessing their needs to make sure we fill all the gaps. Maybe someone has added a new vehicle, or purchased a new piece of artwork, or started a nonprofit. From the basic to the complex, we want to make sure we're doing what's in each client's best interest."
An insurance plan tends to evolve as people's lives change, according to Trubiano, and this is where the power of relationships comes in. BMT Insurance Advisors maintains close contact with clients, "partnering every step of the way," she says. "Whether it is providing protection in the event of a loss or creating an endowment as part of a family legacy, we focus on helping clients achieve both present and future goals."
Bryn Mawr Trust aims to help the community in ways far beyond people's financial health. From its core market surrounding the Main Line, to newer markets such as Hershey, Princeton, N.J., and parts of Delaware, Bryn Mawr Trust aims to be a "true community partner" by getting involved in efforts to improve the areas in which our employees and customers live and work.
As Bryn Mawr Trust continues to expand, both in terms of its service offerings and its footprint, Leto insists that the foundation of the business will remain unchanged.
"At the end of the day, we are trying to serve a community, not just make money for our shareholders," he says. "We see our goal as a simple one: to be the best financial choice for each of our clients. We have always delivered high-touch personalized service. Today, with greater technologies and connectivity, we deliver meaningful solutions better than ever."
Visit bmt.com for more information.
Bryn Mawr Trust: Member FDIC. Equal Housing Lender.
Insurance products are offered through BMT Insurance Advisors, a subsidiary of The Bryn Mawr Trust Company. Not available in all states.
Investments and Insurance:
NOT A DEPOSIT. NOT FDIC – INSURED. NOT INSURED BY ANY FEDERAL GOVERNMENT AGENCY. NOT GUARANTEED BY THE BANK. MAY GO DOWN IN VALUE.
Photograph by Jeff Anderson
Published (and copyrighted) in Suburban Life magazine, October 2019.