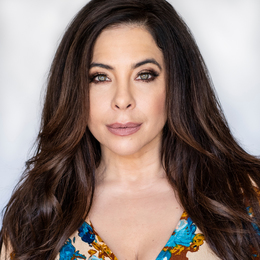 Scene Stealer
Philly-born actor Brooke Lewis proves that even the "wildest dreams" can come true.
Brooke Lewis is among the relative few who have seen their names shine in the bright lights of Hollywood. She's enjoyed a number of distinctive roles, though she may be best known as a "scream queen," the honorific given to accomplished female actors for their work in the horror genre. She very nearly chose a much more traditional profession.
"I was about to go to law school, but my heart screamed that I always wanted to be an actress," says Lewis, who was born in South Philadelphia and raised in the Northeast, near Lower Moreland. "I had to follow my heart."
After migrating to New York and landing a role in the off-Broadway comedy Tony n' Tina's Wedding, she made her way as a working actress. She now lives in Los Angeles, where she runs a production company called Philly Chick Pictures, and continues to take on new roles that capture her interest. For example, she plays the sassy Pam DeLuca in 1/2 New Year, a 2019 drama/comedy also starring Delaware County native Drew McAnany. The independent film, which McAnany co-wrote, will have its Philadelphia premiere at the 22nd Annual FirstGlance Film Festival, slated for the first weekend of November.
We spoke with Lewis about her role in the film, her eclectic career, and the challenges of being a "proud Philly girl" living on the West Coast.
Q&A
How and why did you get into acting?
I was a young girl when my parents got divorced, and my mom was working a lot, so I turned to the arts. … I started doing musical theater at a very young age. I was working at the Arden Theatre [Co.], learning the trade, and then I was able to work as an understudy in some of the bigger shows. My career took off from there.
Was it difficult for a self-described "proud Philly girl" to acclimate to Los Angeles?
It's not easy for most people to acclimate—it's night and day compared to Philly—but I was very fortunate. I started acting in New York, and I was there for four years before transitioning to Hollywood. I had some actor/director friends that had moved here, and I had a ton of friends from college that were already out here. …Most people tend to gravitate toward like-minded people, so I found all the Philly bars [in L.A.]. I remember waking up 6 a.m. on a Sunday morning, and then rolling out of bed to guzzle some coffee and then watch the 10 a.m. Eagles game. Geno's steaks are my jam, and I love to get them when I come home, but I found the best pizza and cheesesteaks that you can find out here.
Tell me about your role in 1/2 New Year.
I'm so excited about it. … I love that [my character] is mouthy, sassy, but she still has a heart of gold, sort of like Stifler's mom from American Pie. My character is a little over the top. I love the heart of the movie; Drew [McAnany] and crew made a movie that is very much a throwback to the early '80s.
You're probably best known for your work in the horror genre. How did you break into that scene?
I've always been a crazy horror fan. I grew up in the '80s, so ever since the VCR was created, I was obsessed with horror. Those fun '80s flicks, like Halloween and Friday the 13th, for whatever reason, it was an escape for me. … I've always been drawn to smart roles, and powerful roles for women, and people laughed when I did Slime City Massacre. I laughed at first, too, saying, "I'm a trained Broadway actress, and you want me to do a movie called Slime City Massacre?" But when I read the script, it was about all these interesting current events. I was seduced by the story.
The film that put me on the map was Kinky Killers. It was a really smart murder mystery, and that's how my "scream queen" reputation started. Then I did iMurders, starring opposite Gabrielle Anwar, Tony Todd, and Billy Dee Williams. Now, when I get to be a celebrity guest at a horror convention, I get to sit next to people like Elvira, and it's a huge thrill. I've hung out with George Romero, Heather Langencamp, Adrienne Barbeau. … Never in my wildest dreams did I imagine I would be a horror star.
Published (and copyrighted) in Suburban Life magazine, October 2019.