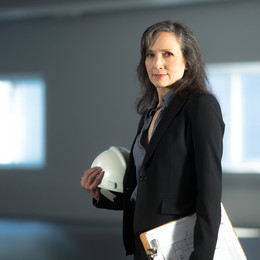 'I Tell Stories'
Known for portraying strong women throughout her career, Bebe Neuwirth heats up the stage in a PTC production of A Small Fire.
Audiences have gotten used to seeing Bebe Neuwirth giving life to strong, memorable, even quirky characters. The buttoned-up psychiatrist Lilith Sternin from Cheers and Frasier comes to mind. So does Morticia Addams from the Broadway musical The Addams Family. Or Velma Kelly from Chicago, a role that earned her a Tony Award for Best Actress in a Musical.
This month, she'll step into another role audiences are likely to remember: the tough-as-nails business owner Emily Bridges, in Philadelphia Theatre Co.'s production of A Small Fire.
"There's no resemblance to the other parts I've played," says Neuwirth. "If you come to see this play, take those other parts out of your head. …My character [Emily] is a strong, tough woman, and I've played strong, tough women before, but every one of them has been unique to her circumstances."
In other words, she sees each role as an opportunity to tell the story of a unique individual.
"Storytelling has always been part of my life, even if I didn't know it," she says. "It started for me as a young girl in ballet, where it was almost like you were inside of a fairy tale. It wasn't until much later, maybe 15 years ago, in middle age, that I realized: I tell stories—that's what I do. Theater is telling stories, whether it's dance, music, symphony, Shakespeare. It all comes from the tribal fire, when we first started to gather around the fire and tell stories … and that has evolved into modern theater."
In A Small Fire, due to run at the Suzanne Roberts Theatre from Oct. 18 to Nov. 10, Neuwirth plays a woman who is in charge of everything—her business, her family, her entire life. The character's world is upended by a mysterious disease that begins to strip her of her senses, thereby exposing her vulnerabilities. Neuwirth believes audience members will find the work memorable in ways that are touching, unsettling, and, at times, humorous.
"It's a beautifully written piece of theater, beautiful in its simplicity, like a piece of music from Aaron Copland, where you wonder: How did he do that?" says Neuwirth. "It's evocative and strangely familiar, yet not familiar at all. There's poetry in it, and the language is beautiful in its normalcy."
Although Neuwirth lives in New York, Philadelphia is no stranger. She has appeared on stages and filmed at locations throughout the city, but she has other ties to the area, too—specifically, cats … but not the musical sort. Of the three felines she and her husband have at home, she adopted one from Philadelphia Animal Welfare Society (PAWS) and the other two from SAVE, an animal shelter in Skillman, N.J., near Princeton.
Photograph by Anthony Werhun
Published (and copyrighted) in Suburban Life magazine, October 2019.