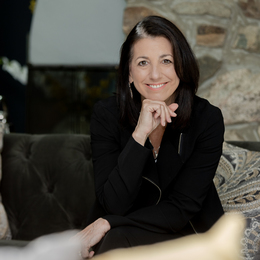 The Equalizer
Diane Cornman-Levy takes the lead in advancing the status of women and girls in Philadelphia and beyond.
Mobilizer. Inspirer. Agent of change. Fighter. Hero.
Any of these sobriquets would apply to Diane Cornman-Levy, in recognition of the hard work she developed a taste for at a young age. After all, she has played a key role in tackling some of the biggest problems affecting the Greater Philadelphia Area, including homelessness, food insecurity, and education inequality.
The desire to make a difference comes from deep within, placed there long ago by the caring thoughts, words, and actions of her mother and father. As a young girl, she watched her parents devote their time to organizations that fought for social change, and the experience taught her to aspire to follow in their footsteps. As she grew older, she learned strength and resilience from her mother, who had to reinvent herself after the sudden death of Cornman-Levy's father.
Cornman-Levy has blazed her own path since then. She inspired students at Thomas Jefferson University to start a clinic to help the homeless, ultimately leading to the creation of Hands for Hope, which not only remains in operation to this day but has grown considerably. Likewise, when she noticed the abundance of vacant lots in the city—and the problems those lots seemed to attract—she provided the spark for the birth of a community-based organization called Youth 4 Good, which uses urban farming as a tool to address complex issues such as poverty, urban blight, and the lack of accessible produce. In 2016, she branched out into politics, as a Democratic candidate for District 168 (Delaware County) of the Pennsylvania House of Representatives.
Today, the Newtown Square resident is the executive director of Women's Way, the Philadelphia-based nonprofit that for 40 years has sought to inspire, mobilize, and unite others in pursuit of a common goal: gender equality. Since joining Women's Way in January 2017, she has been leading the organization in its quest to advance the status of women and girls in the Delaware Valley and across the country.
We asked Cornman-Levy to share her perspective on the importance of helping others, the traits that make a good leader, and the lasting effects of empowerment.
Q&A
At what point did you decide to get involved in this kind of work?
For me, it started in middle school. My parents were very involved with social justice and political justice. I grew up in Wayne, and my parents were on a committee to start a nonprofit, [Radnor A Better Chance], as a way to improve access to education and help with causes to overcome systems that were rooted in racism and classism. They got the funds needed to renovate a home to help students who didn't have some of the opportunities other people had. I and my sisters volunteered to paint some of the rooms in that home, and that was my first involvement. It inspired me. That home still exists in Wayne. My parents told me, "You live a privileged life, and that's something you did not earn, so take that and effect change." That's what my parents told me, and they modeled the behaviors for me to follow. Those core values are what guide me to this day.
You ran for a seat in the Pennsylvania House of Representatives in 2016. Although you didn't win, did you enjoy the experience?
It was an eye-opening experience. I talked to 15,000 people, and when you talk to that many people, you get a good understanding of the pain people feel and the concerns they have. The majority of the people I spoke with were Republican voters. It was fascinating to hear their concerns, and it also gave me a chance to share my views. … It takes so much courage to do this work. You have to be resilient and vulnerable, which are critical if you are to become an effective leader. Talking to people face to face helps create bridges, and it strengthens empathy. It challenges my perspective, too. That's how we find common ground. I think I was effective; I had many people who said they appreciated the fact that I came and listened to them. Some even said, "I'll vote for you."
Do you think you might pursue politics in the future?
I don't close the door on politics in the future, but right now I think I can make a big difference in my work at Women's Way. What I'm doing now is helping other women candidates [primarily in Philadelphia and Delaware County], and providing emotional support and helping in other ways. … I'd also like to create a formalized mentoring support system, particularly for women of color, who are confronted with lots of challenges and barriers.
Tell me about some of the initiatives Women's Way is doing that are having a positive effect on Philadelphia and beyond.
When I came on board in January 2017, I helped lead the team to make Women's Way more relevant and more powerful in terms of advancing gender equality in the Philadelphia region. One of our initiatives is the Women's Economic Security Initiative, to help all women and families achieve economic security and improve wealth. With people not being economically secure, everything is difficult; it limits education, it has an impact on domestic violence, and it affects so many other issues.
For women to be in leadership positions, you can't be in a constant state of crisis. With this initiative, we're approaching the issue from a systems-level change, because the policies implemented by the government and corporations have denied access to wealth-building for women, especially women of color. We've launched a financial coaching program that enables lower- to moderate-income women to save money and reduce debt. … It's about giving them a set of skills and empowering them internally, so now they're thinking: What can I do next?
In regard to the inequities you see, what needs to change?
A lot, but first we have to change the narrative. We have to change the way we think about things. We have narratives from the president, the government, and the media, and the predominant narrative is that somehow [women] are deficient, or victims, and we want to change the narrative to the fact that we are in a system that is grossly inequitable because of the historical policies and systems that have denied women access. We need people to have a greater understanding of the challenges women are facing, and to show that women are incredibly resourceful and resilient.
You've done a lot of difficult work throughout your career. How do you keep from losing focus or giving in to feelings that could hamper your confidence?
Every week, I meet new people—women and men—who care deeply about justice and equity, who are passionate about it, who want to get involved. Every week I meet people who are determined to create a region and a country that works for everyone. When we hear language of divisiveness and hatred, it puts people in an emotional state of mind, and it makes them say, "No, we have to fight this." I'm in a world that cares about justice and equity. I have this community and this network that keeps growing, and that keeps me growing. For me, if I stop fighting, that's failure. Then I'm not living my core values. Then I will have compromised the core of who I am. Also, I have two daughters and a grandson, so I want to continue to model the idea that we need to make the world a better place for the next generation and beyond.
I'm also a big believer in self-care, so I take time to myself. Sometimes women forget to do that, and it's a lesson I learned by running for office. Do whatever you need to do. First, you need to take care of yourself, and that's a form of leadership, too.
What are your goals going forward?
In the immediate future, we want to establish ourselves as a thought leader around gender equality, so we'll continue to answer the question: How do we move the needle on advancing the status of women and girls, and creating a more equitable and just society? It's heartening to see so many people who want to work with us, who want to learn and join the movement. That's exciting, and it's happening at a fast pace. There's a sense of unity among people from all walks of life, and that's the kind of team we need to build in order to sustain a movement.
Photograph by Nina Lea Photography
Published (and copyrighted) in Suburban Life magazine, October 2019.