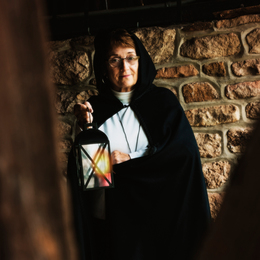 Ghost Hunter
Adele Gamble leads fright-seekers through otherworldly encounters in New Hope.
As the popularity of horror movies and haunted houses might suggest, most people get a kick out of a good scare. That's why, as Halloween draws near, Doylestown native Adele Gamble will be spending a lot more of her time in New Hope—"the place that has more ghosts per square mile than any other place I've been," she says.
Gamble feels honored to follow in the footsteps of the late Adi-Kent Thomas Jeffrey, the creator of Bucks County's best known ghost tour and author of books such as Ghosts in the Valley and Haunted Village and Valley. Every weekend from June through November, Gamble leads fright-seekers on lantern-led tours of New Hope, during which she tells the tales of some of the borough's longest-tenured inhabitants—namely, a diverse cast of graveyard spooks.
Gamble traces some of New Hope's paranormal activity back to the Revolutionary War, when harsh winters and the horrors of war sent many of George Washington's troops to untimely ends. New Hope's spirit population also includes a few "famous" phantoms, she adds, including Aaron Burr, the vice president to Thomas Jefferson in the early 1800s (and the man who infamously killed political rival Alexander Hamilton in a duel), and the folk artist Joseph Pickett.
While each ghost tour (ghosttoursofnewhope.com) begins at the corner of Main and Ferry streets in New Hope, she says each tour has its own unique flavor. Specters cannot be expected to adhere to the whims and schedules of the living, after all.
Gamble shares some of what she has learned through her many encounters with the otherworldly in what some swear is one of America's most haunted towns.
"I feel like ghosts keep coming back to the spot they were at when they died, and in some cases the spot they were the happiest. If they tear down the Logan Inn and put up a high rise, all that energy would stay exactly where it is. That's basically what we're picking up when we encounter a ghost—energy that has been left behind. Think back to the Revolutionary War in the 1700s. Half of those poor soldiers didn't even have shoes, and half of them died of disease. You have all the energy of those people who suffered and died, along with the energy of [deceased] actors, singers, and other very sensitive people. New Hope has had a lot of energy left behind over the years."
"It's some of the tragic, yes, but there are happy ones, too. I was doing a tour once, and there was this happy little girl who wanted to be by my side the whole time. At the end of the tour, we were standing there talking, and she said she liked the dog I had with me. I looked at her father and said, 'Dog?' And she said, 'Yeah, the black dog you had with you.' I said, 'Honey, I don't have a dog.' I was totally taken aback. I say children are more open to these kinds of things. I call that a happy ghost."
"I never feel threatened or scared, because I don't want the negativity around me. I won't accept it."
"We meet at the same spot every Saturday, from the first Saturday in June to the Saturday before Thanksgiving, but the ghosts are here all year round. I always tell people to come with an open mind, to wear comfortable shoes, and to be ready to have fun. A flashlight helps, too."
"If I run into a ghost, I just accept it and be happy. It's not the dead ones you have to watch out for."
Local Haunts
Can't get enough of supernatural goings on? Check out these five spectral spots.
Eastern State Penitentiary
Well known for its annual "Terror Behind the Walls" scare-a-thon, this Fairmount landmark was the world's first true penitentiary, designed to quite literally inspire penitence in those who passed through its gates. Daytime tours of its crumbling cellblocks and abandoned guard towers tell the story of an imposing structure that jailed more than 80,000 in its more than 140 years in operation, including notorious malefactors such as Al Capone. easternstate.org
Edgar Allen Poe National Historic Site
The brooding poet and novelist spent six years living in Philadelphia, often regarded as the happiest and most productive period of his career. Open only on weekends, this historic site enables visitors to tour Poe's Philadelphia home, learn about his life, and better understand the factors that influenced his work. nps.gov/edal
Laurel Hill Cemetery
Although a cemetery it may be, this East Falls-area destination on the banks of the Schuylkill is much more than an historic boneyard. Visitors can experience its somber beauty in a number of events, including yoga, a 5K run, and Halloween tours—and even a performance by the Philly-born punk band The Dead Milkmen, which has quickly become a sold-out tradition. thelaurelhillcemetery.org
Fort Mifflin
Located on the Philadelphia waterfront between the Sports Complex and Philadelphia International Airport, Fort Mifflin played a key role in three military conflicts: the Revolutionary War, the Civil War, and World War II. And because it's widely regarded as one of the most haunted sites in the country, Fort Mifflin offers a plethora of paranormal programs, ranging from candlelight ghost tours to overnight investigations. fortmifflin.us
Valley Forge National Historical Park
Spanning 3,500 acres of meadows, woodlands, and monuments, King of Prussia's Valley Forge National Historical Park commemorates the sacrifices of those who fought and died in the Revolutionary War. In the years since, some visitors have reported encountering the apparitions of soldiers, the echoes of musket fire, and other strange phenomena. nps.gov/vafo
Photograph by Jody Robinson
Published (and copyrighted) in Suburban Life magazine, October 2019.