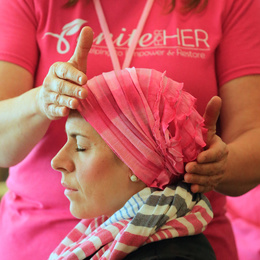 United They Stand
Survivors turn their personal clashes with cancer into nonprofits devoted to helping others fight the disease.
Gymnastics coach. Mother of three. Sales executive.
Those three roles took up the lion's share of Susan Weldon's time prior to April 2004. Everything changed afterward, when she had to learn how to navigate "a whole new world." She has since added a new designation: breast-cancer survivor. She's also an example of someone who has used what she learned during her fight with cancer to help others do the same. In 2009, she founded Unite for HER, a West Chester-based nonprofit that serves as an ongoing resource and support system for an increasing number of women affected by breast or ovarian cancer.
"I had spent the year prior to getting diagnosed doing a lot of caring for others," says Weldon. "I was caring for my mom, who was very sick, and still trying to be a wife, a mother, and living up to my other commitments. I had depleted myself."
Weldon's mother died in February 2004. Two months later, at age 39, Weldon received her diagnosis: stage III breast cancer. Aggressive treatment to fight the disease included six months of chemotherapy, which took a heavy toll. To deal with the nausea, fatigue, and other unwanted aftereffects of treatment, she sought out complementary modalities such as acupuncture and massage. She spent $6,000 of her own money doing so, but she felt better.
"I didn't fully realize it," she says, "but when I was in recovery, I was building a business plan."
The stars aligned at a breast cancer event on the steps of the Philadelphia Museum of Art.
"I saw a woman out the corner of my eye, and she looked like I did when I was going through treatment: very depleted, yellow skin, hollow eyes," she recalls. "My energy level was back by then, so I just went over and started talking to her. I told her about the treatments I found that helped me, and how much I paid out of pocket that year, and she just started filling up. She said, 'Good for you, but I could never afford that.' That was the climactic moment."
She then took the formal step of filing the paperwork to start Unite for HER (uniteforher.org).
Now with 14 employees to its credit, including Weldon as CEO, Unite for HER provides complementary therapies to promote physical and emotional wellness to women as they undergo treatment for breast or ovarian cancer. Every month, women enrolled in the program receive $2,000 worth of these therapies, fully funded.
Unite for HER also connects with women directly through "Wellness Day" events at more than 30 hospitals and cancer-care centers throughout the Philadelphia area. In addition, the nonprofit raises funds and awareness through wellness retreats, fashion shows, and food-and-wine tastings, as well as the Pink Invitational, a hugely successful gymnastics event at the Pennsylvania Convention Center. In December, Unite for HER started offering the HER care box, a container of self-care items that have been curated by a team of medical and wellness advisors that someone can purchase and have shipped to a woman in need of comfort and support as she undergoes treatment.
"Everything we do is about serving more women through overall wellness and self-care, without additional drugs and prescriptions," she says. "Women in our program have found control again in [their fight with] a disease they had no control over. We also help women with advanced disease, which carries a big emotional burden. Their disease is different, so they never leave our support. Not everyone gets to celebrate."
Taking on Pediatric Cancer
In 2014, Michael and Melissa Wiggins started a nonprofit called Cannonball Kids' cancer Foundation (CKc) as a way to honor their son, Cannon, who at 20 months old was diagnosed with stage IV high-risk neuroblastoma. Today, through research, education, and outreach programs, CKc is giving hope to families touched by pediatric cancer. In the organization's first four years of existence, CKc (cannonballkidscancer.org) has awarded $1.9 million in grants to fund research to develop new and effective treatments that have the potential to improve a child's quality of life.
"The big misconception is that pediatric care is rare, and that the problem has somehow been solved," says Karen E. Revels, executive director of CKc, which is based in Orlando, Fla., but has ties to the Philadelphia area. "It's still the No. 1 disease killer of children."
Seven U.S. children die of pediatric cancer every day, according to Revels—or, in one week, enough to fill two elementary school classrooms.
"One of our goals is to improve survivorship, but survivorship alone isn't enough," she adds. "The current treatments create horrific side effects, like hearing loss, infertility, organ failure, and a high incidence of secondary cancers. We also want to change the trajectory of research so these children have access to treatments that aren't so antiquated."
For example, CKc has funded a viral immunotherapy clinical trial at the University of Alabama at Birmingham for pediatric patients with certain brain cancers. The trial uses a modified cold sore virus to kick-start the immune system's response, which enables it to attack and destroy the tumor. Likewise, another trial at Georgia Regents University Cancer Center in Augusta, Ga., utilizes a drug called indoximod to block an enzyme used by cancer cells to evade detection, thereby unleashing the immune system on the tumor.
Such trials provide hope and time, two commodities that are in short supply for children and their families who have been told, "I'm sorry, but there's nothing else we can do."
Organizations such as CKc and Unite for HER show that, while cancer can have devastating effects on the life of anyone it touches, it is not the end.
"Prior to cancer, I was a mother of three, a gymnastics coach, and I worked out of my home," Weldon says. "Life was full and good, and it's still full and good. It's just very different now."
Photograph by Maia Tolsdorf
Published (and copyrighted) in Suburban Life magazine, October 2019.