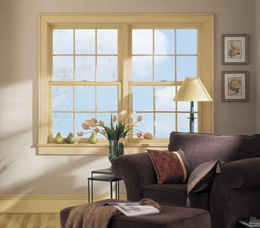 Style and Savings, Naturally
Andersen windows by ACRE Window Replacement can beautify any home and trim monthly utility bills
It's no coincidence that window replacement is the No. 1 home improvement in America. High-quality replacement windows can save thousands on utility bills, add value to a home and make any living space more comfortable all year long.
In fact, because replacing old windows helps cut energy usage and is a generator of home equity, the U.S. Government went so far as to give a $1,500 tax credit toward the purchase of new windows that were installed by the end of 2010.
When it's time to select a firm to do the work, it seems that the options are endless—and, as a result, confusing. Multiple window firms crowd the marketplace with a dizzying array of claims and promotions. To sort through the noise, ACRE Window Replacement, a local firm that specializes in Andersen replacement windows, has demystified the window-replacement process for Delaware Valley homeowners.
"The first step is to work with a firm that has a wide variety of products to offer," says Valerie Manfred, owner of ACRE Window Replacement, which is based in Blue Bell. "The reality is that one size does not fit all. A replacement window that is the perfect solution for an 80-year-old stone home in Bryn Mawr is not necessarily right for a 25-year-old rancher in King of Prussia."
To ensure that its customers have access to exactly what is right for them, ACRE offers the complete line of Andersen Windows.
"Andersen is the country's No. 1 window brand," Manfred says. "Our customers know that they are getting the best product available. Also, Andersen has multiple types and styles of windows, so whether it's an affordable vinyl window, or a fully divided light window in oak, the Andersen family of windows will fit the bill."
Key Experience
Manfred, a young female entrepreneur, chose the replacement window business, a field typically dominated by men, for her first business venture. Prior to founding ACRE, she had more than 10 years of experience in the construction industry, with both commercial and residential firms.
"I wanted to be in a 'green' business, and I was fortunate enough to have an opportunity to get involved with Andersen products," she says. "Most importantly, because of past experience in the industry, I was able to attract a team of experienced professionals."
In fact, the ACRE team has more than 100 years combined experience in the replacement window business. It strives to insure that each customer has a great experience. The company assigns a personal project manager to each job to insure top level communication. Customers can even track the progress of their project on the company's website at AcreWindows.com.
"The customer experience is paramount," Manfred says. "Doing it right has to take precedence over doing it quick.
"In window replacement," she continues, "the quality of the installation is just as important as the quality of the window itself."
Her philosophy has paid off. ACRE is by far the fastest-growing window-replacement firm in the Delaware Valley, quickly becoming the region's largest provider of replacement-window products carrying the Andersen brand.
Top-Quality Product
Considering its sterling track record and decades upon decades of experience, the Andersen brand has become synonymous with quality. "Many of our customers grew up with Andersen windows," Manfred says, "so when it's time to replace windows in their current home, Andersen is the natural choice."
ACRE also knows how to make the quality of Andersen affordable to the average homeowner. The company is well versed in financing options and can offer clients low-interest loan options to make even the largest project fit within a set budget.
In the summer of 2010, ACRE introduced 0-percent financing for 60 months. This long-term 0-percent option gives customers the ultimate flexibility to pay over time.
"This is not a gimmick," Manfred says. "While most 0-percent offers require the consumer to pay off the loan in full in six months to a year, or be subjected to a 25-percent interest rate. Our offer is 0 percent for the term of the loan with no risk of facing a huge interest charge."
ACRE believes that 0 percent for 60 months is a "game changer" for most consumers. Factoring in the energy savings, most homeowners can actually beautify their home with all-new Andersen windows for little or even no money out of pocket.
"Most homeowners with old windows are already paying out every month what it would cost for their new windows," Manfred says. "All they have to do is call us, and in six weeks, they will have all new windows in their home."
Sounds beautiful.
Interested homeowners can call ACRE at 888-REPLACE (888-737-5223) or visit AcreWindows.com
Stephanie Twining is a freelance writer based in the Washington, D.C., area.