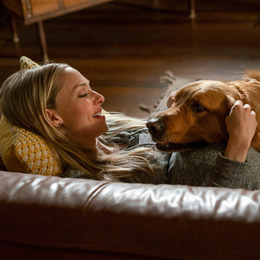 Loving Life
Through family and friendship, as well as her art, Allentown's Amanda Seyfried opens her heart.
No matter where her career takes her, Amanda Seyfried believes it is possible to go home again. She may have become a household name as star of stage and screen, but she says returning to her roots—specifically, to her hometown on the edge of the Philadelphia suburbs—has had a nurturing effect.
The 33-year-old Hollywood sweetheart began modeling at age 11 and was acting in soap operas As the World Turns and All My Children before her 16th birthday. She also made her mark on series such as Veronica Mars and Big Love. Her film career, which began with the 2004 comedy Mean Girls, includes The Art of Racing in the Rain, her latest.
Seyfried enjoys acting, but she admits that family comes first. She returns to Allentown often to spend time with loved ones, and she is committed to providing Nina, her 2-year-old daughter with her actor-husband Thomas Sadoski, with the same grounded family values she received from her parents.
In addition to appreciating her Allentown roots, she loves spending her summers nesting on her farm in upstate New York. There, horses, tractors, and the peaceful vibe offer a sense of tranquility that transports her far from the stressors of the working world.
In making The Art of Racing in the Rain, Seyfried enjoyed her time with co-star Milo Ventimiglia of This is Us fame, as well as a few new canine pals. In this romantic tearjerker (her favorite genre), Ventimiglia plays a Formula 1 racecar driver, Denny, whose bachelor's life is forever changed by the addition of a puppy. Later, he meets Seyfried's character, Eve, and they have a daughter. Through each of these characters, Denny learns how to love.
"I believed every emotion, every intention, and everything that Amanda is saying in this movie," Ventimiglia says of Seyfried's performance. "Amanda has such heart and spirit in her own life, the way she approaches being a woman and a mom, and the beauty she brings into the spirit of Eve is nothing short of remarkable."
We talked with Seyfried about the film, her childhood interest in meteorology, and her Allentown roots, among other topics.
Q&A
What do you look for in film or TV roles?
I've just been really lucky with the movies that are coming up. I want to connect with how my character is feeling, which was easy with Eve [her character in The Art of Racing in the Rain] since I related to her in so many ways. I just want that connection and rapport. If I feel it, then I believe that the audience will, too.
How did acting become your life's passion?
I wanted to be an artist. Somehow I wanted to express myself, and that's a big part of who I am. It has definitely gotten me to where I am today.
What else interests you in addition to acting?
I love painting, drawing, and listening to audiobooks. I also enjoy crocheting and weaving. I enjoy feeling creative and splashing my energy around.
I heard that you are into the weather, so to speak.
As a child I was sure that I would grow up to be a meteorologist.
What happened?
My parents had the temerity to send me to acting school! But I'm still fond of documentary programs about the weather.
One of the main characters in The Art of Racing in the Rain is the dog, Enzo. How do you feel about dogs?
I am a major animal lover. I loved being with the dogs on the set; they are just so cute. I love their wide-eyed innocence—their playfulness and curiosity. They just want to love you and be. They also live in the present. I can't get enough of being around them.
Did you enjoy working with Milo Ventimiglia, your human co-star on this movie?
He is such a generous and thoughtful man, a delight to work with in every way, which is why I'm trying to get a role on his show This is Us. Who knows, maybe one day …
Do you relate to Eve, your character in the film?
Eve and I are pretty similar—playful, open-minded, and pretty bold in some ways. I love that she is a lot more fearless than I am. I think at heart Eve is a nester, and Denny brings this shiny unpredictability and adventure to her life that she wasn't necessarily looking for, but finds super appealing.
What was the scene that really struck a chord with you?
One of the more memorable parts of the movie is the dancing scene between Eve and Denny because you know that Eve is not well, and you know sadness is going to follow. Yet they are there living so much in the present, just like dogs like Enzo teach us to do. It was like the whole rest of the world kind of sunk away, and we are able to watch the transparency of love.
What struck you about this story?
Anything about a dog can get really emotional because they're so pure and we love them. I also loved that it's a great story about family. It's about all kinds of love, the stages and types of love. So much happens, and so much is created and grows. It never stops through the progression, and it's so beautiful to watch all the parts of these kinds of love stories.
Tell me about going home to Allentown.
My grandmothers are both there, and my dad is there, and so my little family and I go back often. Allentown will never leave me no matter where I live, and so it is a big part of my daughter's life.
Do you keep in touch with high school friends from your hometown?
We went on vacation to a beach house with our children this summer. We are very tight. We have "mommy chats," so anytime we are worried, scared, or concerned about anything, we text one another and send a video or a photo. A few months ago, we were all back in Allentown and most of us went on vacation recently at the beach in Charleston [S.C.]. We are constantly in touch, which is such a good thing.
How has becoming a mom changed you?
Everything is completely different. I need to be that woman that I struggle to be, and I have to remember it's now or never. I have to be there and be present. I am making sure that I get what I need for my health and sanity.
What kind of role model do you hope to be for your daughter?
I want her to see a strong-willed woman, and I want her to see kindness. That's not to say I'm trying to be perfect. I just want her to see that because I had that growing up. Having really great caring parents have kept me in good stead, and I want to do the same for my daughter.
How do you balance work and motherhood?
With a lot of help. My mother helps as our grandmother/nanny. I truly love and appreciate the bond that she has with my daughter.
Photography courtesy of 20th Century Fox
Published (and copyrighted) in Suburban Life magazine, October 2019.