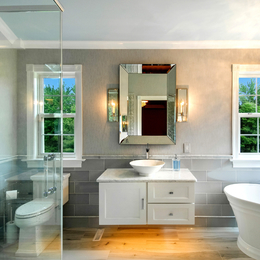 Gehman Design Remodeling
How hiring a design/build firm delivers a consistent project every time.
When you decide what's going to be the next project for your house, the next thing to decide is who's going to complete it. There are numerous companies to choose from, some offering to complete every aspect of the job, and then there are individuals or businesses companies hire who complete certain parts of the project—also known as subcontractors.
There are incentives for companies to hire subcontractors to perform the job, but there are potentially risks involved for the homeowner.
Gehman Design Remodeling, on the other hand, is a design/build firm that handles every part of the project from design to construction and delivers a consistent project every time.
Suburban Life spoke with MCR (Master Certified Remodeler) and president Dennis Gehman, who explains the difference between employees and subcontractors, the issues that may arise by going with subcontractors and why Gehman Design Remodeling is the contractor you should choose for your next project.
What is a subcontractor?
A subcontractor is an individual or in many cases a business that signs a contract to perform part or all of the obligations of a remodeler's contract. They are usually hired to perform a specific trade as part of the overall project and they're normally paid for services provided to the project by the originating remodeler or general contractor. The incentive to hire subcontractors is either to reduce costs or to mitigate project risks. Subcontractors have their own insurance, set their own schedule and warranty.
What does a homeowner risk by using a contractor who doesn't have employees?
[They risk] not knowing who or when someone is coming to work on their project, the project taking longer because things can't be scheduled as tightly, and the possibility of being sued.
Can you explain more about these risks?
By law employees must be covered by workers' compensation insurance. Most subcontractors work by themselves, without employees, and can't even get workers' compensation insurance. Someone covered by workers' compensation insurance waives the right to sue a property owner if they get injured while working on their property. Workers' compensation covers the healthcare costs and provides supplemental income during recovery. Many subcontractors can't afford health insurance and they certainly can't afford time off from work. With medical bills piling up and no income they can legally sue the property owners to get money coming in.
All too often subcontractors hire other subcontractors to help them keep up with the workload. This means that there's no way the homeowner knows who will be coming to work on their house. It's a mess if an insurance issue comes up because everyone has their own insurance and none of the insurance companies want to pay out so it ends up in a legal quagmire.
Why should someone choose Gehman Design Remodeling for their next project?
We commit to our clients that when we start work on a project, we're there each work day and the same person as our project manager is there working with their tools until the work is completed. Subcontractors often have multiple remodelers and their own homeowner clients vying for their attention which makes it hard for them to keep to a schedule.
What has Gehman Design Remodeling done to ensure your employees are able to complete each project from start to finish?
We have worked at cross-training our project managers for all of the trades needed to do remodeling. This helps with scheduling because when one trade is finished, they start work on the next one. They know that a house is best when built as a system, which too often single-trade subcontractors don't understand. Our project managers know that they will be the person doing the other trades so they plan ahead so that everything flows smoothly and is done correctly. You may need to wait longer for us to start your project. But it's usually better to wait for things to be done right than it is to have a project that starts and stops while you're living with a mess.
We know the people who are our employees. They are individuals who I trust to work in my house with my wife and daughters there when I'm not. Employees tend to care more because their job is on the line which is why we use the tag line, "We take your home personally."
Gehman Design Remodeling
Published (and copyrighted) in Suburban Life magazine, January 2020.