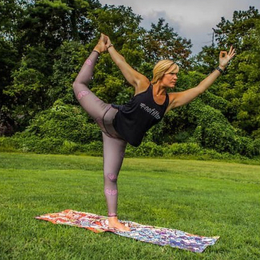 Growing with the Flow
Buddha-Bar owner Heather Grutzmacher nurtures a community devoted to wellness, kindness, and expanding horizons.
The Buddha-Bar
in Elkins Park is hardly a traditional yoga studio. This fact becomes apparent the moment one steps through the door and hears, "Good morning, darlings. How are we doing today?"
This typical greeting falls from the lips of Heather Grutzmacher, owner of the Buddha-Bar, which offers yoga, Pilates, Barre, dance, and a variety of other classes. As hits from Madonna, Lady Gaga, and Arianna Grande, among other pop artists play, Grutzmacher welcomes her "tribe" to the studio for her special blend of practice and perspective.
Known for her magnetic personality and infectious enthusiasm, Grutzmacher challenges clients to step out of their comfort zones. By doing so, she says, people can heal their bodies and grow in their personal and professional endeavors.
"I view my classes as a kind of movement therapy," says Grutzmacher, who graduated with a B.F.A. in dance from Temple University. "I wanted to become a physical therapist when I was at Temple, but I couldn't sit still for my classes, so I decided to become a dance major. I am grateful that my life as a dancer eventually led me to yoga, which is a form of movement therapy, and movement is a form of healing."
'A Friend Who Cares'
Prior to opening the Buddha-Bar in November 2014, Grutzmacher gained experience in the fitness industry at the Newtown Athletic Club and AFC Fitness locations in Jenkintown and Bala Cynwyd. In the process, she "learned about all the facets of running a fitness business from the clubs, but I missed teaching," she says. The opportunity eventually arose at AFC to teach a fusion class combining cardio and strength training and core exercises, which became a big hit with members. She also provided private Pilates sessions and facilitated kids' programs at the club.
Over time, she saw the corporate fitness model beginning to change, so she decided to branch out on her own. Fortuitously, she had spent years building a community of people who could provide support and encouragement. She had been spending summers at the Jersey Shore, for example, teaching Barre classes at The Zen Den Yoga Studio in Margate City, N.J., through which she had developed relationships with many of her clients and the businesses they owned.
"Everything just kind of developed and evolved naturally," says Grutzmacher. "It's not like I had a plan and wrote out a list. One of my connections led me to the space in Yorktown Plaza in Elkins Park, which became my studio. I called it the Buddha-Bar because it's not just a yoga studio. We offer a whole menu of healthcare and lifestyle choices, including yoga, Pilates, Barre, dance, nutrition counseling, meditation, kids' art programs, coaching, and workshops. It's evolved into a place of healing and a supportive community."
"Heather's positivity is contagious," adds Lena Khavinson, a Buddha-Bar client who also provides life coaching and personal development classes at the studio. "Her classes promote positive self-image, self-love, and believing in yourself. The messages and mantras she shares in class always seem to resonate at the right time. Attending Heather's class is like spending an hour with a friend who truly cares about you, encourages you, and accepts you just the way you are."
Making Connections
Grutzmacher recently began expanding her reach into the corporate world, with the addition of custom-tailored wellness programs designed to foster a healthier work force and inspire personal and professional growth. In May, she introduced the Drop & Gimme Zen corporate wellness program at Patient Care Coordination, a Philadelphia-based services provider for individuals with disabilities and older adults, staffed by case managers and social workers. The goal: to help PCC's staff better serve their clients by taking better care of themselves.
"As clinicians, we don't typically think of ourselves," says Paul S. Rimar, PCC's executive director. "We're more focused on taking care of others. This program incorporates Pilates, yoga, health, and wellness into the office environment, and has inspired our staff to focus on their own health and wellbeing. It also shows our participants that we take care of our staff as well."
As Grutzmacher's reach expands into the work force, she has teamed up with Philadelphia-based Amrita Yoga & Wellness, with locations in Fishtown and the Graduate Hospital area, to help support her growing community.
"People's lives are not static," says Heather Rice, Amrita's director. "When it comes to work and working out, people tend to travel around. People may live in the suburbs and work in the city, travel to the shore or the Poconos on the weekends. They're looking to stay connected, keep themselves moving, and make connections, and we can help them do that by offering programs in various locations, whether it's in the workplace or on site at one of our studios."
Grutzmacher's overarching goal is to "make people feel better, heal, or restore."
"I'm very lucky that I found a way to connect with people and work with them in a way that they trust me, value my energy, and can learn from me," she says. "I feel like my story has been evolving my whole life, just by relating to people and helping them learn how to be healthy and happy. Emotional abundance is just as important as taking care of your body and learning to grow as a person."
Celebrating Differences
When she's not in the studio, Grutzmacher spends time supporting a number of "passion projects." This includes creating a curriculum of dance, art, music, yoga, and meditation for adults with special needs at the Chester Springs-based nonprofit Sonder House. In addition, she lends support to The McKeown Foundation, which assists individuals affected by Alzheimer's disease, and helps to raise funds and awareness for people living with AIDS through Code Red, an annual event that benefits Philadelphia AIDS Fund, Manna, and Mazzoni Center for LGBTQ Health and Well-Being.
"I'm not content to just sit by and watch things happen; I'm working to create change, create awareness, and break stigmas," she says. "In the world of yoga, it's all about inclusion, not exclusion, so the charities I support tend to focus on that, and on educating society about being comfortable with others who are different and learning about and celebrating those differences."
As Melissa Epps, the founder of Sonder House, notes, "Heather's passion for helping our organization has been overwhelming, and her wealth of knowledge and ability to connect me with other people who are looking to support our cause has been one of the greatest gifts."
As the Buddha-Bar continues to evolve, Grutzmacher is excited to see what the next chapter will bring to her tribe.
"In order to grow you need to expand your horizons, and without change there can't be growth," she stresses. "This is not just a business for me; it's a lifestyle, and I'm happy to be creating a nurturing, supportive community that others want to be a part of."
Photograph courtesy of the Buddha-Bar
Published (and copyrighted) in Suburban Life magazine, January 2020.