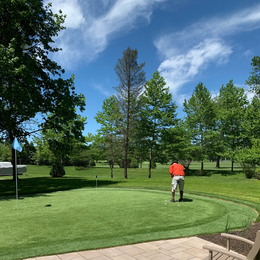 Lasting Impression
The renovations at Gwynedd Estates and Spring House Estates are making residents and guests ooohhh and aaahhh.
From community spaces and dining venues to entertainment areas and game rooms to wellness areas to brand-new "Signature Balconies," Acts Retirement-Life Communities has made a significant investment in upgrading and enhancing two of its Montgomery County communities, Gwynedd Estates in Ambler and Spring House Estates in Lower Gwynedd.
"We walk in the shoes of our residents, we imagine what they might expect, and we use all of our energy and expertise to deliver what is needed," says Donna Thompson, Executive Director at Acts' Gwynedd Estates community. "These most recent improvements were resident-driven and, for the most part, to enhance lifestyle. Acts is an organization with a laser focus on providing the best possible lifestyle experience for our residents."
The two Montgomery County communities have been serving the area for more than 40 years.
"Much has changed in those four decades," says Thompson. "Residents' preferences have changed dramatically and we need to stay ahead of the curve. More and more baby boomers are retiring each day, and we know for sure they will continue to drive change in our communities."
Moving to an Acts community means having access to a lifestyle that has much to offer.
"And now that lifestyle is better than ever at Gwynedd Estates and Spring House Estates," says Thompson. "We've improved and enhanced our outdoor recreation areas, refreshed our fitness studios, expanded and renovated common living areas, upgraded our clubhouses and game rooms, and revamped our dining rooms and bistros to offer more choices and a more interactive and enjoyable dining experience."
The exteriors of Acts communities have been refreshed with what the organization calls "Signature Balconies." The balconies are being added to all Acts communities (beyond the Montgomery County communities) to not only update the appearances of the communities but also to extend outside personal living space for residents.
Thompson says the new pickleball courts at Gwynedd Estates have created a new buzz around the local Acts communities. "Residents from Spring House Estates and other nearby Acts communities have been using our courts for tournaments or lessons. It's been wonderful watching the camaraderie—and competition—that develops on the courts."
In addition to the pickleball courts at Gwynedd Estates, sports enthusiasts can enjoy a new horseshoe area, mini-golf chip and putt course, and bocce ball court. Gwynedd Estates' new barbeque station and outdoor kitchen have also been very popular for get-togethers and a variety of outdoor events.
Thompson adds that the updates are an example of how all Acts retirement communities are evolving.
"The improvements and investments Acts has made at both Gwynedd Estates and Spring House Estates are examples of the commitment Acts has to all residents, both current and future," she says. "While our buildings and offerings may be changing, our goal remains the same: to provide worry-free living in beautiful surroundings with the promise of Acts Life Care®. That's life at all Acts Retirement-Life Communities."
Acts officials say residents are very pleased about the changes.
"These reimagined spaces were designed with our residents' ultimate comfort and enjoyment in mind," says Thompson. "The updates provide new excitement and elegance to their home while reaffirming our commitment to ensuring value for our residents and providing quality senior lifestyles and services to our community."
For more information, contact the Acts community nearest you by visiting AboutActs.com/Investment or calling (888) 772-8312.
Published (and copyrighted) in Suburban Life magazine, November 2019.