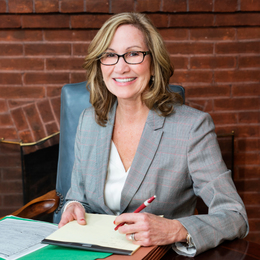 An Invaluable Ally
From divorce and child custody to other complex family law matters, attorney Jill E. Trayer takes a skillful and measured approach to helping clients through some of life's most difficult times.
Lawyers specialize in helping people who are going through some of the most trying times in their life. In no field of law is this principle more applicable than in family law.
Although many clients manage such changes in stride, worst-case scenarios in family law see families broken into irreparable pieces. Marriages, once joyously celebrated, crumble. Anger and resentment replace "now and forever." The spark of a disagreement regarding financial support contributions to the household and child custody disagreements erupts into a raging wildfire. The division of assets becomes a heated tug-of-war, leaving both sides raw and embittered.
To successfully navigate such turbulent waters, one would be best served to choose an attorney as skillful, compassionate, and experienced as Jill E. Trayer. At her Doylestown-based law firm, the atmosphere is warm, private, and relaxed. Trayer uses empathy, resourcefulness, and a thorough understanding of the law to help clients through the painful and uncertain times that involve divorce, child custody, and other complex family law matters.
"Clients going through divorce and child custody are going through horrible situations with sometimes manipulative spouses," she says. "Often, clients just need to tell you their story, express their anger and hurt. I need to reassure them I understand what they're experiencing and that I can handle difficult spouses. It's my job to help them stay focused and grounded on the facts and information we need to prepare their case."
Of course, she must temper her compassion with practicality and common sense.
"To be an effective lawyer in this field, you must have a high degree of resilience and a persuasive personality," she says. "You have to be able to control your emotions and also those of the client when faced with a difficult adversary. You also must be fair, honest, and take the high road during the negotiations."
Trayer is a self-described legal counselor who lends a calming voice of reason to clients. In plain language, she explains to clients the often complicated dynamics of separating a family into two separate households, and how to protect the client's rights and financial interests as a spouse and/or parent of minor children. Also, she shows clients how they can attain their goals and predict possible outcomes—all at a cost she describes as fiscally responsible and affordable.
"There are many ways to win a case, and convincing an opposing counsel that you are in a confident position and well prepared often avoids the need for a court hearing," says Trayer, who has 38 years of legal experience behind her. "I'd say I'm a mediator first, a negotiator second, and, as a last resort, a litigator. Litigation is expensive and often has unintended consequences. I try to keep clients out of court and negotiate a good settlement at a reasonable cost. Most importantly, I must make sure my clients' rights for an equitable distribution of the marital assets and household income are protected."
Trayer began her legal career in 1981 as a Domestic Relations Officer for Bucks County, where she gained an in-depth understanding of various aspects of family law, including support, custody, and divorce.
"That was a great learning experience for me," she says. "I got to know the court system, the judges, and the intricate support procedures. It was invaluable."
After graduating from the Temple University James E. Beasley School of Law, she returned home, landing an associate position in a well-known and respected law firm in New Hope. She practiced family law and participated in mental health hearings as an attorney representing the Bucks County Department of Mental Health. "I was very fortunate to be taught and mentored by the best law talent in our field," she adds.
Trayer has been practicing at her Doylestown location since 2001, offering her expertise in not only divorce and custody issues but also stepparent adoptions, name changes, grandparents' visitation rights, wills, power of attorney, and related estate documents. For her, the most rewarding aspect of practicing family law comes from helping clients move forward with a sense of optimism about the future.
"The best part of my job is watching people become empowered, gain understanding and get through their legal matter and come out on the other side so much happier and grateful," she says. "That's what's most rewarding."
The Law Office of Jill E. Trayer
40 E. Court Street
Doylestown, Pa.
(215) 489-3868
trayerlaw.com
Photograph by Jody Robinson
Published (and copyrighted) in Suburban Life magazine, November 2019.