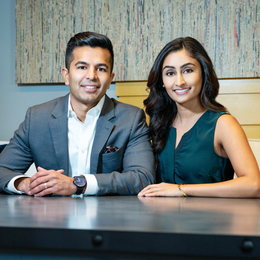 'Why Didn't I Come Here Sooner?'
Drs. Jashank and Komal Sampat and their team at Ambler Dental Care and Bear Valley Dental Care strive to remove the fear and reinvent the experience of going to the dentist.
The transformation is remarkable, almost beyond description. Self-confidence replaces doubt. Elation replaces embarrassment. Grins replace gloom. An existence of sadness and depression is replaced by a brilliant outlook on life, once previously assumed impossible.
At Ambler Dental Care and Bear Valley Dental Care, Jashank Sampat, D.M.D., and Komal Sampat, D.M.D., have not merely witnessed these kinds of dramatic transformations in patients, but they are also dedicated to making them reality. Whether these dental specialists are correcting patients' issues with dental implants, porcelain veneers, or Invisalign, the resulting improvements are evident not only in their patients' smiles but also in their daily lives.
"It's exciting to go through this journey with patients," says Dr. Komal. "When we're finished creating their dream smile, they have a new glow. They have confidence they never showed before.
"Everyone deserves to feel good about their smile," she continues. "I sit down with patients for a consultation. We take photos, study models and impressions. We ask patients to be a part of the process and what they expect. I then create a 3D model to show the patient what their new smile will look like. This way we're on the same page and this allows us to exceed their expectations."
The health and beauty of a patient's smile are at the forefront of everything the doctors and their team do, according to Dr. Jashank.
"With our approach to dentistry, as healthcare professionals, we are able to deliver the highest quality of patient care while creating a comfortable experience," he says. "A central part of philosophy in both our offices is incorporating new techniques to make the appointments shorter, quicker, and less painful. We know that's what patients want."
Comprehensive Care
The connection between good dental health and self-confidence is undeniable, with research indicating how the condition of a person's mouth can have a profound effect on their self-esteem. Maintaining good oral hygiene and showing clean, well-cared-for teeth when one smiles can have life-changing results. In other words, the state of a patient's teeth can influence how one looks, speaks, eats, chews, tastes, and socializes—in other words, how one enjoys and experiences life.
This is why Dr. Jashank and Dr. Komal and their team of doctors prioritize patient education. Knowledge gained can serve to empower people with accurate information about their health, enabling them to take action and protect their smiles, as well as their overall health. Simply put, they want each patient to make informed decisions about their oral health and possible treatment options.
Upon graduation from dental school, the doctors pursued more specialized training, with each participating in a six-month Implant Continuum Training course in New York City that only five percent of dentists in America complete. This focus on continung education has helped the doctors address all of their patients' dental concerns under one roof.
"We have a team of doctors in our practices who offer comprehensive care," Dr. Jashank says. "With our team, we are able to collaborate to provide every patient with all the services they need. Patients come here for the first time and end up asking themselves, 'Why didn't I come here sooner?' They can't believe this is what the trip to the dentist is now."
Whether requiring expertise in cosmetic dentistry or dental implantology, patients at Ambler Dental Care and Bear Valley Dental Care can expect an experience that is both caring and satisfying.
"I received phenomenal care from this office," notes a raving fan on the dental practice's website. "I have never been let down. They have an eager interest in taking care of my teeth. I would recommend them for exceptional dental care."
Nothing to Fear Here
The teams at these dental offices understand the fear many folks have about going to the dentist. Perhaps someone was traumatized by dentist visits as a child and has never gotten over the lingering fear. Or someone may have had a recent dental experience that has kept them from properly taking care of their oral health.
To calm those fears, the practice offers "a spa-like atmosphere." Examining rooms include two 40-inch, flat-panel televisions—one on the wall, and the other on the ceiling for viewing when the examining chair is reclined. Patients are offered a neck pillow and blanket, and noise-cancelling headphones to enjoy music or TV. When their treatment is finished, patients receive a warm and refreshing scented towel to wipe their face.
"Nobody likes going to the dentist; even in the film Finding Nemo, they shed light on the fact that the dental office can be a scary place," Dr. Komal says. "But we've made going to the dentist a better and more pleasant experience."
As proof, one need only to read the patient testimonials on the Ambler Dental Care website. In one of them, a patient suggests that he drives past many other dentists en route to the Ambler Dental Care office. His message: Not all dentists are the same.
Ambler Dental Care
602 S. Bethlehem Pike, Suite C-2
Ambler, Pa.
(484) 544-0581
amblerdentalcare.com
Bear Valley Dental Care
137 Montgomery Ave., Suite 200
Boyertown, Pa.
(610) 609-7940
bearvalleydental.com
Photograph by Jody Robinson
Published (and copyrighted) in Suburban Life magazine, November 2019.