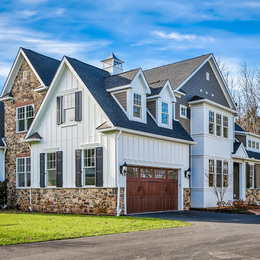 Uniquely You
The Carriages at Lower Gwynedd welcomes residents to customize the "forever home" of their dreams.
When the time comes to consider downsizing a home, mixed emotions are sure to follow, as are questions aplenty: How will I adjust to a different living space? How can I make this new home my own? What about property maintenance? Will I be able to maintain my lifestyle?
Luckily for anyone looking to find their "forever home" in Spring House, the property known as The Carriages at Lower Gwynedd has answers to all of these questions and more, allowing a homeowner to concentrate on what matters most: living life to the fullest.
To begin, the Carriages' homeowners association takes care of the myriad tasks many homeowners find tedious and cumbersome.
"Just the concept of being able to live where maintenance of the house, yard, trees, pool, snow removal, salting, and landscaping is a huge draw for people," says Greg Harth, president of Harth Builders, the custom builder behind the Carriages. "And the location is walkable to Spring House."
Harth explains that this custom neighborhood was built to be exactly that—a community of neighbors, each of whom has a home personally designed to meet each resident's needs.
"What speaks to me about this project is that it's a smart community," he says. "Instead of just knocking down trees to build more single-family homes, we thought we needed a community with a more concentrated center, with accessibility. The proximity of this community to the town center of Spring House has made the homes really desirable. A resident can have access to great amenities and they theoretically don't even have to get into their car to do it. It truly is smart living."
Beyond design, the homes themselves are smart as well. The homes in this development are designed around a Savant central hub, which Harth refers to as "the brain of the home."
"Our homes feature smart technology," Harth explains. "They are built on the way we live today. For example, 10 years ago, there were no iPads; today, everyone is starting to live differently."
Such differences can be seen in the design of each custom home. Through extensive surveying and market research, Harth Builders incorporates into each home the features buyers covet most. For example, whereas in the past living rooms have been the center of the home, Harth says the trend has moved toward the kitchen serving as the central gathering space.
"Kitchens, and how we interface with backyards, have evolved as society has changed," he says. "Also, people are no longer looking for big soaking tubs—rather, people prefer spacious showers."
That said, a Harth-built home can be designed to suit any customer's wishes.
"All the homes at the Carriages have backup generators, and any home can have an elevator put in," he says. "The entire first and second floor plans are flexible; we utilized minimal bearing points so we can accommodate many different floor plans."
Of the 11 roughly 3,550-square-foot custom homes in the development, fewer than half are still available, so buyers will want to act with haste. Pricing starts at $979,000, with buyers able to choose from a plethora of options.
"Ours is a dedicated, skilled team of craftsmen with attention to detail," says Harth. "The fact that we have in-house construction and design allows us to work seamlessly."
Harth, whose father started the company in 1996, says his dad is still on hand to make sure projects run smoothly. The opportunity to work side by side with his father has "been a joy for me," Harth says.
"We carry on my father's legacy of quality and commitment, our mission statement, and our core principles of communication, quality, and cleanliness," he adds. "We utilize conservative approaches and attention to quality the first time around. We rely on repeat business and referrals to thrive. We stay really, really busy working our tails off to make sure we fulfill our promises."
This all contributes to the central goal that the Carriages share in common with all Harth properties: "We want our clients' homes to be their favorite place to be."
To learn more about The Carriages at Lower Gwynedd, visit Thecarriagesatlowergwynedd.com. To learn more about Harth Builders, call (215) 654-0364 or visit harthbuilders.com.
Photograph by Jody Robinson
Published (and copyrighted) in Suburban Life magazine, November 2019.