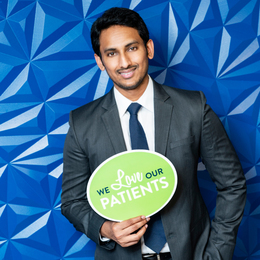 Building Bridges
At Center One Dental Associates, Dr. Krishna Gorantla uses communication, technology, and continuing education to connect with patients and elevate the practice of dentistry.
Krishna Gorantla, D.D.S., has devoted his career to protecting, preserving, and beautifying the smiles of others. When Dr. Gorantla came to the Greater Philadelphia Area earlier this year, he had one goal in mind: to use his skills, supported by the most advanced technologies and a commitment to continuing education, to safeguard patients' smiles.
After practicing dentistry in India, Dr. Gorantla came to the United States to pursue an M.B.A. in healthcare administration. His love of dentistry compelled him to enroll in the Internationally Trained Dentist Program at the University of Michigan. Upon the program's completion, he practiced in Michigan for several years and then moved to Nashville, Tenn., to work for a large dental practice. He quickly realized he wanted to work within a more patient-focused, technology-based practice. This realization led him to Philadelphia.
As fate would have it, Dilip Dudhat, D.M.D., a leading dental expert in the Philadelphia area, was looking for a dentist to take over a practice in Northeast Philadelphia. At Center One Dental Associates in Northeast Philadelphia, Dr. Gorantla has become a welcome addition to the dental community, capable of addressing a wide range of dental needs.
"I was a little hesitant to consider another move and wanted to make sure it was a good fit this time around," says Dr. Gorantla. "It was important to me to find an employer who understands the importance of working with patients on a personal level and investing in advanced technology. After interviewing with Dr. Dudhat, his philosophy for promoting continuing education and elevating the practice of dentistry really impressed me and I decided to make the move."
Since taking over the practice, Dr. Gorantla has focused on building personal relationships with his patients and helping them feel welcome and comfortable during their treatment.
"I often hear that patients are scared to go to the dentist, so I work hard to make sure patients have a relaxing and positive experience," he says. "I try to relate to them on a personal level first, then as an educator and professional, explain the procedures, and help set their minds at ease."
Something for Everyone
Center One Dental Associates provides comprehensive dental exams and employs talented licensed hygienists who do much more than just clean teeth; they are focused on providing preventive care that will save lives. The practice also offers a full spectrum of dental care with a focus on implant, family, and cosmetic dentistry. Services include crowns, root canal treatment, periodontal disease treatment, veneers, Invisalign, dental implants, laser dentistry, treatment for sleep apnea, and teeth whitening.
Advanced technology plays a major role in providing patients with optimal care. For example, the practice utilizes 3D X-rays for precise dental work such as implants, high-definition intra-oral cameras to help educate patients about their conditions and employ digital scanners designed to capture a snapshot of the oral structures of each patient's mouth for the fabrication of crowns and Invisalign treatment, thereby providing more accurate and comfortable dental treatments.
"Through our use of advanced technology, we can provide multiple services to our patients in one office, which helps with continuity of care," says Dr. Gorantla. "Patients don't have to spend extra time making appointments with multiple specialists at multiple offices. If a dentist is placing implants, he or she should be able to restore crowns as well or provide any additional services the patient may need."
Communication is another cornerstone of Dr. Gorantla's practice. He works closely with lab technicians to provide a team-based approach to patient care.
"I often refer to our lab technicians as the heroes behind the scenes," he says. "When looking at the placement of implants or crowns, I will personally work with our lab techs to help in the design process. I spend two or three hours in the lab every Friday afternoon designing and discussing cases. This takes a lot of time and effort, but it's important because it helps to avoid problems later down the line."
Dr. Gorantla is particularly passionate about dental implants—an area of dentistry in which he has considerable experience.
"There are so many specialties within the practice of dentistry, but implant dentistry is unique because it combines oral surgery, periodontics, and prosthodontics," he says. "The implants available today are stronger and more durable than the bridges and dentures traditionally offered by dentists and provide a great option for patients who are missing permanent teeth."
Rather than resting on the gum line like removable dentures or using adjacent teeth as anchors like fixed bridges, dental implants provide long-term replacements that are surgically placed in the jawbone. Compared with dentures, dental implants look and feel more natural, address the issue of bone loss, and allow people to enjoy a healthy and varied diet without restrictions, Dr. Gorantla suggests. Also, if cared for properly, dental implants can last a lifetime.
Dr. Gorantla utilizes digital imagery to pinpoint the exact position and placement of the implant, which, in turn, helps to produce optimal results. He believes dental implants can make a positive difference in a patient's life by improving their smile and self-confidence and eliminating the recurrence of tooth decay and periodontal disease often faced by patients who have undergone bridgework.
Dr. Gorantla is also a proponent of continuing education. He spends much of his spare time learning how to utilize the most cutting-edge techniques to ensure that his patients receive the highest quality of care.
"The more we as practitioners learn, the more confidently we can practice and provide high-quality, technologically advanced care to our patients," he says. "In addition to continuing education courses in all aspects of dentistry, I participate in courses for lab technicians to become more knowledgeable about issues they are dealing with as well."
When he's not in the office or learning about advanced dentistry techniques, Dr. Gorantla enjoys exploring his new city, playing sports such as basketball and golf, and watching Michigan Wolverines football games. That having been said, he's looking forward to adding the Eagles, Sixers, and Philly's other heralded sports franchises to his list of favorites.
Center One Dental Associates
9880 Bustelton Ave., Suite 213
Philadelphia, Pa.
(215) 673-4888
centeronedentalphilly.com
Photograph by Jody Robinson
Published (and copyrighted) in Suburban Life magazine, November 2019.