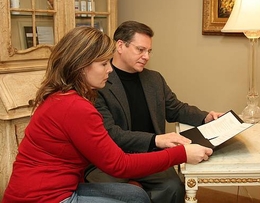 Youth Movement
"Fat transfer" and other anti-aging weapons at the Bucks County Plastic Surgery Center can help turn back the clock
While the aging process never ceases, new advances in plastic surgery to combat wrinkles and maintain a youthful appearance also keep progressing. Dr. Robert J. Skalicky, board-certified plastic surgeon and president of Bucks County Plastic Surgery Center in Newtown, says plastic-surgery techniques have adapted to the new desires and expectations of patients.
"The wave in plastic surgery today is to reverse the signs of aging with less invasive techniques to create naturalness in appearance," Dr. Skalicky says. "Patients want a refreshed, youthful look without the over-pulled, over-operated looks of the past. Creating a beautiful, natural appearance can be accomplished today with simpler, less invasive techniques.
"Nobody wants the porcelain, glassy, over-pulled look anymore," he continues. "Patients want to turn back the clock in a natural, undetectable way without irreversibly changing their natural contours. Too often in plastic surgery too much is done. And when that happens, unfortunately, the result can be irreversible. The best facelift is one that is not obvious from across the room. More is not always better."
When contemplating a procedure in plastic surgery, the most important step may very well be the consultation. At this time both the patient and the plastic surgeon can get to know each other and devise a proper treatment plan.
"While a patient's desires are obviously important when considering a cosmetic procedure, it is critical for the plastic surgeon to educate the patient also," Dr. Skalicky says. "I like to guide my patients in the right direction so they end up with a beautiful, natural result. Patients don't have the benefit of experience and consequently can make mistakes in requests if not guided properly."
While the common, well-advertised techniques to battle wrinkles include injectables and lasers, another advance involves using a patient's own fat to improve facial appearance. This technique, referred to as fat transfer, has evolved over the years due to long-term observations of the causes of facial aging, according to Dr. Skalicky.
"The appearance of facial aging is not only due to the effects of gravity, but also due to volume loss over the years," says Dr. Skalicky. "Fuller faces look younger. I now have the ability to 'refill' these regions with a patient's own fat. With the new technique that I use the procedure is both safe and predictable, and restores the facial youthful fullness that the aging process has decreased."
Natural and Undetectable
While fat transfer can be used in a variety of areas of the body, one of the main locations where this "filling" is performed is in the lower eyelid region. Many people develop a deep groove where the eyelid meets the cheek and need volume replacement, not additional fat removal.
The procedure, which can be performed in an office setting in less than an hour without the need for expensive hospitalization or anesthesia, can also be utilized to correct depressions in the skin in other body regions that occurred congenitally or post-surgically. Even areas of deeper cellulite can improve with the transfer technique; common areas where this is done include the thighs and buttocks. Dimpling and depressions can be softened or eliminated with the fat transfer technique.
"Fat transfer represents the latest weapon in plastic surgery to fill areas that are depressed or atrophied," says Dr. Skalicky. "By using a patient's own tissue, there is no risk of rejection and the correction lasts longer. Results can be maintained for several years in many cases."
When more extensive skin tightening is required, it can be accomplished with any one of a number of minimally invasive procedures such as eyelid lifts, mini brow-lifts, and mini facelifts. Unlike the involved, invasive and extensive facelifts of the past, the new "mini lifts" can give a youthful, more natural appearance without the overdone looks of the past.
Dr. Skalicky has been in practice for 18 years and was voted "Best of Bucks 2010" for plastic surgery. His practice encompasses all areas of plastic and reconstructive surgery with a focus on face, breast, and body cosmetic procedures. Consultations are private and complimentary. The Newtown office can be contacted at 215-702-8600 or through
e-mail at BucksCountyPlasticSurgery.com.