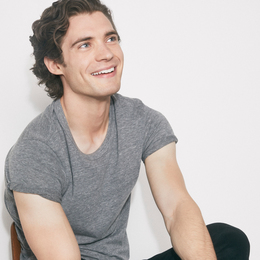 The Natural
An acting career seemed fated for David Corenswet, star of Netflix's The Politician.
David Corenswet remembers being just a young boy, marveling at his older sister Amy's performance in Fiddler on the Roof at the Narberth Community Theatre. He leaned over to tell his father, "If it's possible, I'd like to do something like that one day."
Only nine years old at the time, Corenswet didn't quite understand it all, but he shared his dream with the right person. His father—a dedicated actor for several years after college—set out to find his son a play. To his delight, the Arden Theatre happened to be holding auditions under artistic director Terry Nolen, and Corenswet got his first role as Bert in their production of All My Sons—two little scenes in the first act. A thespian was born.
Years later, Corenswet starred in the 2018 indie film Affairs of State and appeared briefly on the final season of House of Cards. But that was just the beginning. Earlier this year, the 26-year-old L.A.-based actor had his big break on The Politician. The show is a quirky Netflix comedy from writer-producer Ryan Murphy (Glee), about cutthroat, wealthy high school students who have their own outlandish ideas about winning. He plays troubled teen River Barkley, in the midst of a fight for student body president.
We spoke with Corenswet about his new show, talking to Gwyneth Paltrow in Mandarin, and dogs.
Q&A
What happened when the nine-year-old would-be actor grew up?
My vivid memories of Philadelphia are from my time doing theater as a kid. I was in Macbeth at the Pennsylvania Shakespeare Festival; my first musical, La Vie En Bleu, about the life of Picasso, I did at the Walnut Street Theatre. … I got to grow up learning from the greatest Philadelphia actors and directors.
My last Philly regional play was an elaborate production of Our Town at age 16, back at the Arden, again directed by Terry Nolen. I played Joe and Si Crowell (the paper boys). Terry decided that we would walk the entire audience over to Christ Church for the wedding in the second act, then return to the theater for the final act. It was a singular Old City experience.
Please tell me about your college years.
Although I knew I loved theater, I knew almost nothing about making a life out of it, so I applied to UPenn and planned to study psychology. But after doing a student production of the play Rope, I decided I'd roll the dice and audition for the drama division at Juilliard.
What was the audition like?
With the help of my high school theater teacher Phil Brown, I prepared a couple of crazy monologues and headed up to New York City with my dad. It's a hell of an experience, the audition weekend. I was floored to see a bunch of kids as eager as I was to figure out what "acting" really meant. It felt like my tribe. By the skin of my teeth, I graduated in 2016.
Tell me all about your Netflix show The Politician.
It's a political satire about wealthy high school students who think their student government elections require House of Cards-level conniving—loads of plotting, backstabbing, attempted murder. I actually auditioned for the part of Ricardo, but River was always more my speed. Within a week or two, I was headed to L.A. to start shooting.
Tell me about your standout scene with Gwyneth Paltrow, in which you are both speaking Mandarin.
We just made the sounds we were told to make. Mandarin's no joke, so it was a totally nerve-wracking scene to shoot—on the first day, no less! But Gwyneth is so lovely and down to earth. She's also, I think, a highlight of the series.
What do you hope for your future?
Gosh, I hope I end up with a dog. A big dog. Maybe one big dog for wrestling, and one travel-sized dog for long flights.
Photograph by Zoey Grossman
Published (and copyrighted) in Suburban Life magazine, November 2019.