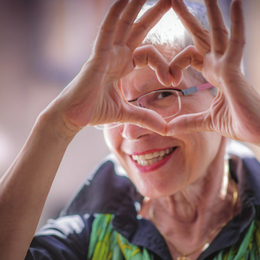 Loving Life at Every Age
Men and women of retirement age discover multiple routes to an independent lifestyle
Sarah Lehner has come to a crossroads. Rather, she has come to the crossroads before the crossroads. At 71, she still feels strong and active—"most of my friends have a hard time keeping up," she admits—but she understands that one day this may not be the case. In a scenario in which she needs some extra support, she'll have to get comfortable with the idea of relying on someone other than herself.
"I know I have some decisions to make before too long," she says. "It comes down to this: Do I stay put or do I go someplace else?"
She's referring to the question of what happens next. Part of her would like to spend the rest of her life at her family home near Jeffersonville. Although her husband of more than 40 years has long since passed and her two adult children have moved away from the area, she's happy where she is. She likes the independence of living at home with her two cats, though both are "getting up there, too." She's also close with her neighbors; she even spends time "keeping an eye on" a longtime friend nearby who is in poor health.
Lehner has considered moving into a continuing care retirement community nearby, where she imagines she could expand her network of friends and gain access to all kinds of amenities, activities, and entertainment. She says the idea appeals to her children, too, both in their 40s with families of their own.
"They worry," Lehner jokes. "I think they like the idea of Mom being taken care of."
The thought has certainly crossed her mind, too. She's even toured a few communities in Montgomery and Bucks counties, and she likes what she has seen there; she says she's just not ready.
Although she hopes she never needs it, she could always look into one of the many providers of home healthcare services. These companies offer nonmedical services such as personal hygiene, bathing, and grooming, as well as light housekeeping, assistance with doctors' visits, and overall companionship. Such a service would enable her to stay at home and maintain her independence, and her children would have the comfort of knowing she was receiving supplemental care from experienced professionals charged with ensuring her wellbeing, all at a manageable price.
Options abound.
No Worries
An increasing number of CCRCs have evolved to offer membership programs that enable healthy non-residents of a certain age to stay in their homes. With a combination of one-time membership fees and ongoing monthly fees, members can receive personalized plans that preserve their independence while anticipating their needs in terms of future care. In addition, members of these programs can receive access to a full range of in-home and on-campus offerings, including services such as exercise classes and wellness seminars to keep members active and engaged.
Montgomery County resident Holliday Hammond, for example, was one of the first members of Meadowood At Home through Meadowood Senior Living in Worcester. She considers the program as something of "an insurance plan."
"I didn't want my daughters to have to worry about me," says Hammond. "I had a long-term care insurance policy, but it was limited in scope. … If I have an issue, I have the comfort of knowing I can move into the health center if I need to. I know Meadowood will take care of me for the rest of my life.
"I'm healthy and financially OK, and I also like being at home and having my own space," she continues. "I think it's a good option for someone who doesn't want to or isn't ready to move into a retirement community."
As for Lehner, she doesn't feel the need to rush into anything right now.
"I'm walking a few miles a day, playing golf and tennis when the weather is nice," she says. "I consider myself very fortunate to feel as good as I do. If that changes, at least I know I have options."
Safe Havens
Many residents prefer to "age in place" with help from locally based home nonmedical healthcare providers such as Visiting Angels or Home Instead. Others would rather decamp to one of the area's fine continuing care retirement communities (CCRCs), where they can enjoy an independent lifestyle filled with relaxation, enrichment, and exploration—and be assured of care regardless of changes to their health.
Each of the following communities has a reputation for providing exceptional care for residents. What's more, loved ones can rest assured, knowing that Mom and Dad are safe and comfortable.
Acts Retirement Life Communities
Locations include Brittany Pointe Estates in Lansdale, Fort Washington Estates, Granite Farm Estates and Lima Estates in Media, Gwynedd Estates in Ambler, Normandy Farms Estates in Blue Bell, Southampton Estates, and Spring House Estates in Lower Gwynedd.
actsretirement.org
Arbour Square of Harleysville
Harleysville
arboursquare.com
Artis Senior Living
Huntingdon Valley, Princeton, N.J., and, coming soon, Yardley
artisseniorliving.com
Atria Senior Living
Atria Center City in Philadelphia, The Solana Doylestown in Warrington, and Atria Lafayette Hill.
atriaseniorliving.com
The Attleboro Community
Langhorne
attleborocommunity.com
The Beaumont at Bryn Mawr
Bryn Mawr
beaumontretirement.com
Brandywine Senior Living
Locations include Dresher Estates, Haverford Estates, Longwood in Kennett Square, and Upper Providence in Phoenixville.
brandycare.com
Bryn Mawr Terrace
Bryn Mawr
brynmawrterrace.org
Chandler Hall
Newtown
ch.kendal.org
Dunwoody Village
Newtown Square
dunwoody.org
Five Star Senior Living
Locations include Devon Senior Living, Exton Senior Living, Glen Mills Senior Living, and NewSeasons at New Britain in Chalfont.
fivestarseniorliving.com
Friends Home & Village
Newtown
fhvpa.org
HarborChase of Wilmington
Wilmington, Del.
harborchase.com
The Hearth at Drexel
Bala Cynwyd
thehearthatdrexel.org
Lancashire Terrance
Lancaster
lancashireterrace.com
The Manor at York Town
Jamison
themanoratyorktown.org
Masonic Village at Lafayette Hill
Lafayette Hill
masonicvillages.org
Meadowood Senior Living
Worcester
meadowood.net
Pennswood Village
Newtown
pennswood.org
Pickering Manor
Newtown
pickeringmanor.org
Pine Run Retirement Community
Doylestown
pinerun.org
Pleasant View Communities
Manheim
pleasantviewcommunities.org
Presby's Inspired Life
Locations include Rydal Park in Jenkintown, Rosemont, and Spring Mill in Lafayette Hill.
presbysinspiredlife.org
Priority Life Care
Symphony Manor of Feasterville and Independence Court of Quakertown
prioritylc.com
SageLife
Locations include Echo Lake in Malvern, Kyffin Grove in North Wales, Daylesford Crossing in Paoli, and Plush Mills in Wallingford.
sagelife.com
Symphony Square
Bala Cynwyd
milestoneretirement.com
Waverly Heights
Gladwyne
waverlyheightsltd.org
White Horse Village
Newtown Square
whitehorsevillage.org
Published (and copyrighted) in Suburban Life magazine, December 2019.