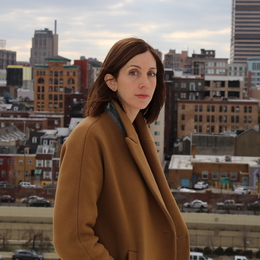 Caught in the Current
In Long Bright River, novelist Liz Moore shares a captivating yet sobering story about family, fraternity, and addiction in Philadelphia.
Shortly after Liz Moore moved to Philadelphia in 2009, she made a professional connection with a photographer named Jeffrey Stockbridge. What happened next had a deep and lasting impact on Moore's life.

"[Stockbridge] was taking portraits of residents of Kensington, which at the time was a neighborhood I had never heard of," says Moore, who teaches creative writing at Temple University. "I ended up going with him and interviewing some of the people he was photographing. Even then you could tell something was happening."
Although that "something" hadn't yet caught the media's eye, Moore was witnessing the early makings of a crisis that would grow to harm people of all ages and backgrounds, from city and suburbs alike: opioid addiction. Heroin and other highly addictive substances were upending people's lives—and, in some cases, cutting them tragically short. The things Moore saw and heard compelled her to get involved. She volunteered her time to help people in the area through organizations such as Mighty Writers, Women In Transition, and the Thea Bowman Women's Center of St. Francis Inn Ministries.
The experience also informed her forthcoming novel, Long Bright River, which hits bookshelves in January 2020. The novel paints a vivid picture of a gritty Philadelphia neighborhood that has been rocked and shaped by the opioid crisis. Long Bright River revolves around two sisters: Mickey, a straight-arrow police officer assigned to patrol the neighborhood; and Kacey, a lost soul who struggles with heroin addiction. Narrated by Mickey, the story explains how the two once-inseparable sisters became estranged, and then explores Mickey's quest to find and save her sister amid a string of unsolved murders.
[Editor's note: Readers can meet Moore at three upcoming book-signing events in the area: January 9 at the Hilton Garden Inn Exton/West Chester in Exton, in connection with Wellington Square Bookshop in Exton; January 14 at the Free Library of Philadelphia in Center City; and January 23 at the Free Library of Northampton Township in Richboro, in connection with Newtown Bookshop.]
We spoke with Moore about the novel, her ties to the city, and what compelled her to write a story rooted in a health crisis that has touched so many.
Q&A
Long Bright River has been described as a mystery novel and a crime thriller. I suppose both are accurate, but to me it reads like a very personal, character-driven story about family, fraternity, and the places we call home.
This is my fourth novel, but it's the first that could be described as detective fiction. In all of my novels, I am most interested in character first; I have to find characters I care about. This one certainly does include elements of a police procedural, but it's not too far removed from my other work, which I would call literary fiction.
I imagine you had to do some unfortunate research for this story.
A lot of it was firsthand stories told to me by people I've gotten to know in Kensington and through community work with people who have struggled with addiction. … For someone who is addicted [to opioids], the mission that monopolizes your day is not getting sick, and keeping from feeling the incredible mental and emotional low that comes from withdrawal. These people are always in crisis mode; it's all they can think and feel about. You have people who overdose and have to be revived, and then immediately go out and try to get a fix. It's an everyday occurrence.
The book paints a wonderfully complex portrait of Philadelphia and its people. It's in some ways elegant, but also sad and tragic. Tell me about your ties to the city.
I'm from Framingham, Mass., and I left when I was 18 to go to college in New York City. I came here originally for a residency at the University of Pennsylvania, and then I got a full-time job at Holy Family University, and then Temple University, where I am now. I've lived in West Philly, Center City, and South Philly. ... It's a really interesting and complex city, with a really wonderful energy. I'm enjoying living here and happy to be raising our kids here, too.

Photograph by Maggie Casey
Published (and copyrighted) in Suburban Life magazine, December 2019.