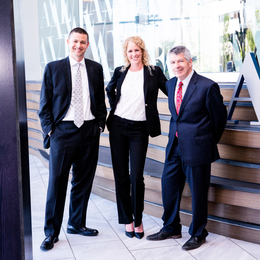 Driven to Serve, Ready to Fight
Success is the mission for the attorneys of Ciccarelli Law Offices, who advocate for the injured, the accused, and the impacted in personal injury, criminal defense, and domestic litigation
"A law firm should be based on idealistic principles: to make a difference for its clients, to serve their needs, and to fight for them when their future is on the line," says Lee Ciccarelli, who 20 years ago founded Ciccarelli Law Offices in West Chester, with the goal of building a firm greater than any one attorney. "The practice of law should not be transactional. The attorney-client relationship is personal, and clients want attorneys who are experienced, devoted, passionate, and street smart."
Today, Ciccarelli feels privileged to lead a team of disciplined, idealistic, and compassionate attorneys who are engaged in achieving clients' goals.
"At its heart, our practice still centers on reaching out to individuals and fighting to get results," he says. "We live in perilous times, in which we are told that we are more connected than ever, but too often we find ourselves anxious, depressed, alone, and feeling isolated. There is an increase in people facing dependency issues with alcohol and other substances. People are being overwhelmed by society, and even the 'lucky' among us are feeling the pressures of the day."
Ciccarelli spent 10 years working for other firms before deciding to strike out on his own in Chester County. Once he did, he invested in expanding both his team and the areas of practice that the team covers, such as personal injury, criminal defense, and family law.
"In areas like personal injury, family law, and criminal defense, we are dealing with clients in crisis," he says. "Sometimes they are in despair. Sometimes they have no one to believe them. I consider our first responsibility to the client as being an advocate. One of the things I learned growing up is that you need to earn the client's trust so they understand you are always there for them; you always think of the client as a family member. I also learned that if your goal is pure, and if you are a good businessperson, the business will take care of itself."
And it has. Since its founding in 1999, Ciccarelli Law Offices has expanded its reach, from its main office in West Chester to satellite offices in Center City, Lancaster, Plymouth Meeting, Radnor, and Springfield, all to serve clients from Lancaster County in the west to metro Philadelphia in the east.
The Ciccarelli Law team includes Joshua Tebay, director of Ciccarelli Law Offices' personal injury department, who Ciccarelli describes as "deliberate, intense, and devoted to our clients—a good man and a great lawyer."
Julia Alexa Rogers, director of Ciccarelli Law Offices' criminal defense department, is another skilled attorney on the Ciccarelli Law team.
"The powerful thing about Ciccarelli Law is that we have dominant attorneys working here, so we have recognition throughout the counties," she says. "People know us—they understand what we're about—and that helps us get great outcomes for the clients."
The firm's wide-ranging expertise enables attorneys practicing in different areas to collaborate on a client's behalf. For divorce cases in which a client seeks protection from harm at the hands of an abusive spouse, for example, one of Ciccarelli Law Offices' criminal law attorneys can file a protection-from-abuse order or restraining order. Whether it pertains to family law or another legal need, Ciccarelli has assembled a team of attorneys who are intellectually curious and passionate about protecting clients' rights.
"I believe we are developing a reputation as hardworking, passionate, ethical lawyers who fight for the client," Ciccarelli says. "If I am a client who is going through a dramatic time in my life, I need an advocate who is going to come up with answers, not additional questions. I'm looking to my attorneys to provide guidance and leadership to get me through it. I'm looking for a team of experts who are available when I need them, and who provide confidence and a sense of peace that I am doing the right thing.
"Our goal is to listen, care, and fight for our clients," he continues. "Nothing less is acceptable when success is the mission."
Ciccarelli Law Offices
304 N. High Street
West Chester, Pa.
(484) 235-5705
Photograph by Jody Robinson
Published (and copyrighted) in Suburban Life magazine, December 2019.