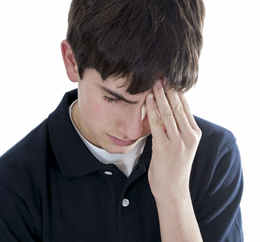 Making Headway
A frank discussion on concussions with the Premier/Crozer-Keystone Orthopaedics Partnership
For years, concussions and their potential dangerous long-term effects when left untreated were either ignored or dismissed. Hitting your head hard while participating in rough and tumble sports or other vigorous pursuits was not only considered "part of the game," but if cared for at all, it was with a bag of ice. Today, thanks to comprehensive research studies, the potential health hazards of concussions are being actively discussed, acknowledged and addressed in the form of government policy and sweeping rule changes in professional athletics.
The most common cause for a concussion is through high-contact activities such as football, boxing and hockey, despite the increased use of protective headgear. People can also get concussions from physically traumatizing events such as falls, car or bike accidents, rollerblading mishaps and violence. While the majority of people with concussions recover just fine with appropriate treatment, it's important to always take the proper steps if you so much as suspect the presence of a concussion. Unfortunately, with symptoms that can be difficult to recognize or identify, it's sometimes easier said than done. Because of that fact, many people—thinking nothing's wrong—return to sporting activities, schoolwork or their profession before they should. It's a decision that could lead to worse problems down the line if the brain hasn't had the time to heal properly.
If you or someone you know has a concussion or displays concussion-like symptoms (see "Symptoms of a Concussion"), seek medical attention right away. Certain doctors—such as neurologists and sports-medicine physicians—are trained in the evaluation and management of concussions, and can determine how serious the injury is, what steps need to be taken and when you or your child can return to normal activity.
Fortunately, you can access these skilled services through the Premier/Crozer-Keystone Orthopaedics Partnership. Its board-certified and fellowship-trained physicians are experienced in the evaluation, diagnosis and managed treatment of concussions. So much so that its doctors are counted on by more than 15 colleges and high schools, including Widener University, Swarthmore College and Penn State University at Brandywine, and Chester, Interboro, Springfield, Ridley, Haverford, Marple Newtown and Strath Haven high schools—not to mention local professional soccer team, the Philadelphia Union.
Premier Orthopaedics and Sports Medicine Associates offers a full-range of concussion management services, including ImPACT™ (Immediate Post-Concussion Assessment and Cognitive Testing), at several locations throughout Delaware County.
Crozer-Keystone Health System's Concussion Management Center is located within the Healthplex® Sports Medicine Institute at Springfield Hospital. The sports-medicine physicians of The Concussion Management Center also offer a full range of services to diagnose and treat concussions, including ImPACT.
Head Injuries: Nothing to Kid About
Statistically speaking, younger athletes are more likely than high school-aged athletes and adults to suffer a sports-related concussion. Girls are also at higher risk than boys. Yet, studies suggest that in surprising contrast to the heightened awareness of their existence among athletes, parents and coaches of these dangers, the rate of concussions in kids is on the rise. One probable reason is because more kids are involved in multiple sports year-round.
Every child under the age of 18 who participates in high-risk organized sports should have preseason baseline testing done, including a physical evaluation by a sports medicine physician—complete with a detailed medical history—and ImPACT neuropsychological testing. The baseline ImPACT test can even be administered right at the school site by the athletic trainer or sports medicine physician.
Facts about concussions:
* About 502,000 children ages 8 to 19 went to emergency rooms with concussions from 2001 to 2005.
* Football and ice hockey had the highest concussion rates.
* Most concussions occur without loss of consciousness.
* A concussion may not cause symptoms until days or weeks after the injury.
* Certain genes, age and gender can predispose a person to poorer outcomes after a minor head injury such as a concussion.
* If a second concussion occurs before fully recovering from the first one, brain swelling, permanent brain damage or even death can result.
Advanced Technology Making an Impact
It is essential to manage each individual's symptoms with a customized treatment plan, and to implement baseline testing and/or post-injury neurocognitive testing as soon as possible. In fact, neurocognitive testing has recently been called the "cornerstone" of proper concussion management by an international panel of sports medicine experts.
Developed in the early 1990s, ImPACT has become the first, most widely used and most scientifically validated computerized concussion evaluation system; a standard tool used in comprehensive clinical management of concussions for today's athletes. Capable of measuring verbal and visual memory, processing speed and reaction time to 1/100th of a second, it is the most widely used computer-based testing program in the world. The physicians of the Premier/Crozer-Keystone Orthopaedics Partnership are among the few providers in the area equipped with and specially trained to use this technology.
Symptoms of a concussion may include:
* Memory loss, such as trouble remembering things that happened right before and after the injury
* Nausea or vomiting
* Headaches
* Blurred vision and sensitivity to light
* Slurred speech or saying things that don't make sense
* Difficulty concentrating, thinking or making decisions
* Difficulty with coordination or balance (such as being unable to catch a ball or other easy tasks)
* Feeling anxious or irritable
* Sense of having lost time
The Premier/Crozer-Keystone Orthopaedics Difference Representing Pennsylvania's largest orthopaedics specialty group, the Premier/Crozer-Keystone Orthopaedics Partnership's comprehensively trained surgeons provide high quality musculoskeletal care for the Philadelphia region. With services ranging from joint, knee and hip replacement to neurosurgery, sports medicine and rehabilitation, our subspecialty experience includes the latest techniques in advanced procedures—such as hip resurfacing, custom-knee and gender-knee replacement.
To learn more or request an appointment within 48 hours with a Premier/Crozer-Keystone sports-medicine physician, call 1-877-CK-MOTION (1-877-256-6846) or visit
ckmotion.org.
Reviewed by Joseph Stellabotte, M.D., sports medicine physician with Premier Orthopaedics and Sports Medicine.