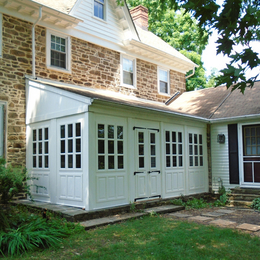 King of the Hill
Vixen Hill crafts custom porches and other fine exterior products that enable homeowners to maximize the enjoyment of their living spaces.
For more than 40 years, Chester County's Vixen Hill has been regarded as a leader in custom exterior products for the home: shutters, gazebos, cabanas, garden houses, pavilions, cupolas, and more. Vixen Hill's proprietary porch system, in particular, has been setting the company apart since the system's introduction 25 years ago.
"We refer to it as a system because it allows us to use different modules and components that can combine in an almost infinite set of ways to create a porch that feels traditional, but that gives the utility of being inside," explains Christopher Peeples, owner of Vixen Hill, which is based in Elverson. "Wall openings, for example, are designed to take insect screens, which can be replaced with glass for the colder months. We also offer a variety of architectural inserts that can mimic existing architecture."
Vixen Hill offers what Peeples describes as "a three-season porch system" as opposed to a four-season porch, which would have to be insulated, wired, and meet all of the same building-code requirements that a house does. Each porch system can be tailored to a client's precise wishes. Whether a homeowner wants to enclose a porch at their primary residence or enjoy summer breezes at a shore home, Vixen Hill can accommodate.
Flexibility is built into the porch system in more ways than one. Vixen Hill provides options to suit nearly any budget, for example, and the system can be installed wholly new or retrofitted to existing structures. Furthermore, the company can design a client's porch to include electrical wiring for those who would like to plug in lamps or even a small heater during chilly months.
"We make it easy, whether it's a retrofit or a new design," Peeples says. "With just simple dimensions—the distance between posts and the distance from the deck to the header beam—we can lay out an entire porch for you at no charge."
Prospective clients near the company's headquarters in Elverson can even request a home visit to have a Vixen Hill specialist take custom measurements. As an added convenience, the fee for the visit is ultimately subtracted from the client's cost of installation,making the measurement fee refundable with purchase.
For those who live farther afield, Peeples recommends taking advantage of the advanced design program built into the Vixen Hill website, vixenhill.com. With this tool, clients can input measurements and choose from an assortment of colors and styles to design the porch of their dreams. Each virtual model receives a job number, so once the client is ready to move forward with the project, the Vixen Hill team can access a client's vision to make it a seamless process from beginning to end.
All Vixen Hill products are environmentally friendly. Vixen Hill sources wood only from the world's most stringently monitored forests. Rather than exotic or endangered wood species, Vixen Hill prefers cedar, a renewable product that is air-dried, which conserves energy. Vixen Hill, which has been milling its own wood since 1980, has the capacity to dry its wood products this way. This stands in stark comparison to kiln drying, which drives moisture from wood grains at a rapid rate and, in the process, can cause wood to bend or warp.
That having been said, Vixen Hill takes a hybrid approach, as its structures consist of both natural and composite products. In areas where wood is prone to rot—cross rails and areas where water can get in, for example—Vixen Hill specialists utilize laminate composite. In addition, Peeples says the company treats end grains with polyurethane "to inhibit the penetration of water."
With such care taken, it is no surprise that Vixen Hill's products can last decades.
"This really is the best way you can go if you're planning to sit outside and enjoy life a bit without the bother of insects and weather," Peeples says. "I've become a little spoiled, because during the summer I can dine on the screened-in porch versus the dining room. To me, even thinking of sitting inside on a beautiful day just doesn't make sense."
Vixen Hill
69 E. Main Street
Elverson, Pa.
(610) 286-0909
Photograph courtesy of Vixen Hill

Published (and copyrighted) in Suburban Life magazine, December 2019.