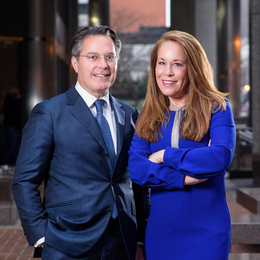 A Balanced Approach
Led by David J. Steerman and Randi L. Rubin, the family law group of Klehr Harrison Harvey Branzburg LLP uses compassion and skill to guide clients through some of life's most trying times.
Resolution in divorce, custody, or other family law matters is rarely a simple process. With the right team, however, individuals going through divorce often find themselves in a better position, eager to embrace their new life. This is where the family law group of Klehr Harrison Harvey Branzburg LLP matters most.
Klehr's family lawyers handle myriad matters including divorce, child custody, prenuptial, postnuptial, and cohabitation agreements, child and spousal support, paternity, domestic violence, and restraining orders, and more. They also offer mediation services in divorce and support cases and parenting coordination for high-conflict custody cases. The firm is headquartered in Philadelphia and has offices throughout the region, including Conshohocken. In light of the COVID-19 pandemic, Klehr is now seeing clients on Zoom and comparable platforms to actively engage with clients and make sure cases are handled in a timely manner.
"Basically, anything a family law attorney does, we handle," says David J. Steerman, a partner and the Chair of Klehr's family law group. "The firm has top-tier lawyers in diverse practice areas that support us including: real estate, corporate, tax and litigation. We seek to resolve matters cost-efficiently, and we have an incredible team."
Each Klehr family lawyer possesses special skills, according to Steerman.
"Randi Rubin is a fantastic trial lawyer whose extensive experience in commercial litigation and real estate makes her a fierce advocate with strong business acumen," he says. "Helen Lafferty is an ace attorney with 35 years of experience and adds value by ensuring services we provide to clients are completed in a timely manner. Stephanie Stecklair has amazing drive and energy, and epitomizes our commitment to being responsive to clients."
Bill Harvey rounds out Klehr's family law group. Steerman describes Harvey, who is the firm's immediate past and longstanding Managing Partner, as "one of the most renowned business litigators in the region."
Steerman has focused exclusively on family law for 31 years—"my entire career," he says—representing individuals throughout Southeastern Pennsylvania and New Jersey in complex custody and high-net-worth divorce and support cases. Steerman is a trained mediator and parenting coordinator in addition to his extensive litigation experience. Although mediation is not ideal for everyone, it is increasingly popular for negotiating settlements.
"Mediation gives people control over the outcome by compromising their disputes versus handing them to a judge," he explains. "Many people look to mediation versus time in an overloaded court system. We're a group of skilled and strategic trial attorneys, and we seek resolutions whenever possible."
Rubin is a partner in Klehr's family law group. With Klehr for nearly 20 years, she has played an integral role in leading the family law group from the beginning.
"It's incredibly rewarding watching our group evolve," she says. "We are goal-oriented for clients, which allows us to provide exceptional value and superior legal services."
With every case, Rubin focuses clients on their future, not their past. First and foremost, this includes carefully considering what is best for the children involved.
"The perception surrounding divorce and custody needs to change," she says. "People need to prioritize their children above their personal animus towards one another when divorcing. They can and should? strive to be better co-parents despite being unsuccessful as husband and wife. I encourage clients to treat co-parenting like a business relationship, to be respectful and to communicate constructively as if they were speaking to a co-worker or boss. This helps them, and their children, transition to a happier and more stable place."
Outside the courtroom, Klehr's family lawyers are committed to their community, bar associations, and professional development. Steerman and Rubin are fitness enthusiasts and can be seen together on weekend runs or charity races. Steerman and Lafferty are fellows in the American Academy of Matrimonial Lawyers, a select echelon of family law attorneys from across the nation. Lafferty serves on the Pennsylvania Bar Association Review and Certifying Committee. Rubin is current Chair of the Philadelphia Bar Association's Family Law Section; Steerman and Lafferty are past Chairs. Rubin also volunteers through the Montgomery County Bar Association, teaching law and civics to sixth graders and judging local high schools' mock trial competition. Stecklair recently finished a term on the Philadelphia Bar Association's Young Lawyers' Division Executive Committee and is active in the Family Law Section. Moreover, Klehr's family lawyers volunteer with the Homeless Advocacy Project and Volunteers for the Indigent.
Steerman and Rubin have known each other personally for over four decades. In their time at Klehr, Steerman has discovered that his approach and Rubin's are a "yin and yang."
"[Steerman's] style and mine complement one another," Rubin says. "Initially, we may look at something differently, but we end up at the same place in terms of what the result should be. I think it's a good balance."
This balance often provides them with different perspectives in cases. Ultimately, the ones who benefit most from this collaborative approach are their respective clients.
For more information about Klehr Harrison Harvey Branzburg LLP, visit klehr.com or call (215)
569-2700.
Photograph by Jeff Anderson
Published (and copyrighted) in Suburban Life magazine, July 2020.