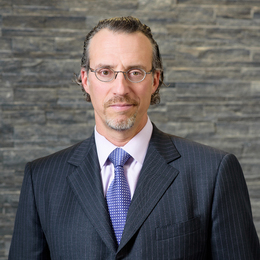 Relentless
When an individual faces the "soul-crushing pressure" of a state or federal investigation, criminal defense attorney Michael J. Diamondstein stands ready to step in.
Dante Hill doesn't know where he'd be without Michael J. Diamondstein. On second thought, he has a pretty good idea where he would be: in prison for a murder allegation.
Hill was charged in a 2011 fatal shooting outside a North Philadelphia sports bar. If found guilty, Hill, then just 28 years old, could very well have spent his life behind bars. Such a serious charge required only the finest defense attorney.
He found him in Michael Diamondstein.
Armed with unparalleled legal skills and dogged pursuit of justice, Diamondstein discovered irregularities in the prosecution's case prompting the district attorney's office to withdraw the murder charge.
"Not too many murder charges get withdrawn, but Mike was able to show why I wasn't guilty," Hill recalls. "I had observed him in court when he represented a friend of mine in 2007. He was unbelievably good. So, when I needed a lawyer, there was only one guy I called. And that's Mike."
In 2014, when former NFL running back Ray Rice faced third-degree assault for striking his fiancée in an Atlantic City, N.J., hotel elevator, the story attracted national headlines and intense media pressure. Once again, Diamondstein got the call. Through determined pre-trial maneuvering, he spared Rice from a criminal conviction or prison by negotiating a pretrial intervention program for first-time offenders.
Likewise with John Speiser, one of six City of Philadelphia police officers who once faced federal charges of conspiracy, extortion, and falsifying records. Diamondstein was able to punch holes in the prosecution's case, thereby paving the way for an acquittal.
"I love Michael Diamondstein," Speiser praised after the verdict. "He is the best attorney in the world."
Finding Ways to Win
Based in his native Philadelphia, Diamondstein is among the most prominent and sought-after criminal defense attorneys in the nation. Whether a client is being prosecuted by the federal government or state or local agencies, they are comforted by his track record of success and the understanding he will defend them as vigorously as possible.
"People generally have no idea of the disastrous effects when a loved one or they themselves are investigated or arrested by law enforcement," Diamondstein says. "Everything about their life comes crashing down: their hopes for the future; their day-to-day existence; they can be fired from their job; they can have their assets seized. It's a tremendous weight. People have no idea how horrible the justice system is; how unfair it can be. They have no idea how overly aggressive prosecutors can destroy their lives. Only when people see the carnage firsthand do they realize that having a smart, respected and aggressive attorney is a must.
"I hate to lose, and fighting for people is what I do.," he continues. "I like to tell people there's no guarantee we'll win. But I do guarantee if there's any way out, any way for me to mitigate their harm, I will find it and won't stop working for them until I do."
Whether representing a high-profile politician or an athlete, a police officer or an everyday working American, Diamondstein applies the same tenacious approach that has resulted in acquittals and dismissals for hundreds and hundreds of clients.
Taking cases in state and federal courts in Pennsylvania, New Jersey, and beyond, Diamondstein recognizes the gravity of the situation for each of his clients. He has achieved successful outcomes for people facing everything from murder and sex-related accusations to college students facing relatively minor allegations. Whatever the charge, clients can rely on his tenacity and dedication.
Wisdom and Experience
A graduate of Ithaca College, Diamondstein attended Widener University School of Law, from which he graduated summa cum laude. Prior to joining the ranks of the defense bar, where he has handled criminal cases in state and federal courts throughout the country, he honed his skills as an assistant district attorney for the City of Philadelphia. That experience afforded him valuable and substantial insights into how the government investigates and prosecutes criminal allegations, all of which helps him anticipate the government's tactics and develop the necessary strategies to overcome them.
Diamondstein's vast experience and demonstrated skills have led him to be named to Super Lawyers since 2011 and among the top 100 Pennsylvania Trial Attorneys by the National Trial Lawyers Association. He has also received the highest AV Preeminent rating from Martindale-Hubbell, which testifies his lawyer peers rank him at the highest level of professional excellence.
Diamondstein is often asked to lecture to other lawyers at legal education seminars. This same level of experience and skill enables him to provide the highest standard of representation for anyone accused of a crime, under investigation, or recently arrested.
"I've handled cases with worldwide media attention, where the heat of the spotlight is on full blast, and unreported but serious matters across the United States," he says. "I treat every case, no matter the size of the client or alleged crime, like it is the most important case in the world. Because to someone it actually is. The pressure is always there because every day I step into court to represent a real person with hopes and dreams and family who loves them.
"Every Monday morning, I wake up and take a deep cleansing breath," he continues, "and then walk into court with someone's future in my hands."
Diamondstein has won cases for clients involving allegations of sex crimes, child pornography, fraud, white-collar crime, drug offenses, weapons offenses, assaults, and homicides. His record shows a pattern of successful outcomes at trial and in negotiations alike.
"When a person is facing the intensive, soul-crushing pressure of a state or federal investigation, a guy like me is a must," Diamondstein says. "People only have one opportunity to clear their names, to fight the government. The price of failure is permanent and life altering. They need an attorney who is willing to turn over every stone, fight any foe, and get the job done. I am always prepared for a battle because I know that every time I walk into a courtroom someone is trying to beat me."
They often don't.
Michael J. Diamondstein, P.C.
2 Penn Center Plaza, Suite 900
15th and John F. Kennedy Boulevard
Philadelphia, Pa.
(215) 940-2700
Photograph by Jeff Anderson
Published (and copyrighted) in Suburban Life magazine, December 2019.