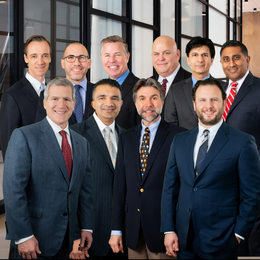 Better Than Ever
Princeton Brain, Spine and Sports Medicine expands to offer a comprehensive, multidisciplinary approach to putting patients on a path to recovery.
Imagine: Numbness or weakness in the legs makes the simple act of climbing stairs a frustrating chore, if not a dangerous one. A torn Achilles tendon derails a would-be athlete's playing career. Lingering headaches caused by a concussion disturb sleep patterns and disrupt one's quality of life. Persistent back pain renders the once-joyous act of playing with one's children impossible.
As these examples illustrate, a neurological disorder or pain from a musculoskeletal injury can have a debilitating effect on a person's life. Thankfully, the surgical and nonsurgical modalities and technologies used to treat many of these issues have taken great leaps forward in recent years.
For proof of this evolution, look no farther than the highly skilled, board-certified neurosurgeons and other medical professionals from Princeton Brain, Spine and Sports Medicine (PBSSM). Patients throughout the Greater Philadelphia Area and New Jersey benefit from PBSSM's multidisciplinary approach—surgical and nonsurgical—used to treat a wide range of neurological and musculoskeletal conditions.
For example, PBSSM surgeons can now treat conditions such as disc disorders and degenerative spine disease with minimally invasive procedures that are significantly more forgiving than conventional open surgery. As a result, many of these patients are returning to "normal life" more quickly and easily than ever, according to Nirav Shah, M.D., FACS, a board-certified neurosurgeon and spine surgeon with PBSSM.
"We want to be known as minimal access surgeons," says Dr. Shah, PBSSM's medical director. "Technology has enabled us to do much more through minimally invasive procedures. At the same time, our surgeons have expanded their skill sets to get patients back to a better quality of life in a quicker fashion."
A Path to Wellness
While surgery is often the best possible option to correct a problem, Dr. Shah suggests the practice strives to help patients "avoid surgery, if we can." That's in large part why PBSSM has continually expanded available treatment options to patients contending with life-altering pain and other conditions.
He's referring to PBSSM's growth and "rebranding" over the past few years. The practice began its life as Princeton Brain and Spine, led by Dr. Shah and fellow neurosurgeons Mark R. McLaughlin, M.D., FAANS, FACS, Seth Joseffer, M.D., FAANS, FACS, and Matthew J. Tormenti, M.D., FAANS, FACS. The team of neurosurgeons has since grown to include James C. Barrese, M.D., Nazer Qureshi, M.D., FAANS, FACS, and Richard J. Meagher, M.D., FAANS, FACS.
At the same time, PBSSM has progressed to offer a range of nonsurgical services, as reflected in the practice's more expansive name. Specifically, patients now have access to the expertise of neurologist Steven E. Mazlin, M.D., sports medicine physician Dhimant J. Balar, D.O., and chiropractor Gregory Quille, D.C. Having so many professionals in the same practice enables a comprehensive approach to serving each patient.
"The goal of the practice is to provide patients with quality care and appropriate treatment, and put them on a path so they don't have to come back and see us," says Dr. Balar, who had his own private practice before joining PBSSM in 2017. "We make ourselves extremely accessible, so we're always there for our patients and the providers we work with."
Dr. Balar knows what it's like to be sidelined by an injury. In high school, he was a promising baseball player—a first baseman, to be precise—whose career was cut short by an in-game injury. The experience that followed gave him a thorough understanding of the physical and emotional difficulties patients undergo in the aftermath of an injury, whether it's an aspiring athlete, a weekend warrior, or someone who gets hurt while performing an everyday activity such as yardwork.
"In that scenario, it may be better to see me first," he says. "I take a nonsurgical approach to each patient, so I can perform a diagnosis and do more conservative treatment as opposed to doing surgery first. If conservative treatment fails, I can refer them to one of our neurosurgeons for an opinion. What this does is maximize the patient's time in terms of care and treatment."
Dr. Balar takes a holistic approach to treating patients coping with pain and injuries. This includes everything from traditional sports medicine and rehabilitation to dietary modifications. It also includes "complementary medicine," when appropriate, such as acupuncture, dry needling, and platelet-rich plasma treatments, also known as PRP.
Whether a patient is best served by surgical means or nonsurgical therapy, Dr. Balar says he and his fellow physicians aim to help each patient come away from each interaction with a clear understanding of their individual situation. This, he believes, helps them have more realistic expectations as they move forward.
"When a patient leaves an appointment, they need to do so with more certainty than when they came in," he says. "We take a lot of pride in spending time with patients so they can deal with the uncertainty, and we enjoy having those honest conversations with patients."
Forward Progress
Just as PBSSM has made tremendous strides in the nonsurgical realm, the practice has played a pioneering role in terms of surgical advances, such as minimally invasive approaches to artificial disc replacement. Using a perfect blend of art and science, a PBSSM surgeon can perform the procedure successfully through small incisions and microsurgical techniques. As a result, Dr. Shah suggests patients tend to have an easier and less painful postsurgical experience.
"Today's technology and motion-sparing techniques have helped us expand the indication [for surgery] to different demographics than we treated before," he says. "We know young professionals with full-time jobs can't afford to spend three to four months at home in recovery, so we now have surgical alternatives to improve a patient's symptoms and quality of life, and allow them to return to life much quicker."
In fact, many of these procedures are now being performed on a same-day basis in an ambulatory surgery center, which can help patients return home more quickly and minimize the risk of postoperative infection. Other potential benefits of this minimally invasive approach include abbreviated time restrictions and physical activity, little to no postoperative bracing, and less exposure to radiation by way of fewer follow-up X-rays.
As PBSSM continues its forward progress in its quest to better serve patients, Dr. Shah says the practice will remain firmly rooted in the community where it all began.
"Even as we improve our outpatient skill sets and expand our geography, we still place a high value on the role that we play in the local community," says Dr. Shah, who services Bucks and Mercer counties, as well as Central New Jersey. "We're still the largest neurosurgery group in New Jersey and Bucks County. We still cover all the major hospital systems for emergency care, and we value those partnerships."
For more information about Princeton Brain, Spine and Sports Medicine, including locations throughout the Greater Philadelphia Area and New Jersey, visit princetonbrainandspine.com or call (215) 741-3141 or (609) 921-9001.
Photograph by Jody Robinson
Published (and copyrighted) in Suburban Life magazine, December 2019.