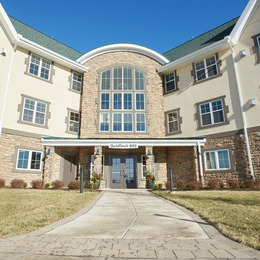 Welcome to The Grove
As a bold new addition to Meadowood Senior Living, The Grove brings a "spirit of excitement" to an already vibrant community.
In the quest to satisfy the wants and needs of discerning residents, today's Life Plan Communities are in a state of constant evolution. Robert Greer considers Meadowood Senior Living in Worcester a fine example and, in some ways, a pioneer for others to follow.
As a retired architect and a Meadowood resident, Greer knows a thing or two about the importance of remaining current in the marketplace. That's why he's so excited about a remarkable new expansion to the community called The Grove. The Grove will not only significantly expand Meadowood's housing options for incoming residents, but it may very well change the way people think about life in a retirement community.
The Grove, which has been years in the making, was rooted in research and careful planning. When it became apparent that Meadowood was nearing full occupancy and needed to create new living space for prospective residents, the community initiated a market study that revealed interest in a different kind of lifestyle. And thus, The Grove was born.
"It takes a lot of ground to create the amount of living space we were looking to add," says Greer, a member of the community's building and master planning committees, as well as a past president of the Meadowood Resident's Association. "Open space is valuable here, and we were selective about the physical space that we considered building on. We were able to create four buildings, each over an enclosed and heated parking facility, which was another highly desirable feature."
The Grove offers four distinct floor plans, ranging from 1,300 to 1,800 square feet, providing desirable options for older homeowners who are ready to relinquish the burden of home maintenance and enhance their already active lifestyles. Construction of The Grove is in its final phases, with the first residents already moving in to Building #1, the Goldfinch. In addition, a model home of the popular Birch floor plan is now available for tours. Meadowood is currently offering 2019 pricing for a 2020 move with $10,000 savings on the entrance fee, a $3,000 credit toward moving expenses and a $1,000 referral incentive.
The Latest and Greatest
Though it may be the new space on the block, so to speak, The Grove is setting a precedent for the rest of the Meadowood campus. The Grove is being built with LED lighting, a keyless entry system, geothermal heating and air conditioning, and other smart-home technologies, and the rest of the campus is in the process of adopting these same upgrades, according to Marlon Back, Meadowood's vice president of facility services.
"Senior living is a competitive industry, and we strive to be at the top by delivering a product that is second to none," Back says. "One way we do that is by staying on top of technology and building trends. But perhaps even more outstanding is our emphasis on wellness. We have one of the best wellness programs in the region."
Back suggests that Meadowood is always looking for new ways to advance, generally speaking. Recent improvements include the renovation of an entire dining room, the installation of a perimeter walking trail around campus, and the additions of two new bocce courts, a large lap pool, and Victory Garden, where any resident who likes to garden can obtain a plot. Meadowood is also in the process of installing a campus-wide generator, which would maintain power in the event of an outage.
At The Grove, residents will have the ability to participate in Meadowood's vast amenities, including its diverse fitness program. The Grove even has its own 1,600-square-foot fitness area, complete with an open-air patio.
The promotion of a healthy lifestyle extends to dining as well. Meadowood offers multiple dining options, including casual fare in the café and bistro, as well as fine dining in Meadowood's main dining room. In fact, Meadowood has enhanced its dining program with the recent addition of Executive Chef Matthew Doman, formerly of the William Penn Inn. Doman has brought his sous chef with him and continues to recruit more qualified kitchen staffers to the community.
"Honestly, the functions that we put on here are just as elegant as what I've done in the restaurant industry, if not nicer," Doman says. "Our big holiday gala is coming up, and we also have our anniversary meal and the wine dinners that we do three times a year. Our dinners feature top-of-the-line items, such as fish like ahi tuna, mahi-mahi or wild king salmon. Nothing is ever frozen; everything comes in fresh and goes through the Monterey Bay [Aquarium] Seafood Watch program for approval. All of the food that we bring in is thoroughly checked and cannot be used if it does not meet incredibly high standards."
In line with the community's dedication to wellness, Doman says Meadowood's menu options are created in concert with a dietitian devoted to ensuring the availability of fresh and healthy options.
"We always try to bring in an educational component as well," he adds. "For instance, when we first introduced quinoa it was new to a lot of residents, but now it's a staple here. We've also brought in other ancient grains like farro in an effort to introduce delicious plant-based options. My one lunch cook is a vegetarian and has created wonderful options such as grain salads."
Always Improving
Greer believes that many retirement communities talk about the "movement to remain current," but Meadowood truly walks the walk. From the building and community enhancements to the continually improving amenities, Meadowood has stayed ahead of the curve.
"There is an ongoing effort to continually evolve and improve," says Greer. "Of course, along with that, residents can get what's called 'construction fatigue.' But there has been sensitivity to ensuring that our advances to meet current demands are not impacting residents in a negative way."
Through his committee involvement and the many friendships he has made over the years at Meadowood, Greer feels as though he has his finger on the pulse of this tightly knit community. He likes what he's been seeing and hearing from his fellow residents as The Grove prepares to open its doors.
"I would say that there is a spirit of excitement here at Meadowood surrounding the changes that are happening," he says. "We are all very proud of this community."
The Grove at Meadowood Senior Living
3205 W. Skippack Pike
Worcester, PA
(610) 584-1000
Photograph courtesy of Meadowood Senior Living
Published (and copyrighted) in Suburban Life magazine, December 2019.