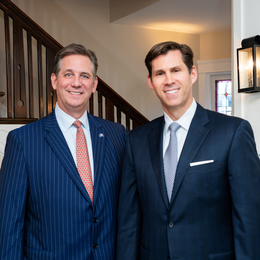 A Decade of Excellence
Founded by Lance Rogers in 2009, the law firm of Rogers Castor has mastered offering clients the talent and skill of a large-scale operation alongside the benefits only a small firm can offer.
Lance Rogers founded Rogers Castor in 2009 with a bold vision: to build a law firm offering the pedigree of a large enterprise, but with the care and attention only a small private firm can deliver. Ten years later, he's proud to have cultivated a team of highly regarded and experienced attorneys devoted to personally solving clients' problems.
"What our practice offers is different than what the big firms offer," Rogers explains. "In our firm, it's a different culture. We focus on clients in such a way as to make sure all their needs are being met. We counsel and treat them like family. We put our feet in their shoes to understand where they're coming from. Unfortunately, at a lot of firms, there are billable hours required. That means the emphasis is on billing, not outcome. We see things differently. We focus here on results and making our clients feel comfortable along the way."
Rogers Castor handles matters including civil litigation, sports and entertainment law, corporate law, estate planning, real estate law, intellectual property, and more. While other attorneys in the region may offer similar services, Rogers suggests his firm stands apart.
"I like to think of us as out-of-the-box thinkers," Rogers says. "We take a practical approach to law and recognize that the same approach won't be applicable in every instance. Sometimes, lawyers get locked into their viewpoint that their gut reaction is to file suit. Instead, we think about all the ways to achieve a result. We think about emotion and what drives the parties involved."
Rogers enjoys the fact that each day is different, presenting its own set of unique challenges with which to contend.
"I think that every day that you practice law, you're constantly learning new things, experiencing new issues," Rogers says. "That's one of the things that make me want to come into the office each day. I think you grow as an attorney with every experience that you encounter; there are twists and turns and new problems that arise, and you have to stay nimble and on your toes. You always have to be thinking one step ahead."
The Power of Team
No great firm can run without the support of a dynamic team, of course. Leading this group along with Rogers since July 2013 has been Bruce L. Castor Jr., an accomplished civil servant who formerly served as Pennsylvania's Solicitor General and Attorney General. Castor brings with him 20 years of experience as a homicide prosecutor, as well as plenty of name recognition from his high-profile work.
"One thing about our firm that is special is that anyone who comes here wanting my expertise or Lance's expertise actually gets us, not somebody 10 rungs down the ladder," Castor says. "With every single one of our cases, one of us is in charge. Because we have only the two of us as partners, with associates to help, if someone comes in with a big issue, they won't get some young associate as their lawyer. That makes us different from the big firms."
When attorney Daniel Mirarchi first started working alongside Rogers and Castor, he quickly noticed two things about his colleagues: First, they "work tirelessly" for their clients; and second, they "take results to heart."
"That kind of character really contributes to the family atmosphere that they have fostered here," Mirarchi adds. "From the top down, we always put clients first and we care about the outcomes of their cases or helping plan for their future. To us, a client is not just a name on a piece of paper, but a real person who has engaged us because they need help. I am proud that Rogers Castor treats all of its clients in the same manner, whether it's a multinational company with billions of dollars in revenues or someone's neighbor that just needs help."
This drive to help others shines in every case to cross the Rogers Castor threshold.
"I got into law to help people," Rogers says. "It's a blessing, and an awesome responsibility to be able to help people in the way that lawyers help people. I've never lost sight of that."
Castor shares a similar sentiment.
"When I teach young lawyers to be trial lawyers, I try to remind them that a lawyer's primary job is to help people who can't help themselves," he offers. "It doesn't matter what the issue is, what the subject matter is—all that matters is that somebody needs help."
Considering the firm's commitment to "do good" on behalf of its clients, it's likely no surprise that community and organizational involvement are part of the Rogers Castor DNA. For example, since 2015 Rogers has served as chair of the Claude Giroux Foundation, an organization headed by the Philadelphia Flyers' captain that is dedicated to improving the lives of children from Philadelphia and beyond. He has also been extensively involved in the Lower Merion community for several years, having fulfilled duties as a member of the board of commissioners from 2005 through 2009, and presently sitting on the advisory boards of Rosemont College and Narberth Ambulance.
Reflecting on 10 years of standing at the helm of a successful firm, Rogers is, as he says, "very pleased."
"I look to the future and recognize that our model is unique," Rogers says. "I want to continue to protect the integrity of what we bring to the table. As we move forward, I want to be able to maintain what we've cultivated in the last decade as we add team members and expand our firm.
"The talent, the experience, and the breadth of legal knowledge we have here is unparalleled," he continues. "We care about our clients and make their problems our problems. People are paying us to help solve their problems. We take that responsibility with a lot of seriousness. I don't know that clients would find that in a lot of other places."
Rogers Castor
26 E. Athens Ave.
Ardmore, Pa.
(610) 557-3694
Photograph by Jody Robinson
Published (and copyrighted) in Suburban Life magazine, December 2019.