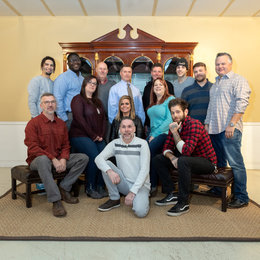 Celebrating Style
In honor of its 20-year anniversary of selling online, Stenella Antiques finds new ways to build upon its legacy of providing clients with timeless American-made furniture, seamless service, and so much more.
For the past 20 years, Stenella Antiques has been offering customers around the world online access to its distinctive pre-owned, vintage, and brand-new American-made furniture. In honor of this milestone anniversary, for the first time in its history, the company is offering a 20 percent inventory-wide discount at both of its brick-and-mortar locations, Stenella Antiques in Perkasie and Stenella Interiors in Lansdale, throughout the month of December.
Stenella's two showrooms, spanning a total of 50,000 square feet, offer an array of fine, handcrafted furniture, both heritage and new, from high-end manufacturers such as Councill, Henkel Harris, Henredon, Kindel, Karges, Kittinger, Stickley, and many more. Whether someone is looking to furnish a single room or an entire home, Stenella has more than 5,000 items in stock, in addition to the ability to custom order items in various finishes, upholstery, and sizes. Whether a home calls for a timeless, classic piece of vintage furniture or something new and trendy to make the space stand apart, Stenella specializes in helping each client make a statement in the realm of home décor.
Stenella has been in business for more than 40 years, including 20 as a leading online retailer of fine furniture. From the office staff and sales team to its warehouse and moving team to its in-house designers, Stenella's employees strive to offer knowledgeable and friendly service. The team of approximately 15 full-time workers is dedicated to making each customer's buying experience a pleasant and seamless transaction, according to Jim Stenella, owner of both Stenella locations. He suggests team members have in-depth backgrounds in furniture and sales, and many have been with the company for several years.
"We offer customers a whole new buying experience compared to any other ecommerce retailer," says Stenella. "We have listened to our customers and created a clean, well-organized way to shop for high-quality furniture and home décor objects, including artwork, lamps, mirrors, rugs, and more. We have new merchandise coming in on a daily basis, so our inventory is constantly changing, and we're able to offer customers everything from customization and interior design service to upholstery and in-home delivery."
Stenella's online presence can be extremely helpful to local and out-of-state shoppers because it provides an idea of what's available in both showrooms and also sets expectations in regard to what they can expect to pay. By spending a short amount of time on one of the company's website, stenellaantiques.com, customers can get a good idea of styles, sizes, finishes, and brands of furniture, and come into the stores with a clear idea of what they can expect to find.
Completely Unique
From the moment a customer walks through the door or makes a phone call to inquire about an item, Stenella aims to provide a seamless, full-service experience.
"We have an extremely knowledgeable sales team that knows the products we're selling and aims to get a really good feel for what each customer is looking for," says Stenella. "We can assist customers with everything from the layout and design of a room to delivery and set up in their home. If a piece needs customization, upholstery or any other special arrangements, we're here to help."
In addition, Stenella offers the services of an in-house interior designer at its Lansdale location free of charge to customers. Charles Dobbs, head of visual merchandising at Stenella Interiors, works directly with customers to address their needs in regard to styles, designs, and budgetary considerations. He can also lead them in the right direction so they can make an educated decision about their purchases.
"Very few companies offer complimentary interior design services at no charge," says Stenella. "Charles can help customers find just the right piece for their home, in whatever style they're looking for, whether it's modern, country, traditional, French, or decorative, then determine the right layout and color scheme, and help them put everything together based on their needs. With more than 40 years of experience in interior design, Charles has the ability to find the right piece or collection of items for any space or design requirement."
Stenella also works with outside designers and decorators. In fact, it has become a primary resource for East Coast-based TV production studios looking for distinctive, unique, and hard-to-find pieces for their shows, including Madam Secretary and House of Cards, as well as other Netflix original series. In addition, local Realtors often work with Stenella to rent or purchase furniture for home-staging purposes.
"We're very selective in what items we sell," says Stenella. "Although individual tastes will vary, we like to think that every piece we offer is something our customers would be proud to display in their home, office, or business. Many items are offered at a fraction of their original retail price, while others are discontinued, hard-to-find pieces, closed-estate furniture or a completely unique, used or pre-owned piece."
Retaining Value
Providing exceptional customer service is also extremely important to Stenella.
"Our goal is to identify customers' wants and needs, and engage in a relationship with them to really understand what they're looking for; we're not just selling a product," he stresses. "We're able to offer customers everything from design service to upholstery service, and from appraisals to in-home delivery and set up. We're looking to build on our relationships with customers so they feel comfortable and confident in getting the products and services they need, now and in the future."
The furniture manufacturers Stenella works with offer a wide variety of items that can be special ordered and customized in regard to fabrics, finishes, colors, and styles.
"We've selected these companies because of their quality, pricing, style, and designs," says Stenella. "Many of the top-selling items from these manufacturers are regularly stocked, as well as some pieces that are exclusive only to our stores."
Quality and craftsmanship are the cornerstones of all the pieces Stenella offers, whether classic or contemporary, formal or casual.
"In addition to our goal of providing exceptional customer service, we aim to provide customers with timeless treasures with which to furnish their homes," he says. "We're selling quality furniture that's built to last. Many of these items will appreciate and retain their value as time goes on, and some will become heirloom pieces that will be passed on from generation to generation.
"We're proud of the legacy that we've built and look forward to continuing to serve our customers for 20 more years, and beyond."
Stenella Antiques
104. S. 2nd Street
Perkasie, Pa.
(215) 453-8490
Stenella Interiors
800 W. 2nd Street
Lansdale, Pa.
(267) 222-8926
Photograph by Nina Lea Photography
Published (and copyrighted) in Suburban Life magazine, December 2019.