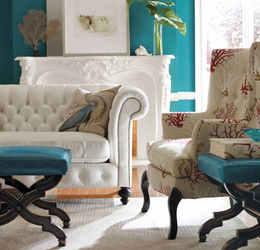 Intelligent Design
Design Home Interiors adds light and life to any living space
When the holiday festivities wind to a close, Americans often make resolutions to improve themselves. It's also the perfect time of year to reevaluate and breathe new life into one's home, according to interior designer Mark Little.
Along with Jeff Hirschoff and Karin Leaver, Little owns and operates Design Home Interiors in Montgomeryville. Although their location boasts a 5,500-square-foot showroom featuring furniture and accessory products from more than 40 manufacturers, Little is quick to point out that theirs is not "just a furniture store"; Design Home Interiors also offers full-service interior decorating services.
"We can help a customer who needs a lamp, to one who needs to decorate a full room," says Little. "It all depends on what they are looking for."
Design Home Interiors offers several levels of service including full design, through which a decorator would visit a customer's home. There, staffers would assist in carefully choosing details such as materials for a kitchen renovation or paint colors for a new living room, for example.
"Too many times people begin a project themselves and then are unhappy with the results or tire of the process," says Hirschoff. "Wouldn't they rather spend that time enjoying their home with family and friends instead? By working with a designer, their time is better spent."
Designers can also help save money and remove frustration from the process, according to Little: "People need to consider scale. Too many times they buy a piece because they like how it looks on the showroom floor but then get it home and find it is too large to fit through their door or looks out of proportion with the room."
In other area furniture stores, people are afraid of being "pounced on by a salesman," according to Hirschoff. But upon entering Design Home Interiors they are warmly welcomed and made to feel at home. Furthermore, the staff seeks to have a conversation where they can listen to each customer's individual needs in order to determine the best services for them.
"We offer so much more than what you see in the showroom, and that is why the interview is so important," he says. "We perform an analysis of their needs and determine what services they will benefit from, much like a doctor asks questions to determine a diagnosis."
All about the 'Reveal'
For customers who require more in-depth service, a designer will meet with them and their family members to ask questions about the space—who uses it and how. The owners also suggest people bring photos and measurements of the room they wish to design, along with any pictures of what they do and don't like.
Design Home Interiors offers uniquely customizable pieces from leading manufacturers such as Century, C.R. Laine, Harden and Sherrill, including bookcases, bar units and upholstered items. When choosing a sofa, for example, the options may include more than 6,000 fabric samples, trim details and wood finishes, along with a variety of configurations, arm styles, cushion firmness and depths.
But customers shouldn't feel overwhelmed by the range of options; the designers offer their best suggestions in a presentation the owners liken to Home & Garden Television's Designers' Challenge. "It's all about the big reveal," Little says. "The 'wow factor' a client gets when they see it all at once helps to bring the design together." After making any necessary choice adjustments, the installation plan is set in motion—either all at once or in a multiphase approach.
Design Home Interiors offers products mostly from family-owned companies that manufacture their pieces in the United States, about which the owners feel strongly. In addition to offering high quality, these manufacturers also offer a level of customization that is "impossible to get from overseas," Little says. He adds that although items of higher quality might cost more, they also offer valuable benefits such as longevity, which ultimately saves money.
Many of Design Home Interiors' clients utilize the staff's remodeling or redecorating services. Some of these clients are often downsizing but opt for higher-quality materials. Design Home Interiors also helps these customers incorporate existing pieces into a design, either by placing items in the space, updating them with new upholstery or refinishing touches.
Homeowners today spend more time at home so they are seeking multifunctional rooms with combined uses that allow them to be with family. Examples include a home office hidden in the family room with a table that opens to create a workspace or an easily movable table that can be pushed aside to accommodate a gaming system. Entertaining at home is also popular with clients who choose to create comfortable expanded seating areas using versatile pieces such as ottomans.
Design for Life
Hirschoff describes Design Home Interiors' overall style as eclectic: "We mix contemporary and traditional styles, infusing a traditional style with contemporary materials to create a transitional piece. It is about using a style customers may be comfortable with in a new way."
In addition to visiting the store there are several ways to interact with Design Home Interiors, whose work is featured in two designer show houses in the area. The Designer Show House in Cape May, N.J., will run from June to December at the Southern Mansion Bed and Breakfast. The Bucks County Designer House and Gardens at Old Glory Farm runs for the month of May. Details will be available on the Design Home website, DesignHomeInteriors.org, which also features a portfolio and other useful information (including an invitation to follow the firm on Facebook). Just as their store offers more than their competitors, Hirschoff and Little strive to provide useful content on their website, such as design tips, trends and photographs cataloging in-progress design projects.
"What sets us apart," says Hirschoff, "is that we want to help our clients through their decorating dilemmas to create a space that is tailored to how they live."
Design Home Interiors
668 Bethlehem Pike, Montgomeryville
215-361-9100
DesignHomeInteriors.org
Sharon A. Shaw is a freelance writer from Doylestown.