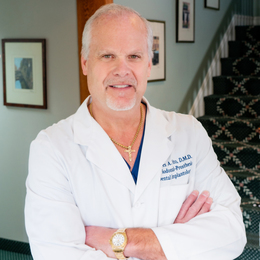 The Seven Keys to Successful Implant Dentistry
Dual-board-certified dental specialist Dr. James A. Vito outlines the vital factors that can determine the long-term success of a dental implant.
Replacement of missing teeth goes back almost 4,000 years. It began with bamboo pegs and carved seashells, progressed to gold spikes and platinum disks, before evolving to the early vitallium dental implant (1940), the titanium implant (1960), and, finally, the modern-day titanium alloy dental implant we have today.
Dental implants have become mainstream, with more practitioners doing them. They enjoy a high degree of success—90 to 95 percent at 10 years. But even with this high degree of success, there are failures, too. These days, discussions in dentistry are not about placing more dental implants, but how to deal with the complications that arise when dental implants begin to fail.
When considering dental implant treatment for a patient, the dental clinician must evaluate whether implants are the best option to restore the patient's function and aesthetics. Things to consider when assessing risk: medical history, medication history, laboratory evaluation, dental history, clinical exam, X-ray exam and soft/hard-tissue evaluation.
The three main causes of the 5 to 10 percent of dental implant failures are: peri-implantitis (periodontal disease for implants); lack of adequate osseointegration (fusion to the bone), often due to poor bone or soft-tissue support; and fracture of the dental implant.
When considering dental implants it is a team effort between the dentist and the patient. Each has a role in the overall long-term success of the dental implant treatment. There are seven keys to consider:
* Key No. 1: Assessing the medications adequately. As much as 48 percent of the population takes at least one medication, 31 percent at least two medications, and 30 percent five medications. Thirty percent of the elderly population takes at least eight medications. Knowing what medications your patients take influences the surgical healing of the soft tissue and the bone around dental implants.
* Key No. 2: Insisting on good oral hygiene. Plaque and bacteria, which cause periodontal disease, can cause periodontal disease around dental implants, also known as peri-implantitis. Failure to develop a sound oral hygiene regime with your patient with a regular maintenance schedule is paramount for long-term success. If the patient cannot keep their mouth clean, then they are not good implant candidates.
* Key No. 3: Adequate bone and soft tissue. Just like building a house, you need a proper foundation to support the house. The same is true of dental implants. You need adequate bone for proper placement and positioning of the dental implant. You also need adequate soft tissue to protect not only the dental implant but also the underlying bone. If you start to lose bone around the implant, the implant will fail. The proper support and placement of the dental implant will make it easier to clean and withstand the forces of your bite. In situations of inadequate bone and/or soft tissue, there are a number of minimally invasive procedures that can be performed to rebuild the bone and/or soft tissue.
* Key No. 4: Planning the case with tooth position in mind. The tooth needs to be in a specific position in order to withstand the forces of the bite, as well as maintain the aesthetic of the final restoration. Proper positioning of the dental implant makes oral hygiene much more predictable. The position of the tooth needs to dictate the surgery. Any insufficiencies in either the bone or soft tissue must be addressed prior to implant surgery for a predictable and long-term outcome.
* Key No. 5: Choosing the right width and length dental implant. While dental implant companies make all varieties of width and lengths of dental implants, choosing the right size dental implant is key and instrumental to long-term success. It should go without saying that big teeth (back teeth) need wider implants, while smaller teeth (front teeth) need narrower ones. Too often the surgeon allows the bone to dictate the size of the dental implant rather than making the bone fit the proper size implant.
* Key No. 6: Taking advantage of current technology. Cone Bean Computed Tomography is becoming the standard of care for dental implant assessment of a patient. It provides a 3D picture of the area the surgeon is contemplating dental implants, and allows the surgeon to evaluate proximity of vital structures such as nerves and sinuses. It also enables the surgeon to determine whether the proper-size dental implant will fit.
* Key No. 7: Knowledge of good surgical and suturing techniques. Whether placing dental implants or performing bone grafts, these procedures must be done well—and it is vital that they be covered by the soft tissue. There are specific situations in which dental implants do not need to be covered by soft tissue, but bone grafts definitely need to be covered. Knowledge of good suturing techniques to hold the gum tissue in place so that the bone graft and/or the implant(s) are protected from the oral environment is vital to long-term success. If the gum tissue opens, then the bone graft and/or implants become exposed to the oral environment, which then puts the graft and/or implants at risk of failure.
About Dr. Vito
James A. Vito, D.M.D., is a graduate of the University of Pennsylvania School of Dental Medicine, as well as Penn's prestigious postgraduate Periodontal Prosthesis program. He has been doing implant surgery and implant restorations since 1990. Dr. Vito is also a Fellow of the International Congress of Oral Implantology (ICOI) and the American Academy of Implant Dentistry, as well as board certified in Implant Dentistry by both the ICOI and the American Board of Implant Dentistry. Dr. Vito is one of the select few to be dual board certified in the country.
For more information or to schedule a dental implant consult with Dr. Vito, call (610) 971-2590 or visit jamesvito.com. His office is located at 523 East Lancaster Avenue in Wayne, Pa.
Photograph by Jody Robinson
Published (and copyrighted) in Suburban Life magazine, December 2019.