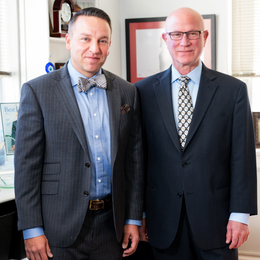 Leveling the Playing Field
For more than 80 years, the attorneys of Krasno, Krasno & Onwudinjo have been fighting to help workers heal, recover, and move forward with their lives after work-related injuries.
Workplace accidents often happen in the blink of an eye. In the aftermath, many workers discover their lives changed forever, physically, emotionally, and financially, as a result of their injuries. In other words, through no fault of their own, the lives they once knew no longer exist.
These scenarios illustrate why the law firm of Krasno, Krasno & Onwudinjo has been helping injured workers find resolution in workers' compensation disputes for more than 80 years.
"I'm a third-generation workers' compensation lawyer, the only one in the state," says Senior Partner and CEO Jason Krasno, who is following in the footsteps of his late father, the trial attorney Lester Krasno, and grandfather, the Honorable Isadore Krasno, a workers' compensation judge who founded the firm in 1936. "My father and grandfather dedicated their lives to giving the injured worker their life back, and that really sunk in with me. I take those memories and apply those lessons to everyone I talk to."
With 12 offices throughout the region, Krasno, Krasno & Onwudinjo attorneys represent workers in every field who have suffered injury or illness during the scope of employment. From carpenters and construction workers to police officers and government employees, the firm has won cases for more than 300,000 injured Pennsylvania workers. As a result, it has been consistently ranked as a tier-one law firm in the state by U.S. News & World Report.
Part of this excellence stems from Krasno, Krasno & Onwudinjo's leadership and expertise. Many of the firm's attorneys are certified specialists in workers' compensation law, including the Honorable Geoffrey W. Dlin (Ret.), who joined the firm in 2012.
Dlin served more than 15 years as a workers' compensation judge, and he also spent the early part of his career representing insurance companies in injury and workers' compensation cases. Put another way, Dlin has truly been "on all corners of a courtroom," he says. In addition, he has served as co-chair of the Workers' Compensation Section of the Philadelphia Bar Association, and presently serves as a member of that section's Legislative Liaison Committee.
"Some of our clients come home in wheelchairs, some come home with life-altering injuries, and some never come home at all," says Dlin, the firm's managing partner. "We fight to make sure clients are receiving the medical care they deserve, from the best doctors, and make sure they receive the wage-loss benefits they are entitled to."
Dlin's experience has proven to be of immense value to the firm, both in terms of the representation he can offer to individual clients and the perspective he can share with his fellow attorneys.
"Geoff has added an entirely new dynamic to our firm," says Krasno, who began his legal career with the firm in 1999. "He has expanded our viewpoint from the bench and shown how to custom-tailor each case and create a new game plan based on the expectations of a workers' compensation judge. As a result, Geoff has helped to create a culture within the firm to help our staff and support people understand what it takes to help our clients win their cases."
Although Dlin has "seen it all" through the various aspects of his legal career, he takes nothing for granted. He still treats every client as an individual and every case as a personal matter that may have deep and lasting ramifications on a person's life. Much like Krasno, Dlin often keeps in touch with clients long after their cases have been resolved.
"When our clients come to us, they are not only injured but often frustrated, bitter, and angry at how they have been treated," Dlin says. "As a judge, I noticed an increasing lack of loyalty between employer and employee. There have been a disheartening number of occasions of employers jettisoning an employee when an employee reports a workplace injury. One of the things we do is get their lives back on track and restore their sense of place in the world.
"If a case is denied by an insurance company or an employer, there's insult added to injury," he continues. "We try to make it better for them. Whether that's by litigating a case, if that makes the most sense, or negotiating a resolution of the case, we let the clients' lives take us where they need to go."
From its storied history and leadership to its personalized approach to "making clients whole again," Krasno considers his firm the natural choice for people wrestling with workers' compensation issues.
"We do everything humanly possible to make sure they walk away with the absolute best result and the best means to move on with their life," he says. "We are ever-changing and evolving to meet the needs of our clients while never losing the foundation that was set down in 1936: dedicating our lives to the injured and disabled of Pennsylvania.
"Simply put, there is only one Krasno, Krasno & Onwudinjo," he continues. "Through changes in the law, changes in the economy, or changes in the political landscape, we will always be able to navigate those waters with the injured worker and level the playing field against the insurance companies."
For more information on Krasno, Krasno & Onwudinjo, visit or call krasnolaw.com or call (800) 952-9640.
Photograph by Jody Robinson

Published (and copyrighted) in Suburban Life magazine, December 2019.