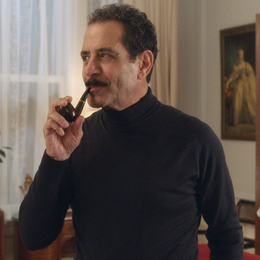 Golden Touch
From Monk to The Marvelous Mrs. Maisel, Tony Shalhoub continues to leave an indelible mark.
Tony Shalhoub is nothing if not adaptable. Considering the range and abundance of roles he has taken on throughout his acting career, one might even call him a chameleon.
Shalhoub is perhaps best known for portraying the obsessive-compulsive detective Adrian Monk in eight seasons of Monk. Yet Shalhoub is now earning praise for his role as family patriarch Abe Weissman in Amazon Studios' binge-worthy smash, The Marvelous Mrs. Maisel.
Shalhoub's body of work has included memorable turns in dozens of films, including Big Night, the Men in Black franchise, and Pixar's animated Cars, as well as in TV's Wings. His trophy case brims with four Emmys—three for Monk, and one for The Marvelous Mrs. Maisel—and a 2018 Tony Award for The Band's Visit on Broadway.
On The Marvelous Mrs. Maisel, which is a comedy-drama set in the 1950s, Shalhoub makes viewers feel the pain of his character, Abe. Throughout the show, Abe learns to reinvent himself, in part, because of his daughter Miriam "Midge" Maisel's willingness to tackle major life changes—from mother and wife to standup comic and rising star—and become the plucky, independent working woman she was meant to be. The show, which has been greenlit for a fourth season, is set in New York but gives a nod to Philadelphia in Season Two.
Maisel co-star Marin Hinkle admits that she is awed by Shalhoub's talent: "Everything that Tony touches ends up turning into some sort of artistic gold. … He's eccentric and idiosyncratic, in the best possible way; his flavors are completely unique."
We spoke with Shalhoub about the show's popularity, the challenges associated with producing it, and what today's audience looks for in a character.
Q&A
It's easy to see why The Marvelous Mrs. Maisel has become so popular. What is it like for you to be on this beautiful TV show?
Oh, it's such a great world, isn't it? The furniture, the dishes, the clothing, those hats and gloves. It's all rather spectacular, isn't it? … Every episode involves a lot of rehearsals. That's why it feels like a play. We have two people on the set; one is watching our words, one is watching exactly what we're doing in terms of continuity. Two script supervisors. It's kind of crazy in a wonderful way.
What is it about The Marvelous Mrs. Maisel that has struck a chord with so many people?
We have a certain level of challenge with this material, the language, and the speed at which we have to spin out this dialogue. There's no showboating; one person isn't more important than the other. It really has to be cohesive and collaborative, and it lends itself to closer connections. We are all so proud of the material and so proud of each other, and we want to see each other soar and succeed in these challenges.
Have you gotten more comfortable in becoming your character, Abe Weissman?
Well, we can only become comfortable to a certain extent because our characters start to really go through some big changes and our relationships go through alterations and challenges as [the show] goes on. So, there's always a curveball coming at us. This makes it interesting and certainly keeps it alive.
What kind of feedback are you getting from friends and fans?
They have fallen in love, and they cannot wait for the next season. That's a wonderful kind of paradox that's going on. People want to binge watch. They can't help themselves from watching it, yet they don't want it to be over.
Why do you feel that is?
I think Rachel Brosnahan (who plays Miriam "Midge" Maisel) brings a certain unusual, interesting, mature level of grace and sophistication. It's that something special like we saw with Katharine Hepburn, Grace Kelly, and Audrey Hepburn. When I was Rachel's age (29) and starting out as an actor, I couldn't have handled a tenth of what she is doing. She's got so many plates spinning, and she does it with such grace. She's such an advocate for herself and for her character. I have learned so much for her.
Do you think viewers see her as a role model?
Yes, and she is a heroine, too. Someone who can go outside of their comfort zones with such sort of courage and strength and take risks. Someone who asks, "How can we grow and take risks and let things fall where they may?" is exactly what we're all looking for in our lives right now.
Photograph courtesy of Amazon Studios
Published (and copyrighted) in Suburban Life magazine, January 2020.