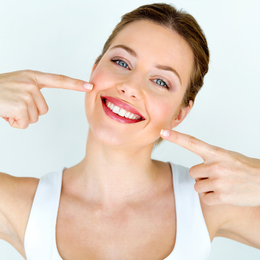 All Smiles!
Face to face with some of the area's finest dentists devoted to preserving patients' oral health
Everyone is replaceable, as the saying goes. One exception to the rule, perhaps: a dentist you can trust.
Thousands of dentists and allied oral health professionals practice in Philadelphia and its surrounding suburbs. Why is it, then, that so few people switch dentists once they find someone they believe has their best interests at heart? The challenge, of course, comes from finding that special someone who has the training, skill, and expertise to care for every aspect of a person's smile.
That's where we come in. Over the course of several months, we asked our readers to visit our website and cast their votes for the oral health professionals they rely on to keep their smiles bright, healthy, and operating at peak performance. As the listings on following pages suggest, our readers delivered. We also shared some votes of our own, based on stories we've done over the past year on dentists with excellent reputations.
These men and women may come from various disciplines—general and cosmetic dentistry, oral and maxillofacial surgery, prosthodontics, and more—but each is devoted to preserving the health and beauty of the smile. We present our 2020 Top Dentists.
General and Cosmetic Dentistry
The evaluation, diagnosis, prevention, and/or treatment (nonsurgical, surgical or related procedures) of diseases, disorders, and/or conditions of the oral cavity, maxillofacial area, and/or the adjacent and associated structures and their impact on the human body
Abrams Center for Cosmetic Dentistry
abramscosmeticdentistry.com
Dr. Jeffrey A. Bellisario
The Office of Dr. Bellisario
Penn Dental Family Practice
Westtown Dental Associates
westtowndentalassociates.com
Michael E. Docktor, D.D.S.
Advanced Dental Esthetics
The Art of Dentistry by Dr. Stephen J. Gershberg
Joseph R. Greenberg, D.M.D. PC
createbeautifulsmiles.com
Heine & Associates Family Dentistry
Dr. Stephen P. Howarth Jr.
Dr. Stephen P. Stephen Sr.
Wallingford Station Family Dental
West Avenue Family Dentistry
Jennifer J. Kalochie, D.M.D., FAGD
Kaminsky Dental Associates
Ericka Klein, D.M.D., P.C.
Robert A. Lantzy, D.M.D., LLC
Marc A. Levin, D.M.D., FAGD
Dr. Jonathan C. Limberakis
Limberakis Family Dentistry
Nicholas Cosmetic Dental Center Inc.
nicholascosmeticdentalcenter.com
Matarazzo and Milici Group
alphadentalexcellence.com
The Kennett Center for Advanced Dentistry
chesterspringsdentist.com
Drew A. Shulman, DMD, MAGD
cosmeticdentistphiladelphia.com
Dental Excellence of Blue Bell
dentalexcellenceofbluebell.com
Advanced Dentistry of Collegeville
collegevilledentistry.com
Chester County Dental Arts
chestercountydentalarts.com
Michael Sophocles, D.M.D., and Associates
tymatrachtenbergdental.com
Lee Dental Associates Ltd.
wahlersfamilydentistry.com
Artistic Expressions Dentistry
The branch of dentistry concerned with the morphology, physiology and pathology of the human dental pulp and periradicular tissues
Lower Gwynedd Endodontists P.C.
Penn Dental Family Practice
Oral and Maxillofacial Surgery
A specialty of dentistry that includes the diagnosis, surgical and adjunctive treatment of diseases, injuries and defects involving both the functional and aesthetic aspects of the hard and soft tissues of the oral and maxillofacial region
Russel S. Bleiler, D.M.D.
buckscountyoralsurgery.com
Penn Dental Family Practice
Pennsylvania Dental Implant & Oral Surgery Associates
Oral and Maxillofacial Surgery Centers
Oral Surgery Associates of Chester County
West Chester, Kennett Square
oralsurgerychestercounty.com
E. Steven Moriconi, D.M.D.
Innovative Implant and Oral Surgery
innovativeoralsurgery.com
A dental specialty that includes the diagnosis, prevention, interception, and correction of malocclusion, as well as neuromuscular and skeletal abnormalities of the developing or mature orofacial structures
Penn Dental Family Practice
Advanced Orthodontic Care of Ambler/Advanced Orthodontic Care of Abington
aziziorthodonticsambler.com
Benjamin A. Cassalia, D.M.D.
DCO Orthodontic Specialists
Steven M. Cohen, D.M.D., M.S.D.
Roberts & de Marsche Orthodontics
Philadelphia and Lawrenceville, N.J.
Infinity Dental Specialists
Newtown Square and Glen Mills
infinitydentalspecialists.com
West Chester Orthodontics
Cathleen George, D.M.D., P.C.
Heine & Associates Family Dentistry
rittenhouseorthodontics.com
Bucks County Orthodontics
buckscountyorthodontics.com
An age-defined specialty that provides both primary and comprehensive preventive and therapeutic oral health care for infants and children through adolescence, including those with special healthcare needs
Doc Bresler's Cavity Busters
childrensdentalhealth.com
Pediatric Dental Associates
Heine & Associates Family Dentistry
dentistryforchildrende.com
Pediatric Dental Associates of Glen Mills
A specialty of dentistry that encompasses the prevention, diagnosis, and treatment of diseases of the supporting and surrounding tissues of the teeth or their substitutes and the maintenance of the health, function, and aesthetics of these structures and tissues
Bryn Mawr Periodontal Associates
Andrew B. Diamond, DMD, BS
Joseph R. Greenberg, D.M.D. P.C.
createbeautifulsmiles.com
Dr. Jonathan M. Korostoff
Penn Dental Family Practice
Matarazzo and Milici Group
Devon Periodontal and Dental Implant Center
devondentalimplantcenter.com
Main Line Periodontics and Dental Implants, P.C.
mainlinedentalimplants.com
The dental specialty pertaining to the diagnosis, treatment planning, rehabilitation, and maintenance of the oral function, comfort, appearance, and health of patients with clinical conditions associated with missing or deficient teeth and/or oral and maxillofacial tissues using biocompatible substitutes
Prosthodontics Limited PC
prosthodonticslimitedpc.com
DiGiallorenzo DMD & Associates
Advanced Esthetic & Implant Dentistry
Matarazzo and Milici Group
Published (and copyrighted) in Suburban Life magazine, January 2020.