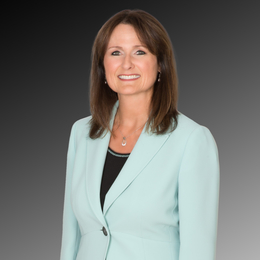 Strong Foundations
Led by Kimberly J. Brumbaugh, the team at Brumbaugh Wealth Management forges lasting relationships with clients by focusing on service, education, and giving back.
Ask Kimberly J. Brumbaugh to talk about her thriving wealth advisory firm in Exton, and she'll likely start sharing stories about the building blocks of her career, which she put in place long ago.
Brumbaugh started her career in business at age 14, when she went to work for her father, who managed a Mercedes-Benz dealership. Initially hired as a part-time cashier, Brumbaugh made a name for herself quickly thanks to her work ethic and skill. The dealership went on to hire her full-time in the service department, where she forged the foundations of service and leadership. By 1996, she had amassed more than 12 years of experience with the Mercedes-Benz brand, rising to the rank of assistant director of the service department.
She did all of this while taking college courses at night. Although she had greater ambitions, she never lost sight of what was most important.
"I have a servant kind of heart," says Brumbaugh. "Serving people in general had a way of molding me."
By age 21, Brumbaugh was running a department with 40 employees. Determined to further her career, she enrolled in The American College of Financial Services in Montgomery County and went on to receive a great deal of training and licensing there.
"By the time 1998 rolled around, I had joined a financial services firm in Bala Cynwyd," shares Brumbaugh. "I also ran a consulting company out of my living room while earning my licenses. I had 11 people working for me who all had a very strong work ethic. I've always enjoyed surrounding myself with successful, high-integrity people."
In 2004, Brumbaugh founded Brumbaugh Wealth Management to accommodate rising demand for her financial services. This April, she will celebrate 16 years of operating her own firm, a milestone she attributes in part to her comfort with taking measured risks.
"I'm not afraid to make a mistake or take a risk," she says. "That's key, if you can learn from your mistakes."
Her approach has paid off. Her company, which has been profitable since its second year, sees average growth of 20 percent per year, and that's not including the $55 million in new assets under management it gained after completing its first acquisition in 2019. Although the firm is based in Chester County, it has expanded far beyond the Greater Philadelphia Area; in fact, the firm now has clients in 27 states. She attributes much of her success to having a great team and a passion for creating genuine relationships with her clients and other professionals.
"We're not pushy or product-oriented," she says. "We do things on a fee arrangement, and we provide fiduciary-based advice. People view us as a differentiator. We're advocates. We partner with our clients' attorneys and CPAs to ensure all areas of their finances are coordinated. When the planning is complete and our clients' objectives are satisfied, we've done our job—until the next life event."
She takes her dual roles as coach and financial educator seriously.
"I've been investing since I was 18," she says. "When the markets are flying high, anybody can make money. But it's not about what you earn but what you keep. That's our job—it's not just about making money; it's also managing risks for clients and helping those clients understand what the risks are."
In fact, every member of Brumbaugh Wealth Management is committed to educating clients. This includes Andrew Storti, LUTCF®, partner and COO. Having started his professional career during his teen years as well, Storti shares Brumbaugh's strong work ethic and desire for "putting clients first."
"Whether a client is younger or retired, I love to educate," Storti says. "I think it's important and allows clients to get a better understanding of how we can help them. I believe it helps clients feel engaged and involved, too. I'm happy to share as much information as a client would like to have."
Another example is Andrew Scheppegrell, a paraplanner who started with the firm as an intern. Brumbaugh says Scheppegrell has been a tremendous asset in terms of helping clients' younger family members with financial literacy. She points out that although college may prepare students academically, little attention is paid to financial planning during those years.
"We've designed a program as noted on our website geared towards professionals under 40, to help them build financial literacy," she says. "We utilize specialized budgeting software and a customized budget sheet they can relate to that takes into account things like rent and renter's insurance, for example, versus the expenses one has nearing retirement. We've done this so they're not just relying on an app, trying to figure things out for themselves."
In addition, Scheppegrell has designed an ESG (Environmental, Social, and Corporate Governance) investment portfolio for this clientele at a reduced cost.
Brumbaugh stresses that it is important for prospective clients to ask questions and make sure the firm he or she chooses is the right fit. Once a client comes on board to work with the Brumbaugh team, relationships tend to last a lifetime.
"We have clients celebrating 21 years of working with me," she says. "We have long-tenured clients with little turnover."
In addition to fostering lifelong relationships with clients, Brumbaugh is driven by a desire to keep learning, growing, and serving the community. Each year, for example, the firm chooses a charitable endeavor to support. This year's theme: combating homelessness and supporting ALICE (Asset Limited, Income Constrained, Employed) community members. Brumbaugh's group will contribute its efforts by supporting organizations including the Brandywine Health Foundation, Home of the Sparrow, West Chester University's Homeless Student Program, United Way of Chester County, Whitford Charitable Foundation, and the Chester County and Twin Valley food banks.
Seven years ago, Brumbaugh became a member of Vistage® Worldwide, which enables her to gather monthly with other business owners for a full-day workshop featuring guest speakers, coaching sessions, and more. This membership also reflects Brumbaugh's passion for leadership. In fact, she is frequently asked to speak on topics including finance and leadership.
At these speaking engagements, she likes to share her philosophy, which she began forming as a hardworking teenager, in the earliest stages of her business career. It's the same philosophy that guides her team today, as they work with clients to realize their dreams: "All boats rise together."
Kim Brumbaugh is a registered representative of Lincoln Financial Advisors Corp. Securities and investment advisory services offered through Lincoln Financial Advisors Corp., a broker/dealer (member SIPC) and registered investment advisor. Insurance offered through Lincoln affiliates and other fine companies. Brumbaugh Wealth Management is not an affiliate with Lincoln Financial Advisors Corp. CA Insur. Lic. 0L00781. CRN-2898900-010920
Published (and copyrighted) in Suburban Life magazine, January 2020.