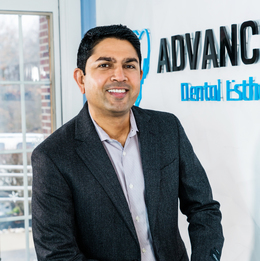 Putting an End to Dental Worries
Dr. Dilip Dudhat of Advanced Dental Esthetics has gone above and beyond to create the optimal dental experience: comfortable, affordable, and free of anxiety.
Most people would list "a trip to the dentist" as one of their top anxiety-creating experiences. From bad past experiences to fear of pain to worry about how to cover the cost, everyone has reasons why they put off a dental visit. As a result, though, they may be making their situations far worse.
Dr. Dilip Dudhat has been studying this issue for decades. Not only does he take every patient's worries seriously, but he has created a dental practice fully devoted to reducing those worries on every level: Advanced Dental Esthetics in Colmar.
With more than two decades in the field, Dr. Dudhat focuses on what's best for patients on every level. The result: a dentist's office that patients actually want to visit. We spoke with him about his wealth of experience, the interest in the latest proven systems and technology, and a well-trained staff, all of which can result in a safer, faster, less expensive, and higher-quality dental visit.
Q&A
How do you react to patients feeling anxious about going to the dentist?
It's all about listening to the patient and hearing where their concerns are. When you understand your patient's individual needs, they will begin to trust you and relax. There are many things that they are worried about. We want to work with them with whatever is worrying them. If they can only afford one treatment, then we say, "OK, let's just do that. Let's just do one small thing to get it going." To us, it's all about earning their respect and bonding well with them.
How does your practice help treat these concerns?
Dentistry is different in my office. We do what the patient needs to make their experience better. Our practice offers a variety of gentle, anxiety-reducing options. Most fear comes from a patient's history. Maybe they've had a bad experience. We've kept people's history in mind when we designed our practice. When you enter the office, we welcome you to say hello to the team, have a beverage, and relax in one of our massage chairs. We have headsets and TVs both in the ceiling and directly in front of the patient, so they can listen to whatever music or watch whichever movie they like while we take care of their needs. The team is well educated on every procedure offered so they can provide personal attention to help ease any fears or concerns. Our staff, our technology, and our attention to our patients' needs create the ability to provide gentle care.
Are there certain medications or therapies you use that help to put patients at ease?
We provide oral sedation, but for those needing a little more support we supplement their care with different types of sedation, including nitrous oxide, and full IV sedation for comprehensive dental work for those who need or want it. I may suggest that people with more severe anxiety see their doctors about receiving anti-anxiety medications. I also tell patients there are things they can do prior to their visit to reduce anxiety. Don't use alcohol, smoke, or drink or eat acidic foods. I tell them that taking antacids before a visit also reduces anxiety. Also, for those with sensitive gums/teeth, we recommend a special toothpaste to begin to use two weeks prior to their appointment to minimize discomfort.
You mentioned technology. Do today's technological advancements help people who may be hesitant about going to the dentist?
Yes. Ever since I first opened my practice in 2000, I have embraced technologies that I see improve patient care. Plus, everyone on the staff participates in continuing education, and we are always reading industry journals so we can enhance our education and increase our knowledge. In fact, in my 19 years in the field, my practice has placed or restored more than 10,000 implants. We are considered experts on repairing implants, and that's important because the number of implants failing is on the rise. You need to have the best. You want a practice with advanced experience and expertise when considering implant treatment.
We get to know patients through an evaluation, which includes a medical history, blood pressure screening, and technology that detects oral cancers at their earliest stages. We also provide digital dentistry. This is a full-mouth reconstruction that gives you a preview of the work before it's done. It shows them the landing spot and end time.
We offer LANAP (laser-assisted new attachment procedure) for gum disease, which is a virtually painless no-cut periodontal therapy; iTero/ClinCheck for digital impressions; digital X-rays; high-resolution 3D CBCT (cone beam computed tomography), which provides a noninvasive way to diagnose and detect periodontal and endodontic conditions; CAD-CAM and 3D digital technology for restorative services; and air abrasion treatment for tooth decay and restorations.
By using local labs, we can sometimes offer same-day turnaround. Most people don't know that 50 percent of dental work goes outside of the United States. By using local companies, we get the work done faster, and it's an opportunity for us to support another business in our community. We also use guided biofilm therapy and ultrasonic Piezosurgery for tooth extraction and implant preparation, which reduces the risk of complications seen with traditional fiber cutting through steel, tungsten carbide, and diamond grit burs.
You suggest some people are concerned about cost. How do you help them in that regard?
Dental work can be very expensive. I know that people will put off getting crucial and necessary treatment for fear of cost, but that will translate into higher costs down the road as their conditions worsen without care.
That's why we have affiliations across the region, so we can participate in major PPO insurance plans and submit medical billing for special procedures. We offer financing options including CareCredit, which helps pay for treatments and procedures insurance doesn't cover. It's a simple, easy-to-use program that grants approval quickly. It can be used for services including Invisalign, implant, cosmetic, and laser dentistry, and has helped more than 5 million patients get necessary healthcare treatment.
We also offer no-interest or low-minimum monthly payment options for patients who might not have insurance. They can then afford routine and preventative dental visits as well as other services.
Advanced Dental Esthetics is located at 2406 N. Broad Street in Colmar, Pa. For more information, call (267) 209-6381 or visit PAFamilyDentist.com.
Photograph by Jody Robinson

Published (and copyrighted) in Suburban Life magazine, January 2020.