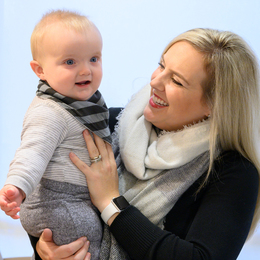 Special Delivery
At St. Mary Maternity Care in Langhorne, mothers-to-be and their babies can expect exceptional care, support, and education "every step of the way."
When a mother-to-be envisions the perfect place to deliver her baby, she generally pictures a state-of-the-art facility, staffed by top-notch OB/GYN specialists who are eager to provide care in a safe, compassionate, and nurturing environment. This may explain why so many prospective parents in the region choose St. Mary Medical Center in Langhorne for their labor and delivery experience.
St. Mary delivers more than 2,000 babies per year, and nine out of 10 mothers rate the facility in the top 5 percent for patient satisfaction. What sets St. Mary apart is an environment that is truly supportive of babies and their parents, as evidenced by the St. Mary mission: "We help grow families."
Although it's considered a community hospital, St. Mary Medical Center offers all of the 24/7 services one might find in a larger hospital. This includes a team of in-house midwives, anesthesiologists, and obstetric laborists and providers, as well as maternal fetal medicine specialists and sonographers for monitoring high-risk pregnancies. In addition, patients have 24/7 access to neonatologists from Children's Hospital of Philadelphia, if needed. Another facet of care is the Mother Bachmann Maternity Center, staffed by certified nurse midwives and other skilled professionals, which offers women access to skilled health care regardless of their ability to pay.
Carey Myers, nurse manager of labor and delivery at St. Mary Medical Center, cites the feedback from the recent experience of a first-time mother.
"A new mom told me she and [the baby's father] felt respected and cared for the entire time they were there," she recalls. "The nursing team was kind, compassionate, and viewed her and her entire family as one unit. They went above and beyond—even assisting them in having their wedding in Labor and Delivery, as the baby was born before their planned wedding date."
The whole experience at St. Mary is designed to foster comfort, communication, and connection. Instead of maternity unit rooms with only curtains separating the beds, for example, the facility provides private postpartum suites, each with its own restroom, where specially trained mother-infant nurses are available to provide education and support. The practice of "rooming in," in which a newborn stays with mom virtually all the time following delivery, is very popular and available. At the same time, St. Mary has a nursery for times when new moms need a brief respite and have their newborns cared for by specially trained registered nurses.
Another example: the AngelEye in St. Mary's Level II neonatal intensive care unit (NICU). This specialized camera system allows moms to remain close to their babies even when they are not in physical proximity. In addition, families can share log-in information with grandparents or other loved ones so they can see the newborns, too.
"We are providing family-centered care here," Myers adds. "It is an amazing place to be."
The NICU features advanced monitoring technology to watch over babies who were born prematurely or have conditions requiring more intensive monitoring. In addition, the NICU staff includes board-certified neonatologists who have specialized training in the care of high-risk newborns.
Mothers have a private lactation room, with support from lactation specialists nearby. This is especially beneficial for babies in the NICU. Mothers also benefit from a weekly breastfeeding support group led by lactation specialists.
Mary Beth McCloy, director of communications for Trinity Health Mid-Atlantic (of which St. Mary Medical Center is a part), gave birth to her first child, Ronan, in May 2019. She says everyone at St. Mary made her feel comfortable, safe, and informed throughout her stay.
"I was very much part of every decision that had to be made when it came to this scary and exciting new situation," McCloy says. "It made all the difference that everyone involved was listening to me and respecting my wishes."
Like most mothers-to-be, she didn't know quite what to expect from the labor and delivery process. Even so, she says the team of "compassionate, empathetic, and concerned doctors and nurses created a completely positive experience" for her and her family.
"St. Mary Medical Center Maternity Care truly offers a warm, friendly, and highly professional environment," she adds. "I felt genuine care and concern for myself and my baby every step of the way."
Published (and copyrighted) in Suburban Life magazine, January 2020.