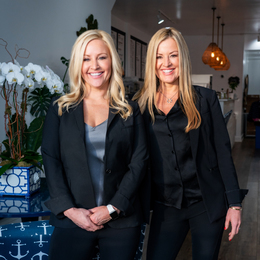 Peas in a Pod
As co-owners of The Juice Pod family of superfood cafés, sisters Danielle Leonhardt and Christine Wyatt aim to share their passion for wellness with the world.
Danielle Leonhardt opened the first Juice Pod location in the summer of 2016 in Avalon, N.J., with the goal of handcrafting raw juices, superfood smoothies, and the highest-quality, locally sourced organic food options. With a successful launch, she decided to open a second Juice Pod in Sea Isle City, N.J., in the summer of 2018.
Christine Wyatt joined her sister in 2019 to open two locations in Pennsylvania—Bryn Mawr and Springfield—with the hope of expanding to other locations in the future. Today, this independent, family-owned enterprise is thriving.
"I wanted a place that would have everything I like to eat," says Leonhardt, founder of The Juice Pod family of local eateries. "That's why I love our stores so much. I enjoy eating well, and I do believe that if you eat well, you will look good and feel good."
The Juice Pod features a wealth of good-for-you treats such as smoothies, cold-pressed juices, wellness shots, a variety of smoothie bowls, protein waffles; chia-seed pudding bowls; pitaya fruit bowls; and oatmeal bowls. Other healthful choices include a lineup of paninis, flatbreads, salads, wraps, and soups.
"Juicing has so many benefits for your body, making you feel great from the inside out," Leonhardt says. "I have three girls, and they all love it. I love making them green juices, and when they're not feeling well, I'm always pushing the ginger shots."
"We serve all things to enhance a healthy you," Wyatt adds. "We want to provide our communities with healthy food options on the go."
Their inspiration came from—and continues to come from—America's bustling coasts, where cities such as Miami and Los Angeles have long been serving up healthy treats as a way of life.
"It's always been my vision to give my community, and the children of the community, a fun, healthy, energetic place to go and gather," Wyatt shares. "We aim for a home-away-from-home vibe."
Leonhardt agrees. She characterizes The Juice Pod as "a community gathering place where people can hang out and eat healthy foods."
Leonhardt is particularly partial to dishes such as the Superfood Açai Bowl, which is topped with almonds, cacao nibs, bee pollen, coconut flakes, goji berries, hemp seeds, and strawberries. Another favorite of hers is the Bryn Mawr Bowl, which blends housemade almond milk with banana and blueberry, all topped with a superfood mix of strawberries and blueberries.
"I also love the avocado toast and our green juices," she shares. "I love anything green. Green foods just make me happy."
The juices, as one might expect, are a main attraction at each location. With options ranging from the Avalon Green (a blend of kale, red apple, cucumber, and lemon), to Celery Juice, to Carrot-Ade (made with carrot, apple, and lemon) and Glambam (featuring spinach, cucumber, pineapple, mint, lemon, and lime), options for wholesome beverages abound.
"The impact juicing has on overall wellbeing and energy is just so positive," Wyatt says. "Juice helps with detoxification, or ridding the body of toxins, with digestion, and with skin, gut, and brain health. Good health requires a multifaceted approach, and it does take work, but you can combine so many different things to feel good. I don't think you can put a price tag on feeling good."
"I'm really proud of what we've built," Leonhardt adds. "We really want to encourage our community to drink juice, eat clean, and feel amazing."
Photograph by Jody Robinson
Published (and copyrighted) in Suburban Life magazine, January 2020.