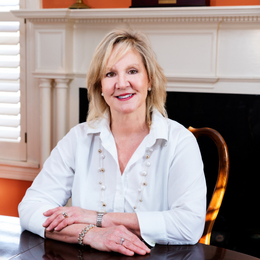 Independence Days
Patricia Miller Picardi of Independence Planning Group takes a holistic, hands-on approach to making clients' dreams come true.
For a third-generation financial professional such as Patricia "Patty" Miller Picardi of Independence Planning Group, the mission is clear: to help clients thrive.
"People come to me with their hopes and dreams, looking for help in making those a reality," she shares. "The most rewarding aspect of my job is in seeing people's financial dreams come true—knowing that when they retire, they will be financially secure, or that they will have the funds for their children's college education."
Picardi, a native of Wayne, majored in finance at James Madison University, where she graduated with honors. She went on to earn her Chartered Life Underwriter (CLU®), Chartered Financial Consultant (ChFC®), and, most recently, Retirement Income Certified Professional (RICP®) designations from The American College of Financial Services in Bryn Mawr.
These prestigious designations combine to form the strong foundation upon which Picardi helps clients build their futures.
"My grandfather, Theodore D. Miller, started a financial planning/advisory firm in Wayne back in the 1940s," she shares. "My father, Theodore L. Miller, now 93, took it over in the 1970s."
Picardi, as a new college graduate, fancied herself among the likes of Wall Street's power elite, but fate had other plans. Rather than heading straight for the stock market, she embraced the unique opportunity to learn alongside her father. This experience is what put her on the path to helping individuals responsibly manage their finances.
"The more I learned, the more I trained, the more interested I became," Picardi shares. "I love working with executives, families, and business owners. I like forming lifelong relationships with people. Our client persistency or retention rate is nearly 100 percent. That's one of the things of which I am most proud. I also know that there is a lot of contradictory financial information that can confuse people."
Picardi's knack for developing strong relationships can also be seen among the members of the team she has cultivated. In fact, Picardi's firm also partners with a resource center in Manhattan, which means clients can benefit from the expertise of seasoned CPAs, attorneys, and other professionals.
"We have a wonderful office, with great back-office support," Picardi shares. "People can call us and get a live person immediately. We're persistent about seeing people regularly and making calculated adjustments when necessary. We also don't believe that people have to take on a lot of risk to create wealth. We help clients protect, grow, and distribute assets over a lifetime and into multiple generations. We are committed to providing an atmosphere of uncompromised service, integrity, and professionalism."
Picardi's calling comes with its share of challenges, of course. According to Picardi, one of the greatest challenges she faces comes in helping clients save the proper amount of money over their lives and then sticking to their strategic financial plan.
"There are some fundamental financial rules, such as the correct savings ratio," she says. "It can be hard for people to be disciplined enough to save the proper amount of money each year. I don't like to be the bearer of bad news, but that's why we're here. Very much like a doctor or attorney, as a financial planner you have to be honest with people in order to help them attain their goals."
Focused on the 'Bigger Picture'
Picardi is proud of her role as an educator, one who can teach clients best practices they can then apply to their everyday lives.
"Clients tell us we're good teachers and explain things clearly and fully so that they understand what we're doing and why," she says. "We pay great attention to making sure clients understand their own financial model, their own situation, and when we offer suggestions or advice, we are very good about explaining what we're doing and why."
Picardi takes a comprehensive approach to financial wellness. Much like a person can benefit from taking a look at the entirety of factors affecting his or her physical health—diet, sleep, and exercise, to name a few—so a person can benefit from taking a look at the "bigger picture" when it comes to finances.
"If you ask the public what a financial advisor does, you'll get all sorts of answers," Picardi says. "Most people think immediately that it's someone who handles your investments. Yes, we do that, but we look at every aspect of a client's financial situation. Ours are cloud-based, web-based financial models, so clients can look at the bigger picture or get into details. We can monitor clients' wealth and financial coordination in a glance."
Most people, according to Picardi, could benefit from such a well-rounded perspective. "They never see how all their finances work together, how things coordinate and dovetail," she says. "I find one of the biggest problems out there is that people have a variety of financial products—kind of like a kitchen junk drawer. Clients know they have good assets or products, but they don't necessarily know whether or not those things are working well together."
Organizing and synchronizing such assets can prove invaluable in helping clients achieve their goals, according to Picardi.
"Coordination is really, really important," she says. "We coach our clients to coordinate all aspects of their finances. We look at everything, such as liability protection and estate documents. For example, if you're not properly protected, you can lose everything. And without careful estate plans, or even basic estate documents, clients can lose control of their wealth."
Whereas some firms are transaction-based, or are focused more on the market and assets under management, Picardi insists this approach goes against her firm's mission statement.
"We have a different type of planning; we take a macro-economic approach," she says. "We are fiduciaries and offer fee-based planning, but we can also provide asset management and product suggestions. We can adapt to whichever approach a client prefers. Everyone needs something different because every individual, family, and business owner is unique. We have at our disposal many companies with whom we can work to provide customized advice and portfolios."
Picardi takes time to emphasize that, in spite of what some people may think, the services of a financial professional can benefit anyone, of any income level. Her advice: Don't be intimidated by the thought of working with a financial planner. People who have a financial plan and advisor are more successful than those who do not, just as people benefit from following a fitness and nutrition plan.
"A lot of people think that you have to be wealthy for a financial planner, but that's not true," she says. "Independence Planning Group has about 55 financial professionals who work with varying degrees of income and assets. We believe that having a clear and comprehensive financial plan, along with an engaged, personal advisor to guide, teach, and keep you accountable, is the key to financial well-being. If you have a plan, it makes things so much easier.
"I have people who come to me in their 60s and say, 'I'm already retired—tell me what to do now,'" she continues. "I think people can benefit from a financial plan any time, and it's better late than never, but the earlier one develops a plan and consistently reviews their plan, the easier it will be to achieve financial freedom and independence."
Independence Planning Group
758 East High Street
Pottstown, Pa.
(610) 970-8555
Registered Representative and Financial Advisor of Park Avenue Securities LLC (PAS). OSJ: Independence Planning Group 1767 Sentry Parkway West, Suite 200 Blue Bell, PA 19422. 267.468.0822. Securities products and advisory services offered through PAS, member FINRA, SIPC.
Financial Representative of The Guardian Life Insurance Company of America® (Guardian), New York, NY. PAS is an indirect, wholly-owned subsidiary of Guardian. Independence Planning Group is not an affiliate or subsidiary of PAS or Guardian. CA Insurance ID # 0I61270.
2019-92110 Exp. 1/22
Photograph by Jody Robinson
Published (and copyrighted) in Suburban Life magazine, January 2020.