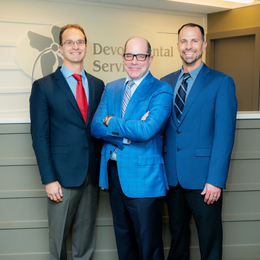 Smile with Confidence
At Devon Dental Services, patients discover a practice starring three highly skilled, dual-trained specialists capable of addressing all aspects of general, cosmetic, or restorative dentistry.
Dentistry has made tremendous strides in a relatively brief amount of time. In years past, an individual who lost one or more teeth might have had to live with a compromised smile or settled for a less than desirable treatment option, such as dentures. Thankfully, given the advancements in dental implant technology, they no longer have to do either.
In more ways than one, dental implants have the potential to be a long-term solution to tooth loss. Potential is the operative word, however, because a dental implant requires careful planning and surgical precision from a highly skilled professional. That's why patients considering dental implants and other specialized dental treatment are turning to Devon Dental Services. The Chester County-based practice features a trio of dual-trained dental specialists—Jonathan A. Waasdorp, D.M.D., David J. Weinstock, D.M.D., and Brian Shepanski, D.M.D.—who received advanced training from respected institutions such as the University of Pennsylvania School of Dental Medicine.
"I have always enjoyed working with my hands and appreciated the ability to work with people and make connections with them," says Dr. Waasdorp, a board-certified periodontist who specializes in advanced implant dentistry and periodontics, and also serves as an clinical associate at Penn. "The most rewarding part of my practice is giving people back the ability to eat what they want and have them smile with confidence."
Dr. Waasdorp completed a four-year specialty program in periodontics and periodontal and implant prosthesis at the University of Maryland. In his final year, he earned the American Academy of Periodontology's prestigious Lazarra Fellowship, which provides advanced implant training to the country's top periodontal resident each year.
At Devon Dental Services, Dr. Waasdorp has the opportunity to work alongside Dr. Weinstock, his mentor and former clinical instructor at the University of Pennsylvania. As a clinical instructor at Penn for more than 20 years, Dr. Weinstock has personally mentored hundreds of students over the years. In addition to having earned his dental degree from Penn, he completed specialty training through Penn's renowned perio-prosthesis program. This program combines the disciplines of periodontics (the science of caring for gum tissue), and prosthodontics (the science of replacing lost or missing teeth).
"I've treated some patients for 30 years and have gone through all of the life cycles with them," says Dr. Weinstock, who, like Dr. Waasdorp, is a board-certified periodontist. "I have learned from them how to be compassionate and how to sympathize with them."
Dr. Shepanski is another of Dr. Weinstock's former students at Penn. He has been practicing in the area for more than 10 years, following the completion of externships at Christiana Care, Wilmington Hospital, and the Philadelphia VA Medical Center. Already skilled in various areas of dentistry, Dr. Shepanski intends to continue his education in cosmetic and aesthetic dentistry, implantology, and orthodontics.
Each of the doctors has earned reputation as one of the finest dental clinicians in the region, as evidenced by their place on Philadelphia magazine's "Top Dentists" list in 2018 and 2019.
It's rare to have a practice staffed by three highly trained specialists capable of providing the full gamut of general and cosmetic dentistry under one roof. In other words, patients can have every dental need fulfilled at the doctors' office in Devon, rather than having to see several specialists in disparate dental offices.
"We treat a wide range of ages, including young people, middle-aged baby boomers, and older patients," Dr. Waasdorp says. "We are proud that our patients refer their friends and relatives, and consider their dentists and our staff to be part of a very caring, patient-oriented team."
Making Patients 'Whole'
Each of the doctors comes to the dental chair equipped not only with skill and experience, but also with compassion. Dr. Weinstock remembers feeling awkward and self-conscious as a youngster when he lost his front tooth after a childhood accident. This led him to pursue a vocation in which he could cultivate beautiful smiles for others.
Recently, for example, Dr. Weinstock went above and beyond to make sure that a longtime patient was "whole" before her daughter's wedding. Another of his patients had seven lower teeth extracted and four implants put in, and she walked out of the dental office that same day with a full set of teeth.
"This patient went back to work with her smile intact, which is another advantage of coming to a practice where you don't have to go to an oral surgeon or a prosthodontist," he says. "We have the advantage of being able to do it all in one location. We do everything except for wisdom teeth and root canals."
An increasing number of patients are benefiting from same-day implants, meaning they can leave the dental chair with a set of fully functioning teeth in just one office visit. Although these same-day procedures are not appropriate for every patient, the practice has handled many cases in which patients receive new teeth in one day. The procedure requires advanced technology and thorough treatment planning, done in conjunction with a restorative dentist, but one of the doctors can place durable, non-removable teeth to the implants the same day as the implant surgery. This eliminates the need for removable dentures or temporary teeth while the implants heal.
Although Devon Dental Services is a relatively new addition to the area, many patients come through its doors with a sense of comfort and familiarity. The doctors were already well known throughout the community when they took over the practice from Linda Himmelberger, D.M.D., last year. Many of her devoted staff members chose to stay, thereby offering continuity.
"We are good listeners, as well as fully confident, experienced, careful, and diligent about how we care for our patients," Dr. Weinstock says. "The mouth is typically the first area in the body to experience disease. What the three of us offer is overall comprehensive care, where we look at the entire mouth, not just the teeth, and work to keep it healthy."
Devon Dental Services
227 Lancaster Ave.
Devon, Pa.
(610) 688-2211
Photograph by Jody Robinson
Published (and copyrighted) in Suburban Life magazine, January 2020.