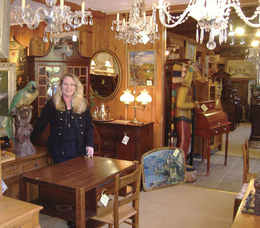 Discoveries Await
You never know what you're going to find—and fall in love with—at The Great 202 Shop
"It never fails," says Therese Kule, manager of The Great 202 Shop, as she points to a stately mahogany secretary desk and the Tiffany-style lamp next to it. "[We] just brought those in yesterday—haven't even polished them yet—and already we're loading them into the back of a customer's car. That's the way it goes around here. Nothing much has time to collect dust."
Conveniently located on Route 202, roughly one mile north of New Hope or one mile south of Peddler's Village, The Great 202 Shop is a furniture-and-collectables retailer specializing in new and pre-owned pieces. Locals, tourists and shoppers of all ages and types come from both near and far to see "what's new at the 202," which is still considered the "best of the best" in Bucks County.
"Because of the high turnover [of our inventory], it feels like we've been open a year, but we officially opened in February 2010, with all three rooms filled up," Kule says. "Because we buy low, we sell low and our fantastic furniture prices are tough to beat. Newlyweds, college students, new-home owners, interior designers, grandmas and single and married guys and gals all come to shop at The Great 202 Shop.
"We can honestly say there is something for everyone."
How They Do It
Much of the shop's continually changing inventory comes from auctions. Members of the staff attend as many as three to five auctions per week, according to Therese Kule. Estate sales generate the balance of the shop's remarkable finds.
"We look for things that people need and are in reasonably good condition—some antiques, some collectables, some modern and some just quirky," she says. "Whenever possible, we try to find out the 'story' of the item, such as where and why the previous owners got it, how long they owned it, if it was passed down in their family and so on. We hear some really neat stories."
Wandering around the shop, customers often wear a smile as they pick up an item or look closer at another, according to Therese Kule. Great finds are tucked away in every nook and cranny—and hanging from the ceiling, too.
"It's always a pleasure to match up a piece of furniture to the right person, as if the chair or desk or dresser was waiting for its new owner to come in," Kule says. "It's almost eerie, but that's all a part of the fun. You just never know what you're going to see, find or fall in love with."
Besides bringing in new items several times a week, The Great 202 Shop also manages a website, TheGreat202Shop.net, to showcase its inventory of items already in stock. But customers should be warned: If you see something you like, call the shop immediately so the staff can hold it until you get there. (The shop also provides free local delivery as a customer convenience.) As the regulars already know, however, it's wise to stop by The Great 202 Shop often.
"If there is something you want us to look for, stop by or give us a call," says Therese Kule.
In addition to specializing in quality pre-owned furniture and collectables, The Great 202 Shop offers a variety of ancillary services, such as house and estate clean-outs. Furthermore, the shop offers so-called "Spiff-up Services" for selling or updating a home, such as painting, wallpapering and all types of minor home repair.
Lastly, and proudly, The Great 202 Shop is also the home of Antique Glass Restoration by Robert Lehmann. One of the few artisans left in the field of glass repair, Robert Lehmann has more than 30 years of experience and learned his craft from generations of artisans before him; he can "remove" chips from a favorite crystal glass or bowl. Customers are welcome to come in and see samples of his work.
Robert Lehmann also specializes in the restoration, rewiring and cleaning of chandeliers, so any homeowner whose chandelier has begun to dull or otherwise is in need of renewal is encouraged to contact him. He even makes house calls. In addition to chandelier repairs, The Great 202 Shop also sells chandeliers of all types and sizes; they are found hanging throughout the shop—from the traditional to the unusual—and The Great 202 Shop can also customize any chandelier.
But that's not all. One of the shop's part-time salespeople, Laura, is also a writer whose first novel is being serialized by a local magazine. If visitors come by the shop on a Monday or Thursday, she will likely strike up a conversation about her book and entice them to check out the chapters on her blog: LauraMatsonHahn.com. She's a lot of fun and a good writer, too—even Robert Lehmann says so.
The Great 202 Shop
6154 Lower York Road, New Hope
Call the shop at 267-544-0214 or reach Robert Lehmann at 267-261-0203
TheGreat202Shop.net or TheGreat202Shop@comcast.net
Hours: Sun., Mon., Tues., and Thurs., 11 a.m. to 5 p.m.; Fri., 11 a.m. to 4:30 p.m.; Sat., 11 a.m. to 6 p.m.; Closed on Wed.