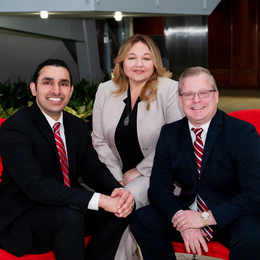 Shelter from the Storm
Law Offices of Jennifer J. Riley leads clients safely to the other side of divorce, with kindness, connection, and personalized service.
Jennifer J. Riley has just entered what is typically her busiest quarter of the year. That's because her law firm, Law Offices of Jennifer J. Riley, specializes in fresh starts—namely, helping clients through the pain of divorce, eager to begin a new life on the other side.
"Despite how sad it is, because divorce does represent the termination of one life, it also represents the birth of a new life," says Riley, who founded her firm in 2013. "That's what I love the most about this work, because it enables you to have a connection with clients. That connection allows us to witness firsthand how the process has changed their lives, and there's something beautiful about that."
Maintaining strong connections through personalized service has been a cornerstone of Riley's firm from the very beginning. For example, the firm's attorneys review every case at least once a month, even if it is currently "on hold," to see if clients have questions or otherwise need attention. In addition, all of the firm's attorneys are trained in emotional intelligence, meaning they know how to best counsel clients no matter where they are in the emotional cycle—angry, depressed, energized, etc.
"We're not therapists, but we can be the rock our clients need in the way they need it," Riley says. "Going through a divorce can be a terrifying process, and taking the first step—just going to meet with an attorney—is often the most difficult part. That's why I've always made it a point to provide free consultations. The information from a consult is empowering. Knowing their legal rights can help people make the decision whether to proceed because they're no longer living in fear of the unknown."
Riley and her associates, Matthew F. Fox and Ravi V. Mohan, have a great deal of experience litigating cases. At the same time, she says the firm strives to use all the tools in the figurative toolbox.
"Everyone here was hired as a litigator, but we only litigate if our clients' situation makes it necessary" she says. "There's a very significant trend toward non-litigated divorce, so much so that you're starting to see representations of divorce in pop culture. Even when a case is not clearly suited for collaborative divorce or mediation, our first approach is to try to have a four-way meeting with the other side to start negotiating a settlement."
Sometimes, though, a litigated divorce is the best path forward, especially in matters that involve abuse or contentious custody disputes. No matter the situation, Riley says she and her staff approach each case from a place of genuine care and kindness. She's careful to make the distinction between niceness and kindness; being kind may require doing something very difficult, she suggests, such as sharing a painful truth or even fighting tooth and nail for a client in the courtroom.
"All of us are litigators, each with our own style, and we are always ready to fight for our clients' best interest in court," she says. "However, kindness is a common thread between each of us. Despite how stressful this area of the law can be, we want our clients to experience a very kind and supportive team throughout the process. I think this is very important during such an emotional time."
Growth is on the horizon for Law Offices of Jennifer J. Riley. The firm recently renovated and expanded its primary office in Blue Bell, and in the spring will open a new, larger office in Wayne to replace an office it had outgrown. New attorneys are expected to join the team this year as the firm expands its offerings to include estate planning and mediation.
"I've always wanted this firm to be a place of genuine connection, with personalized service and a warm, friendly atmosphere for those who need it," says Riley, who had a well-established background in business long before founding her firm. "When I see the positive change in people who come through our doors, from the moment they came in compared to the time they leave, it makes everything I've done worthwhile."
Law Offices of Jennifer J. Riley
Blue Bell Office:
Office Court at Blue Bell
585 Skippack Pike, Suite 200
Blue Bell, Pa.
Wayne Office:
656 Swedesford Road, Suite 360
Wayne, Pa.
Photograph by Jody Robinson
Published (and copyrighted) in Suburban Life magazine, January 2020.