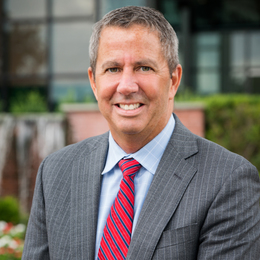 More than a Number
William Manchester, the founder of The Manchester Group of Janney Montgomery Scott LLC, aims to provide a clear path forward for clients of all backgrounds and asset ranges.
A certain segment of the population believes that only the wealthy would benefit from seeking the guidance of a financial advisor to formulate a comprehensive financial plan. William Manchester is on a mission to bust that myth.
"Sometimes people think you have to be a big-time investor to benefit from a financial advisor, but the truth is that the size of the account is not relevant," says Manchester, founder of The Manchester Group of Janney Montgomery Scott LLC in Radnor. "It may go against the grain of the industry, but I don't really believe in minimums."
If he's doing his job well, working with clients to focus on "the bigger picture," those smaller accounts may well grow into significantly larger accounts.
"That's why I believe it's worth talking to anybody who's interested in talking to me," he says. "I'll do my best to help them, but if I can't, I will lead them in the right direction."
While every individual he speaks with is unique, with distinct goals, assets, and life circumstances, he sees a great deal of commonality among clients.
"I treat everyone the same no matter how big or small of a number they have," he says. "Even a sophisticated investor who knows about the stock market and mutual funds will have the same kinds of questions as someone who doesn't know about that kind of stuff: 'Do I have enough money? When do I start taking social security? When do I start dipping into my IRA?' I see myself as an educator first. The more I educate them, the better off they will be."
Doing More
Manchester's path to becoming a trusted financial advisor began in an unlikely place. At the time he was working as a gardener for Marilyn Stoughton Lewis, a former member of the Pennsylvania House of Representatives. She was also the wife of Andrew L. Lewis Jr., chairman and CEO of Union Pacific Corp., who also served the Reagan Administration as Secretary of Transportation. Back then, Andrew Lewis—or "Drew," as Manchester would come to know him—was traveling by chauffeur-driven limousine every other day to attend board meetings in New York City. There came a day when the regular driver did not show up, and Manchester got tapped to fill in.
"Drew was one of the most influential people I've ever met—maybe the most influential in my life," Manchester says. "During those car rides, he and I got to know each other very well. One day, he asked me to wear a suit and join him in his meetings. The other people in the room didn't know that I was actually his wife's gardener; he told them I was his financial advisor. On the way home, he asked me why I wasn't working in financial services, because he seemed to think I would have a talent for it. To be honest, that kind of work wasn't even on my radar at the time."
Manchester remembers telling Lewis that he had three years of experience in horticulture from Delaware Valley University in Doylestown. He also shared his desire to one day open a flower shop. In response, Lewis told him this: "That's great, but you should do that when you retire."
"He advised me to make some money first, and he thought I could do so by getting into the financial services business," Manchester recalls. "He thought I would like it because I seemed to have a real interest in it."
From that point forward, Manchester went about pursuing his financial education; Lewis even offered to foot the bill. Within three years, Manchester earned a degree in finance and business administration from Temple University's Fox School of Business. He learned a great deal in business school, but some of the most important lessons came to him during those two-hour drives to Manhattan. He also took a great deal from his interactions with Lewis' wife.
"Marilyn taught me a lot about work ethic, that you do more than what you are paid for," he says. "I live by that motto now. She treated the garden like a portfolio, always keeping a close eye on things. She had enough money so she could have just taken it easy and relaxed, but she was out there as early as I was. From her, I learned that if you do more than you are being paid to do, you will succeed in life."
The Extra Mile
Fast-forward to 2020: Manchester often begins the workday before dawn—he's usually up by 5 a.m.—and his day ends only after he's crossed off everything on his to-do list. "Going the extra mile" often means visiting clients in their homes or offices, educating clients about retirement plans and investment portfolios on their terms, in ways they will understand.
One area of specialty: setting up cost-efficient 401(k) programs for owners of small to medium-sized companies and their employees.
"I can certainly help with other things, too, such as retirement planning, saving for their children's college education through 529 plans, insurance—whatever they need," he says. "It's a win-win for the employer, because the employee sees it as a valuable service the employer is providing, even though I'm the one who's providing the service. I enjoy those interactions because they deepen the connection. People will retire from a company who is my client and say, 'I'm staying with you.'"
In addition to 401(k) plans, Manchester enjoys crafting comprehensive financial plans for clients. As part of his due diligence, Manchester acquires an understanding of each client's risk tolerance and long-term goals, as well as the things in life that are most important to them—from their children's education to a stress-free retirement to the ability to use one's wealth as a means to create a lasting legacy. Only then does he put the pieces of the financial plan together, utilizing products and tools available to him through Janney Montgomery Scott LLC, which is headquartered in Philadelphia.
"Those in-person meetings are what I like best about the job," he says. "When it comes to financial planning, I do my homework to make sure I understand what's important to each individual, and I like to educate them so they understand how they can work toward their goals."
One might say Manchester's life hasn't changed all that much since his days behind the wheel of Andrew Lewis' Jaguar. He still spends a fair amount of time on the road, after all, dealing in the exchange of valuable information. The biggest difference between past and present: Whereas he had been the beneficiary of a mentor's insight all those years ago, now he's the one offering informed perspective to those who seek a path forward.
The Manchester Group of Janney Montgomery Scott LLC
150 N. Radnor Chester Road, Suite B100
Radnor, Pa.
(610) 254-1118
Photograph by Jody Robinson

Published (and copyrighted) in Suburban Life magazine, January 2020.