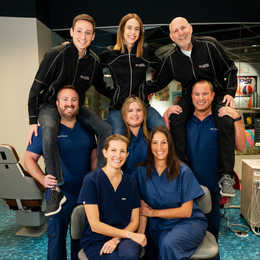 Two Families, One Vision
Doc Bresler's Cavity Busters and Appel Orthodontics join hands to create Brace Busters, offering orthodontic care of the highest quality to patients throughout the Philadelphia and suburban area.
The collaboration has hints of a Hollywood screenplay. It's the story of two Philadelphia families—both regarded as regional leaders in dentistry—coming together for the greater good of their patients. Yet for those seeking the pinnacle of pediatric dental care in the Philadelphia area, it's not a movie—it's real life.
Doc Bresler's Cavity Busters, led by the Bresler family, and Appel Orthodontics, led by the Appel family, have joined forces to form a new entity called Brace Busters. This joint venture offers patients in Philadelphia and its surrounding suburbs the best of both worlds.
Both families have a similar story. When Dr. Steven Appel and the late Dr. David Bresler started their separate practices more than 35 years ago, neither envisioned their children following in their footsteps. However, Dr. Appel's son, Andrew, became an orthodontist and joined him in the practice seven years ago. Similarly, all three of Dr. Bresler's children—Josh, Jason, and Rachel—followed him into pediatric dentistry and came to work at Cavity Busters.
Over the years, the Bresler family referred their patients to Appel Orthodontics, yet the size of their office and insurance capacity meant Appel Orthodontics could handle only so much, meaning the Breslers would sometimes have to send their patients elsewhere. Unfortunately, according to Dr. Josh Bresler, they weren't always happy with what they saw when patients came back.
"They were not receiving the same high-quality services that we had come to expect—and that was hard for us," Dr. Josh recalls. "That was our motivator to start a discussion about joining forces with the Appels. Pediatric dentistry and orthodontists are a perfect marriage, in general. But we also knew we shared the same vision [as the Appels] to provide high-quality care so we knew this would be a good fit."
Putting Patients First
The two families initially discussed plans for a joint orthodontic practice in 2014. The building for the new entity, located in Northeast Philadelphia, was purchased in 2015, shortly after the original Doc Bresler passed away, but he left behind his vision for the merger. After converting a 24,000-square-foot warehouse into a state-of-the-art orthodontic practice, Brace Busters was born.
Brace Busters now offers orthodontic care, including Invisalign treatment, to patients in most—and soon to be all eight—Cavity Busters' Philadelphia and suburban office locations. Brace Busters treats adults and participates with most dental insurances, though there is some variation by location. The practice is supported by state-of-the-art technology and equipment, such as 3D dental imaging and digital impressions, yet all of the doctors say it's their philosophy and approach to care that sets truly them apart. After all, the qualities of empathy and compassion cannot be taught.
"In order to make the orthodontic experience truly successful for patients, you have to have a high level of care," says Dr. Rachel. "If you put braces on a child who isn't brushing regularly and is missing his or her appointments, or you don't stay on top of what's happening to them when they leave your office, then they could end up with many cavities. If that happens, you've done a great disservice to them with dental problems they'll have to deal with for the rest of their life."
Dr. Andrew Appel describes a culture of going "above and beyond" for patients.
"A lot of practices can provide good orthodontic treatment outcomes if they have compliant patients and they go through the proper motions," he says. "But we're looking to do everything we can to truly put our patients first. There's a culture here that can't simply be replicated, and it comes from being a family business and truly caring about the patients that we see."
On the Same Page
Though the two families had always enjoyed a friendly business relationship, this joint effort—working under the same roof in a single business model—represents a significant leap forward. The partnership has worked so well because both families share a common focus: providing superior clinical care and the best patient experience possible.
"When we formed this partnership, we took all of the good things we'd already been doing, such as our strong emphasis on customer service and the overall patient experience, and we put it into this Brace Busters entity," says Dr. Andrew. "Now, with this joint effort, we are able to provide even better service because our geographic reach is greater and we're able to reach a lot more patients, regardless of what type of insurance they have."
Dr. Josh says that in order to be able to make the orthodontic experience successful for patients, there must be a partnership between the orthodontist, the dentist, the patient, and the parent or caregiver. Having this combined practice not only makes it more convenient and efficient for families, but also creates a seamless experience in which everyone can be on the same page from start to finish. That, he believes, is a true win-win for everyone.
"A venture like this might have been difficult to pull off with two very different styles of practices working together," Dr. Jason admits. "However, we were able to achieve this joint venture because there was already a level of trust and a shared vision. We are family-run, and they are family-run, and we also see each other as part of our greater family. That's made a huge difference."
Dr. Andrew agrees that a sense of family is the driving force to Brace Busters' success.
"Appel Orthodontics has been the only family-run orthodontics practice in Philadelphia for a long time and that's always been a differentiator for us," he says. "With family being at the heart of what we do, we want to make our patients feel like part of the family. That's meant not only putting an emphasis on getting the great results they expect but ensuring that their experience throughout the entire treatment period is optimal. Brace Busters' ultimate focus is on putting the patient first."
For more information on Brace Busters and its offices throughout the area, visit bracebusters.com or call (267) 668-8400. For more information on Doc Bresler's Cavity Busters, visit cavitybusters.com. For more information on Appel Orthodontics, visit appelortho.com
.
Photograph by Jody Robinson
Published (and copyrighted) in Suburban Life magazine, January 2020.