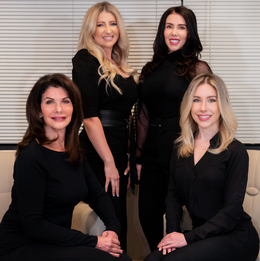 Better with Age
Bucks County Plastic Surgery & Dermatology takes a multifaceted, team-based approach to helping patients of all ages look as good as they feel.
The human body goes through a gradual, though not always graceful, transformation as it ages. Often, the signs of aging are most apparent in the face and neck, marked by sagging skin, deepening lines, and other noticeable changes to the skin's appearance and texture.
Naturally, many people seek out safe and effective ways to address such changes. This search often leads them to the team of professionals at Bucks County Plastic Surgery & Dermatology, which has offices in Newtown and King of Prussia. Led by board-certified plastic surgeon Robert Skalicky, D.O., the practice takes a multifaceted, team-based approach to helping all patients look as good as they feel, no matter their age.
"We have a team of licensed and certified medical professionals, and that's an approach you don't find in a lot of other practices," says Kaitlyn Nelson, MS, PA-C, a certified physician assistant with Bucks County Plastic Surgery & Dermatology. "That level of expertise helps us offer each patient the most appropriate treatment and the most desirable result.
"From my perspective," she continues, "we take a conservative 'less is more' approach, following the idea of optimizing a person's features with little tweaks, like jawline sculpting or cheek enhancement, rather than looking overdone. The best treatments are the ones you can't spot. That kind of undetectable work requires a lot of artistry."
Kaitlyn's role has evolved considerably over the course of her seven years with Dr. Skalicky's practice. Early on, she would meet with patients for pre- and post-op appointments, as well as assist in many of Dr. Skalicky's surgical cases involving the face and body, ranging from facelifts and blepharoplasties to breast augmentations and abdominoplasties.
These days she applies her considerable expertise to helping patients achieve the desired cosmetic results using minimally invasive modalities, such as cosmetic injectables. She specializes in facial injectables, including those used to improve the appearance of fine lines and wrinkles, plump up the lips, and otherwise improve the appearance of facial aging. She also offers biostimulatory injectable fillers to stimulate collagen production in parts of the body such as the décolleté, the buttocks, or other areas with so-called "crepey" skin.
Preempting the Aging Process
Michele Petrillo, RN, BSN, is a certified nurse injector with more than 40 years of experience, including the past 14 as a member of Dr. Skalicky's team. Her approach to injectables has changed significantly in recent years.
"Before we were primarily filling facial folds and lines, but now we're actually restructuring the face—lifting sags, reducing wrinkles, creating a brighter and more youthful face," she says. "Now there's an increased understanding of facial anatomy and the aging face, with more attention paid to the underlying structures and support."
Her patients include a growing number of individuals in their 20s and 30s coming in to "preempt the aging process." At the same time, she treats individuals in their 60s, 70s, and even older, looking to maintain a youthful appearance—"just a more refreshed version of themselves," she says. Michele's oldest patient is 91 years old.
"She's already done most of the foundation work, and now she just comes back and does little tweaks," she says. "She's never overdone the work, so she looks great for her age."
Regardless of an individual's age, Michele suggests every patient begins the process with a 45-minute consultation to discuss aesthetic goals, establish priorities, and conduct a thorough examination. This information is used to determine the best path forward.
"I'll look at the facial envelope, check for movement in different regions of the face, and try to estimate the amount of filler or neuromodulator the patient may require," she says. "I'll also look at bone structure, as well as the structure and tone of the skin, and be thinking about a safe strategy for the delivery of the product. What I will do from there is discuss with them the best choice and the estimated cost so the patient has a good understanding of what's involved."
In some cases, Michele suggests a patient may best served by a surgical approach. Even so, she says the patient will determine how to proceed.
"Someone may be better suited for a facelift, so I can refer them to Dr. Skalicky for the surgical component," she adds. "Some patients have no interest in moving forward with surgery, and if that's the case I'm happy to address their needs as best I can, but making sure they have realistic expectations of the outcome."
'Customized and Corrective'
Patients of all ages, male and female alike, come to Bucks County Plastic Surgery & Dermatology for the full range of cosmetic services—from the surgical to the noninvasive and everything in between. Those who seek expert skin care find themselves in the highly capable hands of licensed aestheticians Brittany Bray and Jillian Norton.
Depending on a patient's unique circumstances, Brittany and Jillian can prescribe microneedling, laser skin resurfacing, and medical-grade chemical peels, among other noninvasive aesthetic services to refresh the skin. At the same time, they like to offer their informed perspective on lifestyle adjustments that may help to improve the appearance, texture, and overall health of the body's largest organ.
"Our goal is to design plans best suited for each individual patient," says Brittany. "We can offer lifestyle recommendations and information about nutrition's impact on skin health. Jill and I design custom plans for patients who are trying to create a positive change in their skin. It's more of a protocol, with multiple components, so we have to coach clients through the process over the course of several months to reach a goal."
"We are a results-driven practice, and I think that's a reason we all work so well together," says Jillian. "Every provider here is results driven and works hard to be on the same page as the patient so they leave here happy and satisfied. As a team we have a lot of experience and background in this industry, and that sets us apart from other practices."
Brittany compares a cosmetic skincare regimen to working with a personal trainer. Some improvements will come almost immediately, while others may take more time to be fully realized.
"These are not one-and-done treatments; each plan is customized and corrective," she adds. "For some patients, it's a three-month plan, and for others it's a six-month plan. What we do tends to take a fair amount of digging and detective work, because there are a lot of triggers that can affect the skin."
Much like Michele's approach to determining a patient's needs, Brittany and Jillian provide each patient with a full skin and lifestyle analysis, which includes an in-depth discussion and physical examination of the skin. From there, they can recommend any suggested aesthetic services, as well as an at-home regimen, to address conditions such as acne, melasma, and hyperpigmentation, among others.
"In the course of our discussion, we may discover aspects of their daily life that may be leading to their skin conditions," Brittany adds. "Heat and UV light from sun exposure, something in your diet, like caffeine and sugar, household items like detergents, even your sleep position—all of these things can play a big role in the health and appearance of the skin."
If, during the course of a skin analysis, one of the aestheticians comes across something irregular, such as a suspicious rash, mole, or other skin condition, she can then refer the individual to a dermatologist for closer review. Likewise, if a patient seeks results that are beyond their realm of expertise, Brittany and Jillian know exactly where to turn.
"Jill and I can help the skin quality, but we can't lift the skin," Brittany says. "Sometimes we know a patient will benefit from a procedure beyond noninvasive technology; maybe they will need a necklift or facelift. If that's the case, Dr. Skalicky is right in the next room."
Her point underscores what she and her colleagues consider the greatest value provided by Bucks County Plastic Surgery & Dermatology: No matter the need, the practice offers a full range of solutions to deliver safe, effective, and lasting results.
"We're essentially a bridge between surgical and nonsurgical procedures," Kaitlyn adds. "We have everything at our disposal, all under one roof, and we all work together to address the patient's needs. As I'm seeing a patient over the course of time, someone might ask, 'Am I ready for a blepharoplasty?' And I'll say, 'No, not yet.' When they are ready, I'll say, 'OK, it's time,' and then refer them to the doctor for surgery.
"There's no single treatment we suggest to a patient," she continues. "We have so many options of modality that we can offer the specific course of treatment that best suits their individual needs at any specific point in time."
Bucks County Plastic Surgery & Dermatology
104 Pheasant Run
Newtown, Pa.
700 South Henderson Road, Suite 230
King of Prussia, Pa.
* In the near future, Dr. Skalicky will be introducing the Greater Philadelphia Area to Modern Aesthetic Plastic Surgery, offering patients a comprehensive and refreshing perspective on aesthetic medicine.
Photograph by Jody Robinson

Published (and copyrighted) in Suburban Life magazine, January 2020.