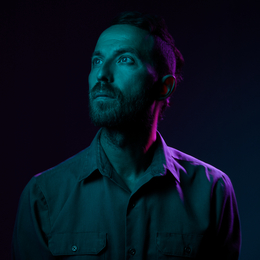 Star Power
Josh Ostrander, the man behind Mondo Cozmo, is ready to take on the world.
Every so often Helen Leicht will find an unexpected text message on her cellphone. The gist of the message: "How's Ruby doing?"
The inquiry refers to her dog, Ruby, who has a rare skin condition. The sender of the text is none other than Josh Ostrander, the man behind Mondo Cozmo.
"Who does that?" she says. "I work with a lot of bands, and no one does that. There's something very sweet and genuine about [Ostrander]. ... He's so talented and kind and nice, and he has worked hard to get to this point. I just want him to be happy."
Leicht, a Philadelphia radio veteran who does middays at 88.5 WXPN, considers Ostrander to be one of music's most exciting new voices, the creator of distinctive songs that burrow into one's consciousness and linger. He's also one of the best live performers she has seen in some time. She still talks about Mondo Cozmo's energetic set from XPN's 2017 NonCOMM event.
"He's amazing on stage," she says. "When he did our NonCOMM, I just could not believe how amazing he and the band were. People still talk to me about how great of a show it was."
Leicht ranks Mondo Cozmo's groundbreaking 2017 album, Plastic Soul, among the most memorable of recent years. One of the album's early hits, "Shine," climbed to the No. 1 spot on Billboard's chart of adult alternative songs. Ostrander also has a knack for producing share-worthy videos. The one for his song "Hold on to Me," for example, stars Anna Faris, perhaps best known for her role in the TV show Mom, as well as memorable turns in films such as Keanu, Overboard, and Lost in Translation.
Ostrander's local roots have certainly helped fuel his ascent among music lovers in the Philadelphia area. Although he now lives in Los Angeles, but he was born and bred in Southampton, Bucks County. He'll be returning to the area next month for three shows—March 12 at Ardmore Music Hall in Ardmore, March 17 at Johnny Brenda's in Fishtown, and March 20 at Boot & Saddle in South Philadelphia—in advance of Mondo Cozmo's forthcoming album, New Medicine, which is set to be released from Last Gang Records on May 29.
We spoke with Ostrander about the new album, his collaboration with Faris, and his fondness for animals—and, of course, the Eagles' recent ouster from the NFL playoffs.
Q&A
Congrats on the forthcoming album, New Medicine. The songs on I've heard have a distinct rock 'n' roll feel, compared to most of the songs on Plastic Soul. For those who haven't heard any of the new songs, what can they expect from New Medicine?
My goal was to go in and do a proper rock 'n' roll record. With Plastic Soul, we toured for 10 months straight; we never toured like that before, and we were blessed to do an insane number of festivals. It was something like 26 festivals in 2017. Our first show opening for Bastille in Canada was in a hockey stadium, playing to 10,000 people, and before we went out I was sitting there thinking that I've spent my whole life just trying to get by, just doing OK. I said to the guys [in the band], "Let's go out and punch them in the mouth instead of just trying to not fall down."
That started a vibe within the band where we were, like, "Let's go out and steal every show." It just got us better. Then we played with Spoon and went on a headlining run. All these things happened, and really, for me, it taught me how to deliver a song live. Going into the next record, I thought we needed one that would translate live. That's where the future is; my life is on the road.
For the "Come On" video, you collaborated with your old pal Anna Faris. Did you get connected with her through your wife (actor Aria Pullman), or do those kinds of connections magically happen in L.A.?
My wife had a friend who invited us to a New Year's Eve event in Park City, Utah, and this was when Anna and Chris [Pratt] were still together. We just hit it off, and it led to us all hanging out in L.A. She asked me to do music for her podcast [Anna Faris is Unqualified]. When she asked me to do that, and I said I would be honored, and she said, "Can I pay you?" I said, "No, don't pay me, but how about you do a video for me," and she said, "Yeah, I'll do that!" Later on she asked me to update her music, and again she asked if she could pay me. I said, "No, but can you do another video?" She said, "I would love to." That's how it all happened.
She's amazing. It's weird to go to somewhere like a 7-Eleven with her, because it takes 20 minutes to get out of the store.
It's a strange time in the world right now. Everything is so polarized and vitriolic. It's kind of a joke that the silver lining about what's happening is that at least we should get some great books and music out of it. I understand you wrote the song "Black Cadillac" because you were affected by the hearings for Brett Kavanaugh, who's now a Supreme Court justice.
I keep waiting for the music. During the Vietnam War, what an amazing time that was; they kicked out so much great music in response to what was happening, but I'm not hearing it now. I wrote "Black Cadillac" while we were on tour, during the Kavanaugh hearings. I would watch on my phone, all the congressional hearings, and it just blew my mind. I've been constantly shocked these past few years, and every time something new happens, I'm thinking, "No way. That's not going to happen." I was wrong. Part of this record is me coming to terms with understanding so much about where we are right now and just trying to figure out what's going on.
I look at some of the stuff we've seen in our country recently—book burnings on college campuses, a proposed book-banning bill in Missouri, a growing undercurrent of anti-intellectualism. This may seem like a strange question, but are you concerned about the role of the artist going forward?
I fear for the artist staying down the middle lane. It can be hard to take a stand, because you're losing fans at a certain point. … It's so hard to be an artist and make money, but being quiet helps no one.
Everybody is a spaz right now. You almost have to be careful about making statements. With social media, it's frustrating. I wrote a song called the "The Ballad of Vegas," right after the [2017 mass] shooting in Las Vegas, and when I put it out there, I'm thinking hopefully it will mean something to people. I could say something about the weather and it would get more of a response than if I shared something of importance.
Your video for the song "Plastic Soul" features animals that were close to your heart—your pets—and it shares an important message about the need to rescue animals. This is probably the dumbest question you'll ever be asked, but why is saving animals important to you?
That's the video we did with Best Friends [Animal Society]. Seeing the work they do, and to be able to go and see these awesome animals in different places across the country, it's something that hits me hard. All our animals at home are rescues; we have two cats now. Working with [Best Friends], I'm psyched that they're excited. I would like to get so famous that I can do something huge for them.
You've been out in L.A. for about 10 years. Has being out there changed your mentality in any way, or are you pretty much the same dude from Philly?
I would like to say I'm the same dude, but that's probably a better question for my brother. I still have the same work ethic I did when I was there [in Philly], growing up with my pops, doing landscaping. There is the thing out here that is sort of magical—the Anna thing, which never would have happened if I had been in Philly or anywhere else. Terrible things happen in L.A., too, so it's not perfect.
But yeah, I'd like to say I'm the same guy. I still love my Philly teams; I'm still really bumming about that Eagles game.
Published (and copyrighted) in Suburban Life magazine, February 2020.