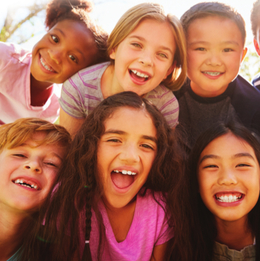 Summer Wonder
Adventurous summer camps built around interests such as education, music, and athletics may help to make this summer the best one yet.
Jennifer Brown will never forget those few precious summers.
When Brown's two children were six and eight, respectively, they started going to a prominent day camp in the Philadelphia suburbs. The kids, now 14 and 12, still remember their days "at camp"—traipsing through the creek, gut-busting athletic competitions, making new friends—even though they have since moved from their home in Abington.
"The kids are older now, and we don't live [in the Philadelphia area] anymore, but they still talk about camp," says Brown, whose family moved to South Carolina two years ago. "Even when we come home to see family, the kids want to drive by the camp just so they can see it again. It meant that much to them."
As Brown's experience suggests, summer camp offers children an array of experiences they are likely to remember for a long time—and possibly stay with them for the rest of their lives. It's at summer camp, after all, where many children forge lasting friendships, develop new interests, and learn new skills that could very well influence what they study in college and even pursue as a career.
Summer camps have changed with the times. Depending on where a family chooses to send a child, a "typical" day at summer camp might include building robotics or studying rocketry … strumming the chords of a favorite rock song or baking a soufflé … learning a new language or perfecting a slap shot. Of course, summer camps can also help students "unplug" and appreciate the simple pleasures of a day spent out of doors.
Following is a list of some of the many camp options for families in the Greater Philadelphia Area. (We also include a list of upcoming open houses for area schools.) The websites will provide more information about dates, availabilities, and upcoming tours and open houses. Available slots tend to fill up quickly, so we recommend getting in touch as soon as possible to nab a spot for your child.
"I'm glad my kids got to do the things they did at summer camp," Brown says. "They always came home happy and tired, talking all about their adventures. It almost makes you want to be a kid again."
SOMETHING FOR EVERYONE
Briarwood Day Camp
Furlong
briarwooddaycamp.com
Hideaway Day Camp
Collegeville
hideawaydaycamp.com
Habonim Dror Camp Galil
Ottsville
campgalil.org
Julian Krinsky Camps & Programs
Multiple locations
jkcp.com
Malvern Day Camp
Glen Mills
malverndaycamp.com
ACADEMICS PLUS
Academy of Notre Dame de Namur Summer Enrichment and Sports Camps
Villanova
ndapa.org
AIM Academy Summer Enrichment Program
Conshohocken
aimpa.org
Archbishop John Carroll High School Summer Programs
Radnor
jcarroll.org
The Baldwin School Camp Magar Day Camp
Bryn Mawr
baldwinschool.org
Friends' Central Summer Camps
Wynnewood
fcsprograms.org
Germantown Academy Summer Camps
Fort Washington
germantownacademy.net/summer
Hill Top Preparatory Academy Summer Adventures
Rosemont
hilltopprep.org
Holy Ghost Preparatory School – Summer at HGP
Bensalem
holyghostprep.org
The Hun School of Princeton Summer Programs
Princeton, N.J.
hunschool.org/summer
Notre Dame High School – Summer at Notre Dame
Lawrenceville, N.J.
summercamps.ndnj.org
Princeton Day School Summer Programs
Princeton, N.J.
pds.org/summer-programs-2020
Sacred Heart Academy Summer Camp
Bryn Mawr
shabrynmawr.org
St. Joseph's Preparatory School Summer Programs
Philadelphia
sjprep.org
Temple University Summer Education Camps
Ambler and Philadelphia
summer.temple.edu/youthprograms
Valley Forge Summer Camp
Wayne
vfmac.edu/summer-camp
Villa Joseph Marie High School Summer @ Villa
Holland
vjmhs.org/summer
Villa Maria Academy High School Summer Enrichment Camp
Malvern
vmahs.org
LEARNING DIFFERENCES
AIM Academy Summer Enrichment Program
Conshohocken
aimpa.org
Benchmark School Summer Camp
Media
benchmarkschool.org
Delaware Valley Friends School
Paoli
dvfs.org/summer
ATHLETICS
76ers Camps
Wayne
76erscamps.com
Flyers Skate Zone Hockey Academy Camps
Multiple locations
flyersskatezone.com
Phillies Baseball Academy
Multiple locations
philliesacademy.com
Youth Football Camps of the Philadelphia NFL Alumni
Multiple locations
prosportsexperience.com
CREATIVE AND PERFORMING ARTS
Burn Brae Day Camp of Creative Arts
Dresher
burnbraedaycamp.com
Visit the website for dates of upcoming weekend open houses.
Girls Rock Philly – Summer Rock Camp
Philadelphia
girlsrockphilly.org
HomeCooked Kids Cooking Camp
Paoli
homecooked.net
Michener Art Museum Summer Camp
Doylestown
michenerartmuseum.org
Main Line Art Center Summer Camp
Haverford
mainlineart.org
Pennsylvania Academy of the Fine Arts – Summer Art Camp for Kids
Philadelphia
pafa.org
Rockdale Music Summer Camps
Aston
rockdalemusic.com
WHYY Summer
Philadelphia
whyy.org/camps
SCIENCE AND DISCOVERY
Awbury Arboretum
Philadelphia
awbury.org/summer-camp
Elmwood Park Zoo
Norristown
elmwoodparkzoo.org
The Franklin Institute
Philadelphia
fi.edu
Providence Preparatory Academy for the Advancement of the Arcane Arts
Swarthmore
magischolaprep.com
Riverbend Environmental Education Center
Gladwyne
riverbendeec.org
Science Explorers
Multiple area locations
scienceexplorers.com
Special Equestrians Therapeutic Riding Center
Warrington
specialequestrians.org
Tyler Arboretum
Media
tylerarboretum.org/camp
Open Minded
It's that time of year again—the season of open houses, when local schools open their doors to prospective students and their families. Each of these special events provides an intimate opportunity to ask questions, tour the campus, and meet the educators and administrators who will help to prepare students for college and life thereafter. While we have done our best to confirm these dates, we suggest you contact the schools directly for more information and, if applicable, to register for events in which you are interested.
The Agnes Irwin School
Bryn Mawr
agnesirwin.org
All-school open houses: Wed., March 11, 8:30 to 10 a.m., and Tues., April 21, 8:30 a.m. to 10 a.m.
AIM Academy
Conshohocken
aimpa.org
Spring open houses: March 6, April 3, May 1, and July 9, from 9 a.m. to 11 a.m.
The Crefeld School
Chestnut Hill
crefeld.org
Spring open house: Feb. 21, 8:45 a.m. to 10:30 a.m.
Devon Preparatory School
Devon
devonprep.com
Spring open house: Sat., April 25
Hill Top Preparatory School
Bryn Mawr
Open house: March 4 and April 1, 9:30 a.m. to 11:30 a.m.
Nazareth Academy High School
Philadelphia
nazarethacademyhs.org
Spring open house: April 22, 6 p.m. to 8 p.m.
Perkiomen School
Pennsburg
perkiomen.org
Visit website to schedule a campus tour.
Princeton Day School
Princeton, N.J.
pds.org
Visit website to register for group tours throughout spring.
St. Basil Academy
Jenkintown
stbasilacademy.org
Open houses: April 4, 1 p.m. to 4 p.m., and April 23, 7 p.m. to 9 p.m.
Valley Forge Military Academy & College
Wayne
vfmac.edu
Spring open house: May 16, 11 a.m. to 1 p.m.
Villa Joseph Marie High School
Holland
vjmhs.org/admissions
Spring open house: April 23, 6 p.m. to 8 p.m.
Waldron Mercy Academy
Merion Station
Spring open houses: March 9 and April 7, starting at 9 a.m.
Published (and copyrighted) in Suburban Life magazine, February 2020.